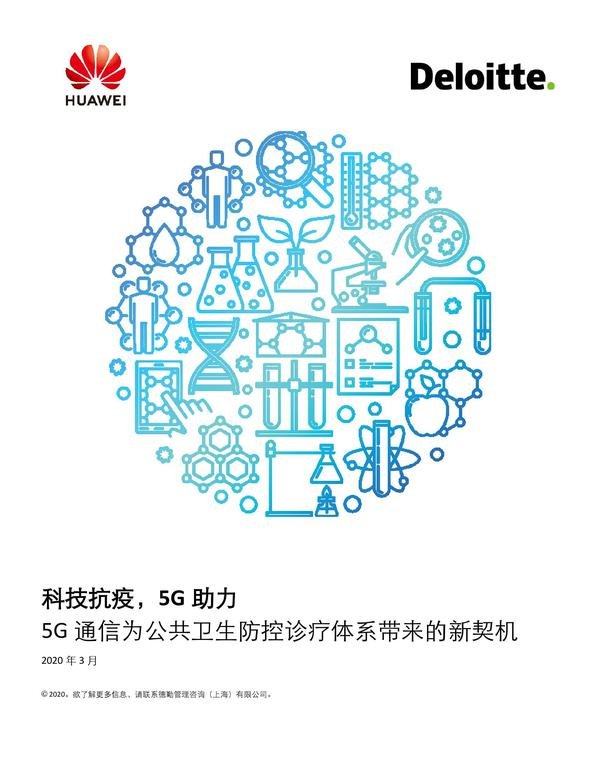 The following is the 5g communication brings new opportunities for public health prevention and treatment system From Deloitte & Huawei recommended by recordtrend.com. And this article belongs to the classification: 5g industry, Deloitte Consulting .
Deloitte and Huawei, the leading enterprise in the 5g industry, jointly released the white paper "science and technology anti epidemic, 5g help: 5g communication brings new opportunities for public health prevention and treatment system". The white paper briefly reviews the outbreak of new coronavirus in early 2020, and deeply analyzes the information and data needs of different groups of people in major public health emergencies from the aspects of prevention, control, diagnosis and treatment of the epidemic. It also analyzes how to use 5g technology to integrate big data, artificial intelligence, Internet, Internet, Internet, etc Cloud computing and other technical means help the prevention and treatment of the epidemic, and promote the digital construction of emergency prevention and control system and regional emergency management capacity for major public health events.
One   Epidemic review
Compared with the SARS virus in 2003, the new coronavirus has the characteristics of high concealment, strong infectivity and rapid onset. As of 24:00 on March 8, 2020, the total number of confirmed infections in China has reached 80904, and the epidemic has begun to spread around the world. This has brought great impact on social public security and economic activities, and also posed great challenges to epidemic prevention and treatment of patients.
The early concentrated outbreak of the epidemic and the rapid development of the follow-up caused great pressure on the medical system in the key areas of the epidemic (data source: National Health Commission)
2   Prevention and control of data challenges in the diagnosis and treatment chain
The characteristics of China's vast geographical scope, large population base, intensive personnel activities and complex resource demand make the information communication and data transmission efficiency in epidemic prevention and control work, especially the data transmission guarantee of monitoring and screening and patient diagnosis and treatment become particularly important.
Different healthy people have different demands for data transmission and data volume in different application scenarios (data source: Deloitte Research)
The demand for information communication and data transmission among people with different health status is also different under different epidemic prevention and control scenarios
Three   The positive role of 5g in the overall epidemic prevention and control
Compared with 4G, 5g network can effectively deal with the real-time data challenge in epidemic prevention and treatment by using its high transmission rate, low delay, multi terminal wide connection number and high adaptability to mobile environment, which provides a new idea and method for screening diagnosis and treatment in all aspects of anti epidemic.
5g + thermal imaging human body temperature measurement for epidemic prevention and control
5g to achieve continuous monitoring and remote diagnosis of physical signs in the process of transport
5g remote consultation platform to improve treatment efficiency and effect
Four   Enlightenment of 5g in epidemic prevention and control on innovative business model
Thanks to the characteristics of high-speed transmission, high reliability and low delay of 5g technology, the rapid response ability, whole process monitoring ability, data collection and analysis ability, remote collaboration ability and resource coordination ability of this epidemic prevention and control work have been greatly improved compared with those of similar events in the past, which also makes the establishment of information-based, intelligent Based on cloud technology and big data, innovative public emergency system platform becomes possible. At the same time, inspired by the application of 5g technology in public health event management, other related industries may also rely on the popularity of 5g to spawn a variety of innovative application business models.
Epidemic monitoring platform: the application of 5g technology in the epidemic monitoring platform has also spawned a more efficient smart city management mode. Its powerful data transmission capacity can not only be applied to the intelligent construction of various urban management fields, such as intelligent transportation, intelligent municipal administration, intelligent security and intelligent environmental protection, but also provide a new idea of platform management for urban managers. With the blessing of 5g and big data technology, the government can break through resource and information barriers, improve decision-making efficiency, and enhance the collaborative ability of resource allocation, so as to better meet the living needs of residents and the demands of industrial development. We expect that related industries such as network infrastructure production and laying, intelligent data acquisition equipment, high-definition image recording system, software development of government enterprise service platform, multi-source data analysis, remote control and detection will usher in new development opportunities.
Disaster relief deployment platform: disaster relief deployment platform provides a new direction for the transformation and upgrading of the supply chain. Through the combination of 5g technology and Internet of things technology, it will accelerate the realization of intelligent supply chain. At the production end, manufacturing enterprises can realize unmanned production, AI production line adjustment, automatic fault diagnosis and elimination through high-tech means such as 5g, Internet of things, AI and industrial robots, so as to improve the flexibility and reliability of production line and realize flexible production. At the same time, the use of intelligent efficiency analysis software based on big data will greatly improve production efficiency, tap capacity potential and reduce unit manufacturing cost. The 5g wireless property also reduces the difficulty of intelligent transformation of factories and production lines, and saves the cost of infrastructure. In the logistics end, 5g technology has a profound impact on the logistics industry, express industry, supply chain integration service platform and other resource allocation industries. In addition, more innovative service modes based on material transportation, such as intelligent logistics path planning, whole process real-time goods tracking, logistics distribution network design based on big data, remote inventory management, unmanned warehousing and receiving, may become hot topics in the next round of market discussion.
Remote diagnosis and treatment platform: the low delay characteristic of 5g technology can not only realize remote diagnosis and treatment, but also provide imagination space for remote operation in remote, dangerous and complex environment. Such as intelligent driving, remote equipment maintenance services, risk elimination of dangerous chemicals and explosives, adverse weather environment monitoring, power grid railway road maintenance patrol, etc.
If you want to get the full report, you can contact us by leaving us the comment. If you think the information here might be helpful to others, please actively share it. If you want others to see your attitude towards this report, please actively comment and discuss it. Please stay tuned to us, we will keep updating as much as possible to record future development trends.
RecordTrend.com is a website that focuses on future technologies, markets and user trends. We are responsible for collecting the latest research data, authority data, industry research and analysis reports. We are committed to becoming a data and report sharing platform for professionals and decision makers. We look forward to working with you to record the development trends of today's economy, technology, industrial chain and business model.Welcome to follow, comment and bookmark us, and hope to share the future with you, and look forward to your success with our help.