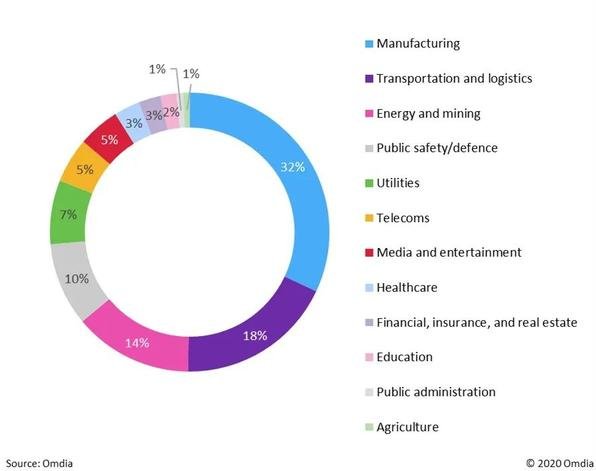 The following is the Private network From Trend observation in 2021 recommended by recordtrend.com. And this article belongs to the classification: 5g industry, telecommunication industry .
Omdia's view
Compared with other enterprise markets or solutions, private network can show more growth potential and ecological driven innovation, even when 5g has not fully realized its potential. This is a huge market, involving multiple vertical industries, facing various opportunities and challenges:
Network providers and alternative service providers are the "engine" to promote the development of private network market. This market starts with network infrastructure, but it goes far beyond that. It needs to combine technology and services.
Service providers haven't played a significant role yet – but don't exclude them. As 5g develops slowly and can play an important role in the enterprise market in a reasonable way, the situation may begin to change.
Although industry providers are conservative about cellular networks, they understand the risks and opportunities brought by private networks and 5g. The relevance of vertical industries such as manufacturing shows that this is not just about the telecom ecosystem.
Figure 1: Private networks vertical activities up to Q2 2020
Main information
It's time to build expertise and partnerships. The private network starts with connectivity, but it's much more than that – it's the backbone of up selling a variety of technologies and solutions. Keep this in mind when developing a private network strategy.
The influence of COVID-19. COVID-19 had an impact on the market, but it did not damage the market. While the epidemic poses challenges (for all participants), it also promotes some opportunities.
Continue to cultivate and train your company. This market attracts a wide range of players who will compete for the same opportunity. Focus on the alternative service providers that drive innovation in this market.
The age of 5g is coming. 5g will not pull the market in the short term. This process will take years and will be firmly based on LTE.
Suggestions for telecom operators
Telecom operators will not become the mainstream choice in the private network market in 2021. Telecom operators enter the market late, but they still have time – 2021 should be the starting point for them to formulate clear strategies and target markets. In 2021, they should build internal structures and partnerships to serve a decentralized and very specific market composed of different industries with different needs. If they act quickly, they can build up their strength in 2021 and accelerate their development in 2022; otherwise, they may repeat the mistakes they made before in the field of Internet of things.
Operators must understand their real strengths and weaknesses. Having more spectrum than other providers doesn't convince companies to choose among the many choices. However, demonstrating key capabilities in network deployment and integration, as well as a broad set of enterprise services, can highlight differences in scope and coverage between yourself and other competitors who may not be able to provide value beyond the network.
Don't be shy. Find key partners to consolidate your position. In the long run, partners (ideally partner Ecology) are essential to remain competitive in the private network market. Especially when considering the business outside the connection, operators must not do everything by themselves because they are greedy. Vertical industry suppliers should be regarded as cooperation targets.
Suggestions for alternative service providers
Act quickly and find a niche market or industry that can be a market leader. Opportunities to play a leading role in deploying and managing private networks. However, the door won't always be open – bigger or more traditional companies, though slow, will eventually catch up. Alternative service providers (ASP) should consolidate their market position by virtue of product uniqueness and faster innovation ability (compared with large competitors) in 2021.
For small players, the success of 2021 will bring the opportunity to be acquired by large companies. The market will eventually integrate – a trend that has begun to emerge: mavenir acquisition ip.access Ericsson acquired cradlepoint. The success of 2021 will make many small players the target of M & A for those who want to accelerate their market entry, such as telecom operators.
Start to incorporate 5g into the strategy to avoid being affected when the technology matures. This market is not a 5g market yet, but in the long run, every participant is paying attention to this technology. Alternative providers must ensure that their plans and strategies can fully grasp this market development trend.
Advice to suppliers
Choose "battlefield" and segment the market. Network providers lead the market in many ways. However, they should not be complacent. Suppliers must develop a dual strategy: to target the selected enterprise or market alone, while using partners to lock in other areas that they cannot sell directly. The market is just beginning to develop and competition will intensify. Achieving results and winning is critical to continuing to put pressure on competitors.
Strengthen contacts with industry participants. Compared with other categories, network providers have been cooperating with industrial providers such as abb or Komatsu to study and release the potential of LTE and 5g private networks. This trend should speed up, because it can keep the suppliers in the lead and occupy an advantageous position in the increasingly fierce competition.
Build 5g ecology. Either bigger or give up. Providing clear lte-5g product upgrades can help suppliers strengthen their market position. It is still an urgent task to clarify the role of 5g.
More reading: Omdia: COVID-19's impact on the private network market: Omdia: Korea has the world's most mature 5G network Omdia: predicts that in 2024, the global OTT message service revenue will reach 48 billion 200 million US dollars, Omdia:28nm will become a long node processing technology for semiconductor applications in the next 5 years. In May, the large size panel shipment increased by 16% in May, reaching a record high of 7 in recent years. 4.93 million pieces omdia: the supply of curved surface monitoring display panel will decrease sharply from 2021 omdia: in March 2020, the shipment of large-size panel will reach 64.16 million pieces, up 28% on a month on month basis omdia: the global OLED material revenue will reach US $1.259 billion in 2020 16%Omdia growth: growth in 2021: Chinese mainland panel plant will add 120 thousand new generation of 8.5 generation panel production capacity in 2021 to focus on the production of Omdia:2020 panel, and Omdia:2020 will reach 7 in July. 9.2 million pieces omdia: the shortage of large screen display driver chips will be a long-term normal omdia: it is estimated that the shipment of 4K large-scale display panels will reach 148 million pieces in 2020 omdia: it is estimated that the global display glass substrate will continue to be in shortage in 2021 omdia: the shipment of large-scale panels will reach 64.16 million pieces in March 2020 omdia: China's AMOLED production capacity will increase significantly in 2021
If you want to get the full report, you can contact us by leaving us the comment. If you think the information here might be helpful to others, please actively share it. If you want others to see your attitude towards this report, please actively comment and discuss it. Please stay tuned to us, we will keep updating as much as possible to record future development trends.
RecordTrend.com is a website that focuses on future technologies, markets and user trends. We are responsible for collecting the latest research data, authority data, industry research and analysis reports. We are committed to becoming a data and report sharing platform for professionals and decision makers. We look forward to working with you to record the development trends of today's economy, technology, industrial chain and business model.Welcome to follow, comment and bookmark us, and hope to share the future with you, and look forward to your success with our help.