5g industry
The average download speed of 5g connection is 5-6 times that of 4G From Opensignal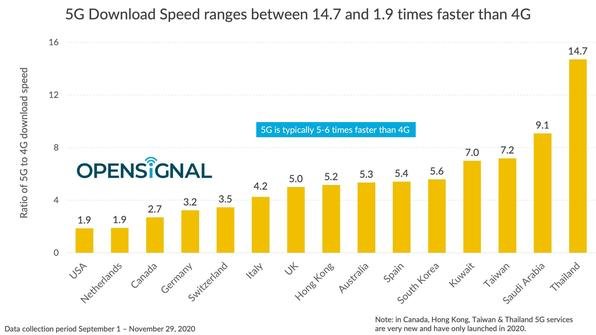 The following is the The average download speed of 5g connection is 5-6 times that of 4G From Opensignal recommended by recordtrend.com. And this article belongs to the classification: 5g industry.
Opensignal has analyzed the real 5g experience of mobile operators in many countries / regions around the world, including Australia, the United States, Taiwan and South Korea.
The data shows that the average download speed of 5g users is many times higher than that of 4G users. 5g speed increases range from 14.7 times faster than 4G in Thailand to 1.9 times faster than 4G in the United States. In these countries, most users see 5g downloads five to six times faster than 4G.
The average download speed of 5g users in South Korea is the fastest, 351.2 Mbps, slightly faster than 272.8 Mbps in Saudi Arabia. The average download speed is over 100 Mbps in all countries except one. Speed is by no means the only important indicator of 5g, and how long it takes users to connect to faster 5g technology is also very important. In general, in countries where 5g is slower, users spend more time connecting to 5g networks.
The time users spend connecting 5g or 5g availability is an important factor in 5g users' overall experience. We are still in the early stage of the 5g era, which will last at least 10 years, because the first 5g services will only be launched in 2019, and we continue to see the debut of 5g mobile services in many countries.
Although the 5g market is not mature, opensignal data shows that more than 1 / 5 of users in five countries / regions enjoy active 5g connections. 5g users in the United States spend 19.5% of their time connecting to 5g, making the United States the seventh in terms of 5g availability, second only to Taiwan and ahead of European countries.
The U.S. ranks much higher in 5g availability than the average download speed. T-Mobile's recent independent access 5g will help improve 5g availability and network response speed.
Obviously, smaller regions such as Kuwait or Hong Kong, China have an advantage over big countries such as Australia, Canada or the United States in providing users with a high level of 5g coverage.
More reading: opensignal: Saudi Arabia 5g download fastest opensignal: 5g era mobile network experience report opensignal: Global 5g experience benchmark opensignal: June 2020 US 5g user experience report opensignal: all the fastest 5g mobile phones in the United States are Android mobile phones opensignal: 5g era mobile game experience report opensignal: US 5g network speed lags behind the world The average downlink is only 50.9mb/s opensignal: the current situation of 5g development in Europe in 2019 scientists develop new optical fiber, which can download 5000 Blu ray movies in one second thunderbolt: the national download speed ranking of thunderbolt in 2013 thunderbolt: China's network speed in Q4 increased by 8% in 2011, broadband development alliance: China's average fixed broadband network download speed reached 9.46mbit/s in Q1 in 2016 thunderbolt: the national average download speed was lower in 2014 Peak load speed: 847kb / s, up 14.9% year on year/ sFCC:2009 68% of Internet connections in the United States did not meet broadband standards
If you want to get the full report, you can contact us by leaving us the comment. If you think the information here might be helpful to others, please actively share it. If you want others to see your attitude towards this report, please actively comment and discuss it. Please stay tuned to us, we will keep updating as much as possible to record future development trends.
RecordTrend.com is a website that focuses on future technologies, markets and user trends. We are responsible for collecting the latest research data, authority data, industry research and analysis reports. We are committed to becoming a data and report sharing platform for professionals and decision makers. We look forward to working with you to record the development trends of today's economy, technology, industrial chain and business model.Welcome to follow, comment and bookmark us, and hope to share the future with you, and look forward to your success with our help.