App Annie
Mobile applications
In Q1 of 2021, the global expenditure on purchasing users in mobile applications will reach US $32 billion From App Annie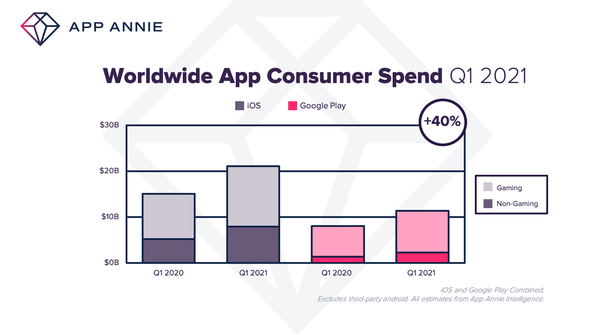 The following is the In Q1 of 2021, the global expenditure on purchasing users in mobile applications will reach US $32 billion From App Annie recommended by recordtrend.com. And this article belongs to the classification: App Annie, Mobile applications.
According to the latest data of APP Annie, in the first quarter of 2021, global user spending for in app purchases in "IOS" and "Google play" reached $32 billion. It's the highest ever, up 40% from the same period in 2020.
These figures show that the epidemic has a significant impact on the application market. In the first quarter of 2020, blockade measures will be introduced all over the world. The policy of home isolation forced consumers to seek indoor entertainment, and eventually they found a way to cope on their mobile phones – playing games and using other attractive applications, such as online video and social sharing platforms.
This has brought unprecedented growth rate to the mobile application market. In the first quarter of 2021, the expenditure of smartphone users in applications and games increased by US $9 billion compared with the first quarter of 2020.
Growth in the first quarter of 2021 was evenly divided between the two platforms. User spending on IOS platform increased by 40% year-on-year to reach 21 billion US dollars; user spending on Google play platform increased by 40% year-on-year to reach 11 billion US dollars.
The total number of downloads also increased significantly. The combined downloads of IOS ﹣ and ﹣ Google play ﹣ platforms grew by ﹣ 10% to ﹣ 31 billion times in the quarter.
Category growth: the download volume of health and fitness apps on IOS platform increased by 25% quarter on quarter
The global policy of home isolation is doomed that some application categories will perform better than others in this quarter. On the "Google play" platform, games, social and entertainment applications showed the strongest quarter on quarter growth in terms of user spending, while on the "IOS" platform, the categories with the largest growth were games, photos and videos, and entertainment.
In terms of download volume, the best performing categories are slightly different. On the "Google play" platform, social, tools and financial apps showed the largest quarter on quarter growth, but weather apps (40%) and social dating apps (35%) also showed outstanding performance. On the "IOS" platform, the biggest increases were in games, finance and social networking applications. However, the most eye-catching is the application of health fitness. With consumers looking for new interactive solutions to keep moving while staying at home, the number of downloads of such apps has increased by 25% quarter on quarter.
Among the most popular non game apps in the world, we see the expected evergreen products. Tiktok, youtube and Facebook still topped the list in terms of downloads, user spending and "Mau.". At the same time, some interesting findings can be obtained by studying the ranking of breakthrough applications with the fastest quarter on quarter growth.
In terms of downloads and Mau, the privacy focused messaging app "signal" was the fastest growing app in the quarter, while the similar "television" ranked third and second in the two rankings, respectively. Another eye-catching breakthrough application is MX takatak, which meets the growing demand for user generated short video content in the Indian market. For local publishers in India, this is part of the current rapid growth trend. According to our estimate, it is the fastest growing app in the first quarter of 2021.
The total expenditure of game users reached 22 billion US dollars, setting a new record
As always, the data of the first quarter of 2021 proves that games are the most influential category in the whole application market. In this quarter, gamers downloaded about 1 billion games per week, and the total user spending in the game reached 22 billion US dollars. IOS ﹣ players spent the most in-game users, at US $13 billion (a year-on-year increase of US $30%), while users on Google play platform spent US $9 billion (a year-on-year increase of US $35%).
The growth of download volume is not so good, but it can not be underestimated. In the first quarter of 2021, players downloaded about 1 billion games per week. This is an increase of 15% from 2020 and 35% from the weekly average in the first quarter of 2019. The number of game downloads in Google play increased by 20% year-on-year to 11 billion.
The game with the highest download volume in the quarter was join clash 3D, a super leisure survival game of super sonic studio. It swapped places with "strong us!" which is currently second. As we continue to look down on the list, there are some notable rising stars.
Third, DOP 2: delete one part rose by 308 places. Saygame's puzzle game is to let players slide part of the picture to see the hidden content. As the level of players increases, the difficulty of breaking through will also increase.
In fourth place is phone case DIY, which has risen at least 1052 places in the quarter. The app was developed by enter crikey in Australia and released by crazylabs. This is a super casual game, players can design their own mobile phone shell. Enter crikey discovered the trend of mobile design video on social media and developed the app.
In terms of user expenditure and Mau, the game ranking has little change. Yuanshen's user spending ranked first in the fourth quarter of 2020, and is still ranked second in game applications. The continued success of this game further shows that mobile games have become very mature and can provide a host game like experience, because more and more game publishers begin to give priority to mobile platforms to expand their user base, and regularly provide content updates, such as additional roles and tasks, so as to further improve user participation and promote in app purchase.
Mau's ranking is more stable. Compared with the previous quarter, the top six have not changed at all: strong us!, pubg mobile, candy legend, robox, free fire and call of Duty: mobile.
Although the top applications are relatively stable, there are still many well-known games that have made a huge leap in user spending and number of users. UMA Musume pretty derby is at the top of the "breakthrough" list of user spending. It is based on a very small but very successful comic series and animation programs in the main market of Japan. It was adapted into "IOS" and "Google play" mobile games in February 2021.
The biggest "breakthrough" game in the number of active users in this quarter is project makeover, which adds a new color to the leisure puzzle game. It combines the well-known connection elimination mechanism with the themes of fashion, makeup and home decoration, thus bringing rich diversity and helping to maintain players' participation.
Finally, as we move towards the second quarter of 2021, mobile games will reach a new high. The epidemic has accelerated this growth. In 2020, the growth rate of game downloads is 2.5 times higher than that of all kinds of applications. In 2021, the user spending of mobile games is expected to reach 120 billion US dollars, which is 1.5 times that of all other forms of games. Mobile game strategy – including product development, partnership, global expansion, user acquisition, marketing, cash flow and retention rate – has become more important than ever, and game publishers need to clearly understand the market and future development direction. Read more: app Annie: Top 10 app publishers in India, Southeast Asia app Annie: more than 30.3 billion app downloads on IOS and Google play in the second quarter of 2019 China mobile phone one belt, one road, October 2018 App Annie:2018 August August China App publishers list of revenue, App Annie:2017 year, "one belt and one road" market App list App Annie:2014 June June World Games application index ranking App Annie:2014 year May global App Annie:2014, mobile phone game report Annie: revenue of Apple App Store in Q1 2015 is 70% higher than that of Google Android App store. New normal in 2021: Top 5 forecasts of mobile market (Part 2) app Annie: ranking of global / China Mobile App index in October 2020 app Annie: top 30 Chinese manufacturers and applications going to sea in June 2020 app Annie: ranking of Chinese manufacturers and applications going to sea in August 2020 app Annie Annie: Top 10 global popular games and applications in September 2020
If you want to get the full report, you can contact us by leaving us the comment. If you think the information here might be helpful to others, please actively share it. If you want others to see your attitude towards this report, please actively comment and discuss it. Please stay tuned to us, we will keep updating as much as possible to record future development trends.
RecordTrend.com is a website that focuses on future technologies, markets and user trends. We are responsible for collecting the latest research data, authority data, industry research and analysis reports. We are committed to becoming a data and report sharing platform for professionals and decision makers. We look forward to working with you to record the development trends of today's economy, technology, industrial chain and business model.Welcome to follow, comment and bookmark us, and hope to share the future with you, and look forward to your success with our help.