Blockchain
IDC
China's blockchain market has reached 286 million US dollars From IDC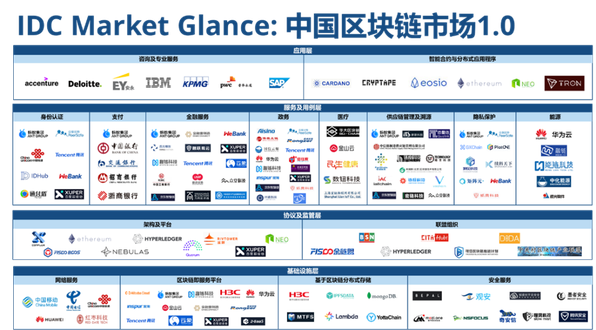 The following is the China's blockchain market has reached 286 million US dollars From IDC recommended by recordtrend.com. And this article belongs to the classification: IDC, Blockchain.
According to the latest IDC global blockchain spending guidelines released in March 2021, China's blockchain market has reached 286 million US dollars. With the continuous promotion of policies and the continuous efforts of manufacturers, China's blockchain market ecology has initially formed. According to the industrial process and service dimension, IDC divides China's blockchain market into application layer, service and use case layer, protocol and supervision layer and infrastructure layer from top to bottom, and sorts out the main manufacturers of each service dimension. On the one hand, to build a clearer framework for the market, on the other hand, to provide choices for manufacturers to choose upstream technology providers or industrial partners.
In the study, IDC has the following findings:
The underlying platform is becoming more and more mature, with different service forms benchmarking different customer groups. Traditional network operators and cloud manufacturers use their own advantages to provide communication services, server resources and cloud storage computing resources to the market, laying the road for the connection of blockchain nodes. At present, cloud vendors provide network, computing, and storage blockchain services by providing baas services or by joining BSN city nodes.
In the wave of enterprise digital transformation, security is a very important part. This is especially true for transparent peer-to-peer networks. Dao attacks have sounded an alarm for the security of blockchain, especially for smart contracts. At present, focusing on the risk areas of technical security, business logic loopholes, legal compliance of smart contracts, traditional security manufacturers and emerging blockchain security manufacturers are committed to protecting the security of smart contracts and digital assets through compliance monitoring, formal verification and other means, so as to create a blockchain security ecology.
The market structure has been initially determined, and the exploration of use case layer still needs to be deepened. At present, blockchain market products are in full bloom, but they usually focus on project delivery to meet single point demand. At the same time, the project is usually jointly built by the product demander, technology provider and industry service provider, and it is relatively difficult for the manufacturers to separate their roles in the construction and later operation of the project. In this case, manufacturers of all dimensions can not give full play to their advantages in their respective fields, and there is no monopoly situation of technology providers or standardized products in the market. However, with the gradual improvement of the underlying platform and more plug-ins moving towards open source, the service boundary becomes clearer, which is more conducive for emerging manufacturers or business departments to enter the market segments. At the same time, the application of blockchain enabled traceability, privacy protection and other related scenarios will be the focus of development in the next few years.
Industry standards have been gradually formed. While competing for the right to speak, technology manufacturers work together to promote the healthy development of the blockchain ecology. In the early stage of the industry, where the technical efficiency still needs to be improved and the business model needs to be explored, the industry alliance provides an indispensable platform for technology advancement, multi-party cooperation in the business scenario and the introduction of the standard framework. Whether it is an alliance running through the whole industrial chain or an organization aiming at a specific field, it is an important communication channel between blockchain manufacturers and a common channel for external voice.
In the early stage of technology industry, application layer services still need to be developed. The digital transformation of a large number of enterprises has not been completed, and the exploration of blockchain technology is still in the initial stage. Most of the consulting services related to blockchain stay in the operation and maintenance, architecture consulting during deployment, and have not yet formed a large-scale consulting service for blockchain transformation. The upper service areas still need to be developed. Compared with the application and innovation exploration of alliance chain projects in various industries, the future development of public chain projects in DAPP, defi finance, token and other fields is worth looking forward to.
Hong wanting, senior analyst of China emerging technology research department of IDC, said, "the industry has reached a consensus on industrial blockchain, and the top-down industrial structure of blockchain led by traditional enterprises, large technology companies and the government and promoted by alliance has been initially completed. The existing underlying framework, blockchain platform, and gradually improved sub market standards create opportunities for more blockchain enterprises deeply engaged in segmentation scenarios. In the future, the blockchain ecology composed of perfect infrastructure, market environment and rich providers will accelerate the transition of the industry from blockchain technology innovation to "blockchain + scenario" business model innovation, so as to more fully tap the potential of distributed commerce"
Read more: IDC: it is estimated that the scale of China's financial industry's blockchain expenditure will reach US $600 million in 2022, with a compound growth rate of 67.5% IDC: it is predicted that the overall scale of China's blockchain market expenditure will reach US $2.28 billion in 2024, with a compound growth rate of 51% IDC: it is estimated that the global blockchain expenditure will reach US $11.7 billion in 2022 IDC: it is predicted that the overall scale of China's blockchain market expenditure will reach US $22.8 billion in 2024 IDC: China's blockchain market spending is expected to reach US $160 million in 2018 IDC: China's blockchain spending is expected to reach US $2 billion in 2023 IDC: China's blockchain spending is expected to reach US $2 billion in 2023 IDC: Asia Pacific blockchain solution spending is expected to reach US $240 million in 2022 blockchain talent development: innovation and recruitment in the Asia Pacific Region Hire trend (download attached) Forbes: list of "blockchain 50" in 2021 ant Baidu Tencent and others on the list fire coin Research Institute: panoramic and trend report of global blockchain industry in 2020-2021 (download attached) IBM: promote global trade with the help of blockchain (download attached) ping an blockchain in 2019: blockchain promotes the establishment of an open and shared new financial system (download attached) Bitcoin mining Craze: mining machine sold out, chip supply cut off, notebook computer removed, graphics card, blockchain and cloud computing dual engine: joint efforts to drive "digital +" economic development (with download)
If you want to get the full report, you can contact us by leaving us the comment. If you think the information here might be helpful to others, please actively share it. If you want others to see your attitude towards this report, please actively comment and discuss it. Please stay tuned to us, we will keep updating as much as possible to record future development trends.
RecordTrend.com is a website that focuses on future technologies, markets and user trends. We are responsible for collecting the latest research data, authority data, industry research and analysis reports. We are committed to becoming a data and report sharing platform for professionals and decision makers. We look forward to working with you to record the development trends of today's economy, technology, industrial chain and business model.Welcome to follow, comment and bookmark us, and hope to share the future with you, and look forward to your success with our help.