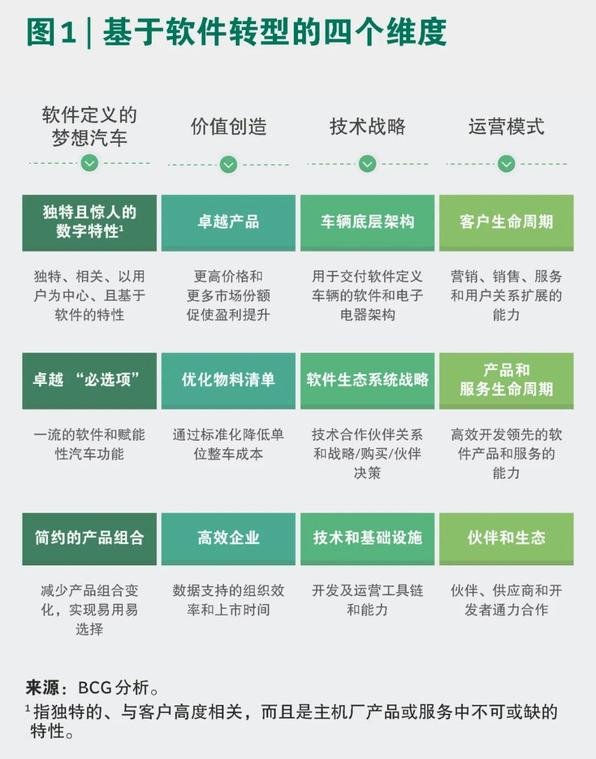 The following is the Pursuing the dream car defined by software From Boston Consulting recommended by recordtrend.com. And this article belongs to the classification: Smart car, Boston Consulting.
A senior executive of a luxury car company told us that more than 90% of innovation now comes from software. Recognizing this shift, automotive OEMs, suppliers, start-ups and mature technology companies are investing in the development of a software defined dream car, that is, a customer-centric car that can be personalized and updated like a smartphone. In order to promote the development and commercialization of the next generation of automobiles, enterprises must not only change the automobiles they produce, but also change the way they manufacture automobiles – how to create value, optimize technology and operation.
The transformation from hardware led to software LED is very dramatic, but the return is also quite good. Take Tesla as an example. Its software centered innovation, such as increasing battery range through OTA and introducing autopilot, has improved its valuation and loyalty to the brand and manufacturer. Tesla users love their electric cars and their communities. Here's our forecast: it's expected that this will save billions of dollars for the value chain of the main engine plant, save up to 7500 dollars per vehicle, and open the door to new sales and service profit opportunities.
Software driven transformation is taking place in various industries. Now, this transformation is really reshaping the auto industry. Software applications are not new to the automotive industry: Internet services were ready decades ago; The existing car already contains as many as 100 electronic control units, supported by hundreds of millions of lines of code; Moreover, autopilot technology is also using advanced artificial intelligence algorithms.
However, at present, car manufacturers do not have enough capacity to produce software defined dream cars. Although it may be trite to discuss those "dinosaur enterprises" that have not survived the subversion of other industries, it is certainly not advisable to ignore the key omens of potential large-scale turbulence, such as new high-tech competitors entering the market and new differentiation points – the automotive industry is now in this period.
Despite the turbulence brought by COVID-19, car companies should continue to transition to software. We expect car sales to recover. Moreover, we believe that the epidemic situation is forming the basic aspect that consumers tend to buy cars, mainly due to safety reasons and the habit of software functions. These two factors will be integrated. If the software of vehicle integration is the same as the choice of car buyers in home, work and leisure, it will win favor. If we want to develop and utilize this demand, automobile manufacturers should analyze the industry engine and reshape it with software as the center. How to do it? We will analyze through the following four transformation dimensions.
Accelerate the transformation to software in four dimensions
In order to overcome the challenge of turning to software, enterprises need to speed up the construction of four software driven basic capabilities and compete in a new environment with more profits (see Figure 1).
1. Rethinking the software centered dream car
2. Reexamine the opportunities of value creation around the industry change centered on software
3. Redefine technology strategy and grasp control focus
4. Update the operation mode to adapt to the software first method
This paper discusses the first two points.
Rethinking the software centered dream car
In the past decade, successful technology enterprises have opened up a new way to win and lock in users. Based on deep insight and prediction, they continue to provide the experience consumers desire – the freshness of being at the forefront of innovation, and the sense of belonging among users. They also offer consumer centric features such as simplicity and extreme convenience. The products sold by enterprises are not one-time transactions, but the start of Internet connection, community, and a series of related applications and upgrades. All of this creates a highly relevant experience and a very loyal customer base.
In order to compete for user attention and profits, automakers must follow suit – which means reshaping their products. Think of it this way: Although the iPhone is still a mobile phone, it also inspires a rich and colorful experience. Similarly, software based vehicles need to retain the main role of moving people, goods and tools, but also include other attributes, which means that automobile manufacturers need to make the following changes:
1. New applications and upgrades must be provided to users frequently through OTA updates.
2. Need to seamlessly integrate users' digital life – provide users with intelligent suggestions about their needs and preferences, such as managing home lighting through cars or suggesting forms of entertainment.
3. The vehicle must be built with software that ultimately supports autonomous driving and active safety functions.
4. We should use advanced analysis technology to interpret near real-time user and vehicle data, widely connect with technology enterprises outside the automotive ecosystem, and learn how to create excellent user experience.
These are "must haves" that they must make in order to stay relevant to their customers in a rapidly changing competitive environment. Only complete the required option, greatly improve the threshold of the main engine factory; Now there are very few manufacturers with these capabilities.
How to keep relevance of main engine factory
The main engine factory needs to carry out thorough reform in all aspects to keep up with the fast changing pace of the industry. Here are some areas where reforms must be implemented.
Predictive and personalized interaction. Design a product to understand user behavior and preferences and make relevant recommendations. Internet technology companies are a good example. Its product today's headline was initially a news recommendation engine, and later developed into a content platform with rich interactive functions, such as personalized push enabled by machine learning. This user experience driven product innovation makes this young technology company one of the most valuable unicorns in the world.
Freshness and renewability. Through software and Internet connection, more auto components can be enabled as much as possible to make remote update possible: loudspeaker, screen, all electric actuators, engine, interior lamp and intelligent surface. These functions are constantly updated throughout the life cycle of the vehicle. For example, Tesla was able to make 124 different OTA updates to model 3 within 18 months.
The integration of digital ecosystem and design. Building a highly integrated service ecosystem through API and cloud is far beyond the current predicted model. Today, users live a complex and universally connected digital life, and hope to achieve this in vehicles. They are also eager to be able to use the services they need in a comfortable and natural way anywhere.
Simplicity. To manufacture vehicles with limited hardware configuration, so that buyers can use a set of powerful software products to customize their cars after purchase. These software products can be purchased and added through OTA update just like smart phone applications. Then, further simplify the whole experience: search, purchase, activate, maintain, use vehicles and software services. Think about the iPhone experience.
Fast iterative, reliable and modular technology foundation. Ensure the highest reliability and availability of the vehicle and its features. The car based on software can't "go down" — this is the lesson that science and technology enterprises have summed up for many years. Customers want to buy a car with reliable software, fast response and fast update within the service life of the vehicle; We also want to be able to change hardware features many years after the first purchase. Tesla is once again the first to introduce an improved method of core chipset, which can install a new fully automatic driving (FSD) computer for the old models. The chipset is designed by Tesla to significantly improve the speed and performance of image processing.
Data protection and network security. Focus on network security. More and more technical support for such vehicles comes from fast Internet connection, intelligent machines and open systems, and customers have higher concerns and expectations about network security and data protection. Regulators are increasingly defining and implementing norms, policies and procedures to address these issues.
Active safety. Actively meet the needs of consumers and regulatory groups. Through the software, automobile manufacturers have developed a series of highly sensitive functional modules, which greatly improve the safety of the vehicle. The on-board monitoring system allows the execution of current and even predicted software command operations. For example, brake assist, pedestrian detection, blind spot monitoring, accident detection and response. These innovations will soon become the standard, incorporating safety rating choices and regulatory requirements that guide consumer purchases.
But OEMs need to go a step further – offering amazing, powerful and unique attributes that will inspire user excitement, support and loyalty. For example, the OEM can take the provision of high-quality consumer digital life integrated services or intelligent assistance as its unique sales proposition. We may see impressive technologies, such as smart surfaces, holograms, multi sensory entertainment experiences or truly great mobile experiences. The automobile instrument is likely to closely reflect the user's intention and make it feel natural and intuitive.
Although the required option contains heavy tasks, it can be the ultimate winner only if it has the features that make users admire. Our research on technology companies shows that it's important to capture three to five distinctive features – they will build brand image and strongly attract consumers. Automobile enterprises should study the successful cases of other industries to see how the unique and carefully created amazing characteristics can create excellent brands and win loyal fans. Peloton, for example, offers what we call a software defined dream indoor bike that succeeds by combining digital enabled products, entertainment, and communities.
If we find the right elements, the automobile manufacturers will get the enviable and lasting brand relationship positioning.
However, it's not enough to just complete the required options and provide amazing features. Think back to another sign of a successful digital enterprise: simplicity – an opportunity for the great convenience that consumers value. Today's automobile industry, like many other mature industries, is not simple. Decades of cumulative incremental change and subtle segmentation based on basically static product propositions have resulted in a highly fragmented and complex product mix.
Today, high-end cars have billions of potential configurations. Options cover powertrain, wheelbase, body, roof, electronics (e.g., exterior and interior lighting, screen size, sound, seats, design elements and colors). This kind of diversification causes high costs, which include scattered suppliers, cumbersome logistics and production, as well as complex after-sales parts industry and so on. This reduces the R & D return on most complex features, which are usually available in less than 1% of cars. In terms of electronic devices, diversification requires complex hardware and software platform branches, compatibility management, testing, and expensive modular cabling to meet all potential options. Diversification also slows innovation. Most importantly, complex products pose challenges to potential buyers, who have to make many subtle choices for a standard product. It's not convenient.
Let's compare the current situation of the automobile industry with that of the iPhone at that time. When it first came out, the iPhone had only two memory options (4GB and 8GB). Now, more than a decade later, the iPhone has changed little. In essence, the limited choice involves screen size, computing power and cameras – but it still sells in the hundreds of millions. IPhone can also be customized, but the operation is always simple and convenient, which can be realized through software (and accessories). The result is: a simple, low-interference direct selling model, which not only avoids store congestion, but also provides an attractive online experience. The new software can be deployed to all iPhones around the world in a few days. Efficient after-sales service can easily solve a few typical events and provide excellent experience for customers.
Such simplification does not negate the possibility of a successful feature. For the iPhone, these features include excellent gaming experience and excellent augmented reality capabilities. This amazing feature, which is standard in mainstream iPhones, makes the average profit of each device higher than that of the micro segmentation strategy.
It's not too much for the auto industry to claim that almost all of today's new car profits come from configuration options and other additional accessories. But Apple's success tells us that the complete simplification of the product portfolio will surpass today's price discrimination advantage, and is the only way to the dream car defined by software.
Around the software centered industry change
Reexamine the opportunity of value creation
The median profit margin of the main engine plant is 6% to 8%, while that of the supplier is slightly higher, ranging from 8% to 10%. These profits are not enough to invest in building the software capabilities that automakers need. Enterprises must thoroughly understand the economic principles of software in order to answer an important question: how can we profit from the transformation to software?
Our analysis shows that if the operation is proper, the benefits of the transformation will be very considerable: by increasing the actual price and reducing the material cost, the profits of high-end brands and volume models will be increased to $7500 and $2600 respectively. In addition, the cost and potential profit saved by the value chain of the main engine plant can be as high as US $2 billion to US $2.5 billion.
The rewards are mainly from three aspects: excellent products, the optimization cost of each vehicle shown in the bill of materials, and efficient enterprises (see Figure 2). As long as the enterprise formulates a clear business case and focuses on the implementation of all the needs in the software transformation, its large-scale investment will eventually be rewarded.
Excellent products. The leading position in automotive software will enable OEMs to effectively sell at a premium, gain market share and maintain value.
Tesla's market performance shows that these software driven initiatives pay off (see Figure 3). The company has grown in a number of market segments, raising the annual price of model s at the expense of high-end and volume models – even without major changes to the vehicles. In view of this, it seems that manufacturers who have successfully brought software defined dream cars to market can increase their prices to five times the historical growth rate (usually 0% to 1% per year). Then, they need to continue with the material upgrade. Because in the software world, profits don't stop with the first sale. This ability to refresh auto OTAs over the life cycle can also be rewarded in another way: the resale value of used cars by car manufacturers may increase by 15%.
Optimized BOM. The software centric approach enables automakers to cut costs significantly. Our analysis shows that the main engine plant can reduce the hardware cost of each middle end car by $600 to $1200, and the hardware cost of each high-end car by $2500. However, they need to be bold to seize these opportunities, because deep-rooted ways of thinking can hinder progress. They can use the following key levers:
1. Strictly reduce the complexity. When the differentiation of the car comes from its software function, the hardware can be standardized, so as to reduce the complexity and cost. Further complete simplification can also be achieved through centralized computer architecture, including significant simplification of wiring and integration of end-user hardware, such as screens and buttons. Some OEMs are also considering more in-depth design cooperation with semiconductor enterprises.
2. Reuse code through a systematic platform. Software can also be standardized to optimize licensing costs, promote modularity, and ultimately achieve reuse.
3. "Respect" and adjust the hardware scale. Using software to analyze the data collected from the vehicle can deeply understand the actual use of hardware and how to use it. For example, the actual expected discharge level of the battery or the maximum repetitive braking pressure. Such insights should be used to guide future spending.
Efficient enterprises. Efficiency can generate returns through the following ways:
1. Promote in-depth customer insight and more efficient customer interaction. These enable enterprises to carry out up selling or cross selling, and improve the overall efficiency. Remember, apple customers interact with apple primarily through their iPhones, not through dealers or call centers.
2. Promote R & D productivity and develop a platform across OEMs. Through the adoption of platform, automobile manufacturers continue to develop a single code base that can be deployed in various models, and improve the quality through data-driven closed-loop development. In addition, software leaders have begun to issue IP licenses to other host plants, open up new sources of revenue, form scale, and make real software enterprises profitable.
3. Apply OTA updates to quality. When the accident can be handled in real time through the prediction function and OTA software upgrade without the need for the owner to send the car to the service center for recall, there will be more and more new ways to improve the efficiency.
4. Use data to make better decisions. Fully releasing data can improve the decision-making efficiency of the whole value chain. Real time and historical vehicle data can be used to generate customer insights to enhance development, manufacturing and operational processes.
In the next part, we will turn our attention from the ideological level to the practical level, and explore the next action guide for automobile manufacturers
1. Redefine technology strategy and grasp control focus
Automobile manufacturers need to make clear the core technology sectors they develop and how to establish new and in-depth strategic partnership with software and technology enterprises.
2. Update the operation mode to adapt to the software first method
Stepping into the software era will not only change the R & D department, but also reshape the whole enterprise. From the top leadership to ordinary employees, and then to cross functional departments, we should be ready for this change.
More reading: BCG& China Trust for foreign trade: China Trust Industry Report 2017 (download) Boston consultation: autopilot and city transportation revolution (download) Boston consultation: 2020 CPG growth leader of the US CPG Consulting: decoding the global scene and virtual talents BCG& Tmall: China online apparel strategy crowd insight study report BCG& Ali research BCG: the most innovative top 50 enterprises in 2020 BCG: 33% of Indian consumers will buy home care products online BCG: digital transformation of pharmaceutical enterprises under the epidemic BCG: – 30% or + 10%? Boston Consulting: Chinese enterprises need to grasp the current situation and win in the "post epidemic era" (download attached) BCG: ten digital measures to rapidly improve performance (download attached) BCG: bionic enterprises (download attached)
If you want to get the full report, you can contact us by leaving us the comment. If you think the information here might be helpful to others, please actively share it. If you want others to see your attitude towards this report, please actively comment and discuss it. Please stay tuned to us, we will keep updating as much as possible to record future development trends.
RecordTrend.com is a website that focuses on future technologies, markets and user trends. We are responsible for collecting the latest research data, authority data, industry research and analysis reports. We are committed to becoming a data and report sharing platform for professionals and decision makers. We look forward to working with you to record the development trends of today's economy, technology, industrial chain and business model.Welcome to follow, comment and bookmark us, and hope to share the future with you, and look forward to your success with our help.