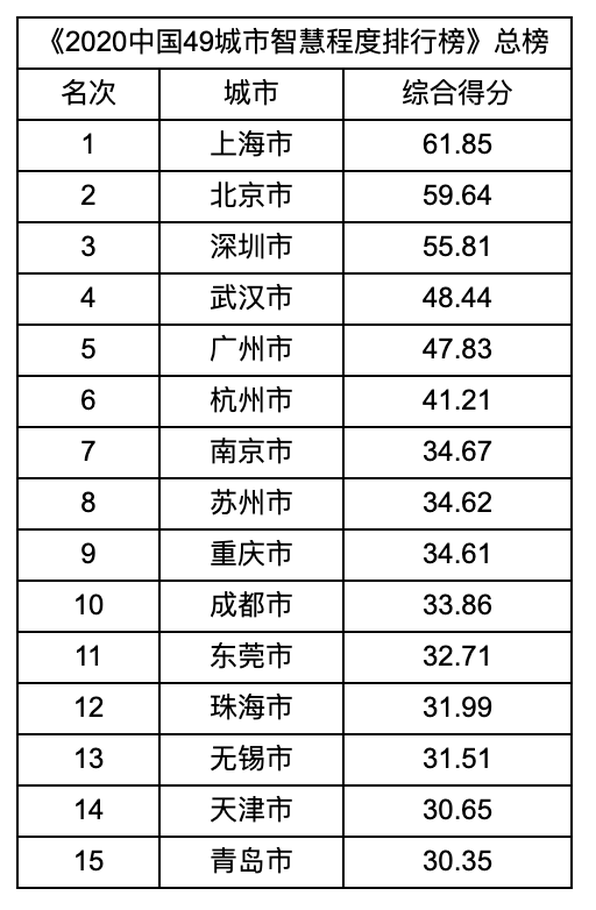 The following is the 2020 China 49 cities intelligence ranking recommended by recordtrend.com. And this article belongs to the classification: Chinese economy.
The white paper of "smart city" is mainly composed of the research team of Professor Lu Yaobin, chief scientist of major projects of National Social Science Foundation of China, director of Hubei key research base of Humanities and Social Sciences, and vice president of School of management of Huazhong University of science and technology. It is jointly completed by Professor Gong Yeming, Dean of School of artificial intelligence management of Lyon business school and director of global business intelligence center. The white paper is part of the research results of the National Social Science Foundation major project "Research on monitoring, evaluation and coping strategies of intelligent social governance based on big data" (18zda109). In the white paper, the CSC evaluation model of China's Urban Smart degree is proposed. Six first level indicators, 14 second level indicators and 38 third level indicators are selected, including smart infrastructure, smart people's livelihood services, smart security system, innovative development environment, smart government governance and smart collaborative participation. A total of 49 cities in China are selected for evaluation and ranking.
01. 2020 China 49 cities intelligence ranking
The white paper first gives the analysis of the top 15 cities in 2020 China 49 cities intelligence level. The first tier cities Beijing, Shanghai, Guangzhou and Shenzhen all got higher scores; the new first tier cities Wuhan and Hangzhou ranked higher.
Among the top ten cities, the construction priorities and characteristics of each city are different, and the development of smart people's livelihood services, smart government governance and smart collaborative participation is relatively balanced, with a small gap. However, there are some differences in smart infrastructure, smart security system and innovation and development environment. Among them, Wuhan's comprehensive ranking results are more outstanding, especially in the aspect of smart government governance.
02. Subdivision list of 2020 China 49 cities intelligence ranking
The white paper "smart city" further gives a breakdown ranking. In terms of smart infrastructure, Beijing is far ahead, with Shenzhen, Shanghai and Wuhan ranking 2-4. At present, the overall construction level of Urban Smart infrastructure in China is not high, and only a few cities perform well, and most cities need to continue to increase the construction efforts.
In terms of smart people's livelihood services, Beijing, Shanghai, Guangzhou, Shenzhen and other first tier cities are in the forefront, while coastal cities are generally in the top. At present, the implementation level of smart people's livelihood services in China's major cities is relatively good. Mobile Internet and digital technology have a profound impact on all aspects of people's lives.
In terms of smart security system, Beijing, Shanghai and Tianjin are far ahead, and the overall performance of smart security system in southern cities is better. In 2020, only a few cities in China have relatively good level of smart security system construction, while most cities are relatively backward.
In terms of innovation and development environment, Beijing occupies the first place, most of the top ten cities are southeast coastal cities, and the level of innovation and development environment construction of other major cities is relatively low.
In terms of smart government governance, among the top ten cities, although the southeast coastal cities still account for the majority, Wuhan is at the top of the list. Since the nineteen, our country has been promoting the construction of "Internet plus government" and the implementation of digital government affairs, effectively promoting the development of e-government.
In terms of smart collaborative participation, Shanghai is far ahead of Dalian, and the scores of each city are close. This shows that mobile Internet technology has a profound impact on people's lives, breaking the time and space constraints of government and enterprises in the past.
3. Conclusion and suggestion
Throughout the development of China's smart city in 2020, advantages and disadvantages are the same. The advantages lie in the good infrastructure conditions all over the country, the increasingly wide penetration of smart cities, the government's focus on policy planning and smart government, and the coordinated development of multiple subjects. The disadvantages lie in the imbalance of spatial development, the high degree of wisdom in Southeast cities, the prominent phenomenon of homogeneous construction, the weak characteristics, the weak environment for innovation and development, and the weak information sharing in some cities.
In this regard, the white paper also gives specific strategies and suggestions
All parts of the country should develop together to break the imbalance of spatial development;
We should excavate the characteristics of the city, find the correct positioning, and adhere to the problem and demand orientation;
Promote the development of innovation environment;
Strengthen the sharing of information resources and improve the level of comprehensive management.
The release of the white paper is a phased evaluation of the development of smart cities this year. The school of management of Huazhong University of science and technology and Lyon Business School of France will also continue to conduct in-depth research on China's practice and solve China's problems, and will play a positive leading role in academic innovation and industrial innovation in the field of smart city.
School of management of Huazhong University of science and technology and Lyon Business School of France have long been committed to cultivating international industry leaders through the integration of science and education and the integration of industry and education. The global business intelligence center in Lyon, France, has held an influential global business intelligence forum. The center is committed to industrial frontier research, creating industrial influence, and providing high-end education and training. It also cooperates with artificial intelligence, big data, Internet of things and other technologies and management to create new business value, and supports Lyon business school's "common intelligence strategy" and "2023 innovation strategy" "Strategic framework". More reading: People's Bank of China: questionnaire survey report on urban depositors in the first quarter of 2019 China Bureau of Statistics: profits of Industrial Enterprises above designated size increased by 16.2% from January to August 2018 sharing opportunities: impact of China International Import Expo on commercial real estate market Policy implementation report (download attached) Savills: Technology City in 2019 (download attached) PwC: new leadership launches new blueprint for future development (download attached) McKinsey financial industry white paper: high quality development of China's financial industry (download attached) DT Finance: who is the financial center of Shanghai, Lujiazui and Jing'an Temple? Chinese intelligence: China's one belt, one road, PWC: Interpretation of the 14th Five-Year plan and the 2035 vision (download) Jones Lang LaSalle: review and Inspiration of the "City Vietnam" accelerator (download) 2019 "one belt and one road" report: look for new space. One belt, one road, China's "new economy" – intelligence, sharing and green (download) Rand think tank: a one way initiative assessment (download)
If you want to get the full report, you can contact us by leaving us the comment. If you think the information here might be helpful to others, please actively share it. If you want others to see your attitude towards this report, please actively comment and discuss it. Please stay tuned to us, we will keep updating as much as possible to record future development trends.
RecordTrend.com is a website that focuses on future technologies, markets and user trends. We are responsible for collecting the latest research data, authority data, industry research and analysis reports. We are committed to becoming a data and report sharing platform for professionals and decision makers. We look forward to working with you to record the development trends of today's economy, technology, industrial chain and business model.Welcome to follow, comment and bookmark us, and hope to share the future with you, and look forward to your success with our help.