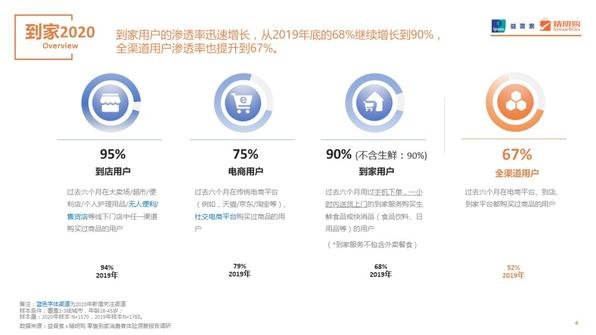 The following is the 2020 retail home consumer experience insight From Ipsos & Smart buy recommended by recordtrend.com. And this article belongs to the classification: Consumer research, Ipsos.
In the first half of 2020, COVID-19 broke out in China. In order to reduce the risk of infection, the whole nation should work together to fight the epidemic, reduce unnecessary going out and avoid crowd gathering. Due to limited travel, online shopping has become the preferred channel. E-commerce shopping, retail fresh home, take out door-to-door and other "home economy" has developed rapidly under the short-term stimulation.
With the gradual normalization of domestic epidemic control, people's life and travel have basically returned to normal. After this year's cultivation of consumption habits, what is the situation of consumers using home service in the post epidemic era? What new opportunities and challenges does home service face?
In January 2021, Ipsos once again joined hands with SmartGo to release the "2020 home retail consumer experience insight report", which focuses on home retail users to carry out online questionnaire survey and telephone in-depth interview, to understand the behavior and scene changes of consumers using home service, to have insight into the development trend of the industry, and to help retailers and brands prepare for the opportunities in the post epidemic era. The survey was conducted from November to December 2020, covering 18-55 year-old users of line 1-4, and 2128 valid samples were completed.
According to the survey results, 90% of the respondents said they had used the retail home service platform to buy FMCG or fresh food in the past six months, up more than 20% compared with last year. In the post epidemic era, retail home service platform has become one of their new daily purchasing channels.
Summary of 2020 retail home service changes: more small town users, stronger user stickiness, wider purchase categories, more platform considerations.
1、 More small town users
Thanks to the sinking strategy of several fresh e-commerce platform giants this year and the living needs during the epidemic period, the number of retail home platform users in the third and fourth tier cities is growing rapidly (for example, in the third tier cities, from 44% in 2019 to 82% in 2020). The consumption potential of small town users on the short radius retail home service platform also needs attention.
2、 Stronger user stickiness
Consumers' use of retail home platform is not only due to shortage or impulsive shopping, but also to stable and high-frequency daily purchasing. At the same time, all kinds of new and retained promotion activities between home platforms also help to improve user stickiness. The proportion of high-frequency users (placing orders more than three times a week) has increased from 32% in 2019 to 49%, and the number of platforms used has also increased.
3、 Buy a wider range of products
We also observed that there was a very large expansion in the categories purchased by retail home users. In addition to the convenient frozen food favored by "lazy people", the more life like rice and flour Cereals, seasonings and household cleaning products are also added to the shopping cart of consumers' home platform.
4、 Think more about the platform
In the choice of retail home service platform, consumers will have their own preferences for different types of products. For example, when purchasing fresh food, users prefer to use box horse fresh food, while when purchasing packaged food, they prefer the hungry platform.
The rise of community group buying
Similarly, we should pay attention to the community group buying, which is a community scene shopping channel with demand outbreak during the epidemic period.
More than 40% of retail home platform users said that they had used community group buying, with an average of 2-3 times a week. Among them, most of them are female (52%) and married first-line residents with children (72%). Community group buying can well meet their demand for purchasing some small commodities (such as fresh food, fruits and small daily necessities).
The sudden epidemic has profoundly changed the purchasing behavior of consumers and accelerated the overall development of home service industry. A new round of scuffle of retail home service has begun. As an enterprise, we should clearly and continuously focus on the needs of "people" to achieve precision marketing; at the same time, we should continue to optimize the user experience of "goods" and "field", so that consumers can feel the warmth of the brand in the last mile. Only in this way can we better cope with the impact of the sudden changes in the social environment, as well as the impact of strong players and emerging players It's a shock.
Ipsos has many years of research experience in the retail industry, and has a deep understanding of how consumers choose brands and make purchase decisions. Our retail and consumer insight service line is committed to providing intelligent innovation solutions. By providing customers with tools to track market performance, tracking brand key performance indicators, and monitoring the impact of relevant actions on brand indicators, we can help brands understand the reasons behind market performance, and help brands achieve the symbiotic growth of Omni channel sales and brand value.
More reading: Ipsos: Global Forecast 2020 Ipsos: Global Aging Survey Report 2019 Ipsos: global attitude towards the covid-19 vaccine Ipsos report: 60% of the population is experiencing rising cost of living There is a big difference in reality. Ipsos: 69% of the world's population changes their behavior because they are worried about climate change. Ipsos: what hinders women's equality? Ipsos: more than two-thirds of young employees worry about mental health problems Ipsos: UN sustainable development goals awareness survey Ipsos: the truth of trust Ipsos: 29% of consumers are willing to use more environmentally friendly means of transportation than airplanes Ipsos: two-thirds of adults support the government's use of AI and facial recognition to manage national Ipsos: global attitude towards beauty survey report in 2019
If you want to get the full report, you can contact us by leaving us the comment. If you think the information here might be helpful to others, please actively share it. If you want others to see your attitude towards this report, please actively comment and discuss it. Please stay tuned to us, we will keep updating as much as possible to record future development trends.
RecordTrend.com is a website that focuses on future technologies, markets and user trends. We are responsible for collecting the latest research data, authority data, industry research and analysis reports. We are committed to becoming a data and report sharing platform for professionals and decision makers. We look forward to working with you to record the development trends of today's economy, technology, industrial chain and business model.Welcome to follow, comment and bookmark us, and hope to share the future with you, and look forward to your success with our help.