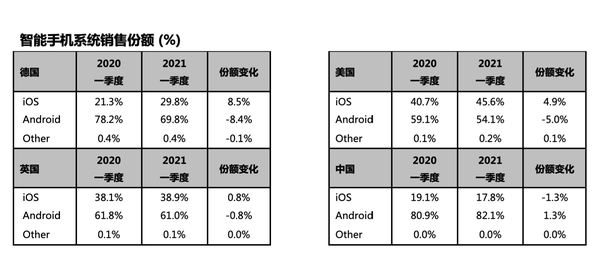 The following is the 5g and battery life become important driving factors for purchasing smart phones From Kaidu recommended by recordtrend.com. And this article belongs to the classification: Kantar, Intelligent mobile phone, Consumer research.
The Kaidu consumer index released the global smartphone operating system report for the first quarter of 2021. According to the report, following the release of the iPhone 12 series, IOS system has achieved year-on-year growth in five European countries (+ 3.6 percentage points), the United States (+ 4.9 percentage points), and Australia (+ 3.5 percentage points). In the Android camp, Huawei's overseas market is blocked. Although some brands have strong performance, the growth rate is difficult to keep up with the pace of IOS.
"Among the markets we cover, IOS has the largest share growth in Germany," said Chen Yongxin, director of consumer insight at Kaidu mobile. IPhone accounted for 29.8% of the top five models (iPhone 11, iPhone 12 and iPhone 12 Pro max) in the market, with a year-on-year growth of 8.5 percentage points. In the same period last year, the iPhone 11 alone was in the top five.
Meanwhile, IOS also showed strong growth in the United States, with a sales share of 45.6%, up 4.9 percentage points year on year. The top five models on sale are all iPhones: iPhone 12, iPhone 11, iPhone se (second generation) and two iPhone 12 pro. This shows that iPhone products in different price bands have expanded their appeal to consumers. "
Chen Yongxin, director of consumer insight of Kaidu mobile communications, also said: "despite the overall challenges faced by Android in the first quarter of 2021, the sales share of individual brands has gained strong growth. Samsung's sales share rose in the UK (+ 4.7 percentage points), Italy (+ 3.6 percentage points), France (+ 2.3 percentage points) and Spain (+ 1.6 percentage points). The launch of the galaxy S20 Series in March 2020 and the rapid launch of the galaxy S21 Series in January 2021 support this growth. Compared with the same period last year, Samsung had more high-end / super high-end models in the top 10 models sold in the UK, Australia and the US in the first quarter of this year. "
Chinese brands continue to perform well in domestic and European markets. Xiaomi's market share in Italy accounts for more than a quarter of smartphones (up 4 percentage points year-on-year). In Spain, it accounted for 36.7%, the same as the same period last year. The sales share of oppo mobile phones in China continued to grow, reaching 11% (a year-on-year increase of 2.7%). In addition, oppo's sales share in Spain, Italy and Japan all reached 5%, demonstrating its potential to expand into more markets.
In Japan, 57.4% of smartphones sold were Android phones (up 6.2% year-on-year), driven by the launch of sharp aquos Sense 4. The iPhone se (second generation) is still the most popular model. It is worth waiting to see whether this model can always be the first.
5g and battery life are the main factors for consumers in many countries to consider buying the machine
What features of smart phones are driving consumers to buy? Chen Yongxin, director of consumer insight at Kaidu mobile communications, said: "screen size and camera quality, which used to occupy a high position, have declined in most countries. The "battery life" factor ranked highest in Australia, the United Kingdom, Italy, Spain and the United States. Specifically, "battery life" in five European countries refers to "charging speed", while in China it refers to "battery life".
In addition, in all the markets surveyed, with the continuous promotion and popularization of 5g function mobile phones, the proportion of factors that consider purchasing smart phones with "5g function" also highlights.
The purchase factor of "camera quality" is still in the top three in five European countries and Australia. Under this factor, consumers mostly consider "dual / multiple cameras", "rear camera quality" and "photo quality under weak light". However, Chinese consumers are more concerned about the demand for "front camera quality".
It is worth noting that in the functional requirements of the operating system, "system cloud disk / backup storage" is on the rise in most markets. In the United States, "built in voice assistant" and "manage app / folder" demand factors have increased, replacing "camera quality". This proportion of demand has also increased in the other five markets.
"In the next six months, 13% to 20% of smartphone owners intend to buy smartphones," Chen said. The most willing is Italy and the least willing is France. The iPhone is the number one brand in the US, Australia, Japan and the UK. In addition to the UK, Samsung is the preferred brand in the five European markets, while Huawei is in China. "
In addition, mobile phone manufacturers should also act online to establish pre purchase touch points for consumers. Because when consumers are willing to buy a machine, they will search the Internet for research. In the market investigated, except for France, consumers will obtain relevant information by browsing the official website of manufacturers. In addition, consumers in six of the nine markets will use the price comparison website, which also reflects the importance of price.
Network operators are equally important in the United States. Consumers will study and obtain information through the Internet and physical stores at the same time. Finally, the influence of asking friends / customers for comments should not be underestimated. Among the nine markets surveyed, the first three pre purchase studies in seven markets all included asking friends / customers for comments.
More reading: Kaidu: decoding the mystery of brand subversive growth (with download) Kaidu: 22 FMCG enterprises in China have attracted more than 100 million Chinese urban families Kaidu: small format big opportunity (with download) Kaidu: Asian FMCG market in the third quarter of 2017 (with download) Kaidu: main factors influencing Chinese consumers' satisfaction with leisure food (with download) QQ Advertising & Kaidu: white paper on consumer power of generation Z (with download) Kaidu: insight into retail trend in 2019 – from the world to China (with download) Kaidu: Top 10 brands in China's city beauty brand Footprint list in 2016, Significant changes in Chinese consumers' values Yiguan International: survey shows that 97% of Internet users will choose smart phones when they buy their next mobile phone Battery life has the biggest impact on smartphone purchase decisions ten tips to extend iPhone Battery Life
If you want to get the full report, you can contact us by leaving us the comment. If you think the information here might be helpful to others, please actively share it. If you want others to see your attitude towards this report, please actively comment and discuss it. Please stay tuned to us, we will keep updating as much as possible to record future development trends.
RecordTrend.com is a website that focuses on future technologies, markets and user trends. We are responsible for collecting the latest research data, authority data, industry research and analysis reports. We are committed to becoming a data and report sharing platform for professionals and decision makers. We look forward to working with you to record the development trends of today's economy, technology, industrial chain and business model.Welcome to follow, comment and bookmark us, and hope to share the future with you, and look forward to your success with our help.