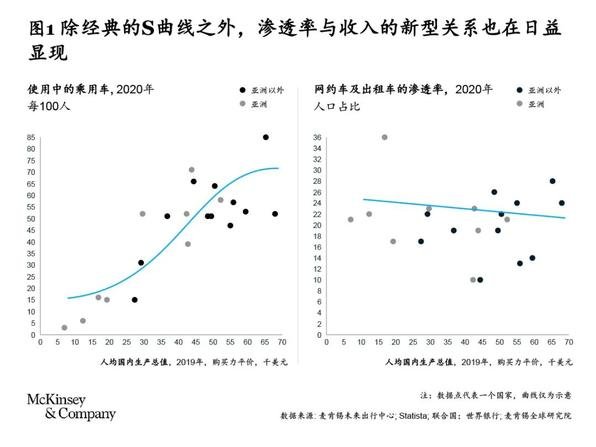 The following is the Asian consumers lead the future of mobile travel From Mckinsey recommended by recordtrend.com. And this article belongs to the classification: Automobile industry, Consumer research, Mckinsey .
Authors: Peng Bo, Nicholas laverty, Tiago devesa and Liang Jiali
Asia is the world's largest consumer growth engine. Over the next 10 years, consumption growth in the region is expected to reach $10 trillion. Ignoring Asia is equivalent to abandoning half of the global consumption territory. It is predicted that Asia will contribute half of the world's households with medium and high income levels and above, as well as half of the world's consumption growth.
A new study by McKinsey Global Institute explores the huge growth potential of Asia and points out a new growth direction for enterprises serving Asian consumers. [1] With the continuous improvement of the income level in the region, the top level of the income pyramid is also widening. Compared with the growth of the consumer class, the upgrading of the consumer class makes a more significant contribution to consumption growth. In terms of purchasing power parity, consumers who spend more than $11 a day can be regarded as the consumer class. [2]
Accordingly, the value pool of travel in Asia will continue to grow. However, with the emergence of emerging consumption patterns, development opportunities will be different from the past. Consumer behavior is becoming more and more diverse. For example, consumers begin to consider the car ownership mode other than traditional ownership, the enhancement of environmental awareness, or the change of brand preference. Automobile enterprises should grasp the above trends, seize opportunities and create more value for consumers. For example, accelerate the layout of shared travel and improve the environmental protection quality of products; As electric vehicles become the mainstream, provide more eco-friendly choices of different models, reduce traffic accidents and congestion, and shorten commuting time with new travel modes.
New travel mode leads value transfer
The growth of the automotive industry is usually closely related to revenue. The relationship between car ownership and income presents a classic S-shaped curve. When the income reaches a certain level, the ownership will increase significantly (see Figure 1). Therefore, in countries with higher income levels, car enterprises have greater growth opportunities, and their business model is also dominated by passenger car sales.
However, the relationship between new travel modes such as online car hailing and income is quite different. The price of the new travel mode is lower, and consumers who can't afford private cars can still enjoy the travel experience equivalent to private cars through the new travel mode, which greatly weakens the impact of income on penetration. Compared with countries with higher income levels such as Japan and South Korea, online car Hailing has a higher penetration rate in countries with lower income levels such as Indonesia and Malaysia. Asian companies have promoted the growth of penetration and spawned a number of technology giants, such as didi in China, grab and gojek in Southeast Asia and Ola in India.
With the emergence of new travel modes, the value pool in the field of travel in Asia will usher in an important turning point, and the growth will shift to new travel modes and regions (see Figure 2).
According to the forecast of McKinsey future travel center, the value pool of private car sales in China and Japan will reach a peak in the next 20 years. In three different technology application scenarios, private car sales in Japan will peak before 2030, while it will take 5-15 years in China. [3] In the scenario of accelerated transformation of travel mode, private car sales in China and Japan may reach the peak in just five years. In contrast, in the scenario of slow travel mode transformation, private car sales may maintain a strong growth momentum for a long time. However, this scenario contains a series of preconditions: the government has not issued relevant policies to alleviate traffic congestion and reduce emissions, the automatic driving technology is still immature by 2030, consumers are enthusiastic about buying and owning private cars and have weak awareness of environmental protection. In this scenario, the share of private cars in the value pool of the automotive industry is shrinking at a rate of only 5% per year.
For emerging economies with low car ownership such as India and Indonesia, the sales of private cars under traditional ownership will continue to rise, but the coexisting shared travel industry will also gradually grow. The passenger car sales value pool continues to grow and is expected to grow to 2 ~ 3 times the current scale in the next decade.
In either scenario, the penetration of shared travel (including online car hailing, shared cars, car rental, taxis, shuttle buses and driverless taxis) will grow strongly in all regions of Asia. With the continuous emergence of new travel modes such as online car hailing and driverless taxis, shared travel is expected to account for 15% ~ 25% of the value pool in the travel field in Asia. Shared travel is expected to grow fastest in China, while countries such as India and Indonesia will not take off until 2030.
New consumption behavior changes consumption pattern
In the next decade, value transfer will be driven by new consumption behavior. If auto companies want to achieve growth in the Asian market, they need to consider five key changes in consumer behavior.
Emergence of new ownership models
Economic pressure, changes in consumer attitudes and technological innovation have led Asian consumers to consider ways other than traditional ownership, including leasing, subscription, sharing and buying used cars.
Among them, the most well-known way of sharing travel is online car Hailing. It is estimated that by 2020, the number of Asian users of online car Hailing service providers such as Didi, grab, gojek and Ola will reach 800 million. Whether online car Hailing enterprises or car companies that provide strong B2B services for shared travel platforms, all participants in shared travel solutions will usher in great opportunities. For example, Hyundai cooperated with grab to pilot deploy 200 Hyundai Kona electric vehicles in Singapore, aiming to increase the proportion of electric vehicles in grab's Southeast Asian fleet.
However, online car Hailing is not the only way of emerging ownership. Toyota, Hyundai and other large car manufacturers and start-ups such as carro in Singapore have launched a subscription car rental service. [4] Kinto, a subsidiary of Toyoda, focuses on providing travel services. The subsidiary also has kinto one and kinto flex, both of which provide subscription service packages, covering insurance, maintenance and licensing. [5] In a recent survey, about 55% of Chinese consumers said they could accept renting their cars to others. [6]
With the development of digital trading platforms (such as carousel in Singapore), used cars have also ushered in the spring. In many Asian countries such as Indonesia and Thailand, used cars have become the main force of car sales. [7] In China, although the sales of new cars are still dominated, with the introduction of favorable policies by the government, the quality of automobile products is improving day by day, and the growth rate of the used car market will be further improved. [8]
If automobile enterprises want to seize this opportunity, they need to consider which markets can follow the traditional sales methods and which markets need to adopt new income generation models, such as cooperating with travel service providers to provide B2B solutions or providing automobile subscription services, so as to create new sources of income.
Industry integration is changing the role of auto enterprises
"Industry convergence" is fundamentally reshaping consumer demand. "Industry integration" refers to the integration of a digital ecosystem serving various consumer needs. The degree of integration varies, from an ecosystem that focuses on specific vertical areas to an all encompassing one, such as "super applications". With the increasing acceptance of new channels by digital natives, they have higher and higher expectations for cars. In the era of increasingly homogeneous hardware, car companies should build a travel ecosystem to provide consumers with a new customer experience. [9]
In the future, the car is not just a means of transportation. Through equipment interconnection, cars can carry various living needs of consumers, including entertainment and shopping. In 2020, McKinsey launched a survey on autopilot, intelligent network and electric vehicles. The survey shows that 56% of Chinese consumers are willing to change brands for more powerful Internet of vehicles. [10] A benchmarking study by McKinsey shows that thanks to advanced vehicle networking solutions, China's pure electric vehicle enterprises can compete with multinational vehicle enterprises in terms of consumption experience. For example, independent brands have cooperated with local technology enterprises such as Alibaba and Tencent to develop advanced human-computer interaction interfaces and promote application integration. Thus, automobile enterprises can create new sources of income, promote the transformation from one-time sales to sustainable income generation mode, and provide a large number of value-added services. [11] Another McKinsey study also pointed out that nearly 70% of consumers tend to consider adding driverless services after buying a car, rather than buying it bundled when buying a car; 60% of consumers prefer buy and use or monthly subscription rather than one-time payment. [12] McKinsey future travel center predicts that by 2030, the total revenue pool of Internet of vehicles Services in Asia will reach US $80 ~ 120 billion [13].
New channels reshape the interaction mode between automobile enterprises and consumers
In the next decade, the interaction mode between car companies and consumers may be redefined. With consumers' increasing preference for direct and novel interactive ways such as virtual exhibition hall and digital channels, the channel combination is gradually changing. [14] A survey on the Indian market in 2020 showed that 95% of respondents would search for new car information through online channels, and 54% said they would buy a car through online channels if they could choose. [15]
Interfacing with leading digital ecosystems can be critical to designing a seamless customer experience. Some pioneering Asian companies are leading new consumer interaction models, including Weilai automobile. Weilai is an automobile manufacturer headquartered in Shanghai, which is committed to the design and development of electric vehicles. Through Weilai's exclusive app, wechat applet, Weilai's virtual assistant NOMI, and the Lifestyle Exhibition Hall "Weilai center" with the function of community activity center, Weilai automobile actively interacts with car owners. These interactive channels provide consumers with a series of digital contacts to facilitate their purchase of Weilai cars. [16] Mercedes Benz has launched a new direct selling model in India and a variety of consumer centered product combinations, such as personalized service experience, and WhatsApp as a communication platform for service upgrading. [17] In South Korea, Hyundai Motor cooperated with zepeto to launch virtual test drive service for Sonata n series models. [18]
Consumers' awareness of environmental responsibility may drive the growth of electric vehicle sales
As Asia's concern for sustainable development continues to heat up, green consumption can flourish. According to a survey conducted by Ipsos at the end of 2019, more than 80% of the respondents from China, India and other Asian emerging economies said that they had changed their products and services for fear of climate change. This trend is likely to also have an impact on the consumption pattern of the automotive industry. From 2017 to 2021, the proportion of Chinese consumers willing to buy new energy vehicles (NEVs) rose sharply from 20% to 63%. High income families with an income of more than 48000 yuan showed a stronger willingness to buy, of which nearly 90% of the respondents considered buying new energy vehicles. [19]
In the next decade, consumers will be more inclined to support sustainable products, and the changes in the regulatory environment have further strengthened their choices and promoted the demand for relevant products (see Figure 3). Affected by these trends, the power system pattern of private cars in Asia may change dramatically. It is estimated that by 2030, 60% ~ 80% of the vehicle sales in the Chinese market will come from pure electric vehicles (BEVS), fuel cell electric vehicles, plug-in hybrid electric vehicles or hybrid electric vehicles. This proportion is 50% ~ 60% in the Japanese market, while it may reach 30% ~ 50% in the Indian and Indonesian markets.
The transformation from traditional fuel vehicles to new energy vehicles not only requires vehicle enterprises to adjust their product portfolio, but also may completely reshape the value chain of the whole automobile industry. For example, battery suppliers will play a more important role in the value chain, and therefore have the opportunity to share a larger share of the cake in the value pool. With the development of the charging industry ecosystem and increasing competitiveness, we may see an integration trend similar to the Chinese market, in which the four leading enterprises jointly occupy more than 70% of the market share. [20] Electrification not only introduces a new set of auto parts for the automotive aftermarket, but also puts forward new technical capacity requirements. [21] However, since the after-sales maintenance cost of pure electric vehicles is about 40% lower than that of traditional fuel vehicles, the overall profit scale of the post market may shrink. [22]
Asian brands are rising
Most of Asia's auto consumption is pocketed by Asian brands, accounting for about 75% in 2019. Moreover, Asian brands have carried out cross-border business for a long time, resulting in regional giants. This trend has become more and more clear in the past five years, and the market share of regional enterprises has increased by 3 percentage points. Japanese and Korean brands have a place in all Asian markets. Among them, the Japanese brands have the highest market share in Australia, Indonesia, the local market, Singapore and Thailand, while the Korean brands are the local market and Vietnam. Except Japan and South Korea, local brands in other countries and regions usually have a low market share, with the exception of China and Malaysia. Chinese local brands have a 30% market share in China and more than 50% in Malaysia. [23]
At the same time, Asian brands seem to have a more reasonable positioning and can serve the growing value pool such as electric vehicles. Chinese local brands account for up to 75% of the sales of electric vehicles in the local market. Now global automobile brands are committed to opening China's new energy market. Wuling Hongguang miniev sells for about $5000 and is one of the cheapest models on the market.
Tesla leads the Korean market, but local brands such as Hyundai and Kia also occupy a high market share. [24]
Auto enterprises should re plan the road map according to the consumption growth trend of the Asian market
The pattern of consumption in Asia is not what it used to be. The continuous growth of people's income, the increasing diversity of growth sources and the rapid rise of new consumption patterns have prompted enterprises to prepare for the fierce competition in the next decade. The research of McKinsey Global Research Institute suggests that auto enterprises can consider taking three key actions to successfully cope with market competition and flourish in the next decade of serving Asian consumers.
Re plan the growth roadmap. Each enterprise has its own growth roadmap. However, the market dynamics are changing rapidly, and the established roadmap is often easy to be outdated. Enterprises need to rethink the evolution trend of market demand for their own products and services, and seriously study the development direction related to their own business. For the automotive industry, relevant enterprises can catch the ride of industry integration by investing in Internet of vehicles services, on-board entertainment and accessing local ecosystems and super applications. Weilai automobile, which cuts into the market from multiple new growth directions, is just one example. As mentioned above, Weilai automobile strives to meet the expectations of digital aborigines by developing virtual assistants and pure electric vehicles and optimizing the channel structure by using the direct sales mode and virtual exhibition hall.
Improve agility. After updating the growth roadmap, enterprises can consider improving the agility of operation mode; Accelerate innovation and reach the market faster; Since the centralized decision-making and execution mechanism of the headquarters is difficult to capture the subtle differences in the local market, local market decision-makers can be appropriately empowered; At the same time, ensure that the board of directors of the enterprise has digital awareness and relevant capabilities. Auto enterprises need to reallocate a large amount of funds to business growth and opportunity areas, such as electrification and the Internet of vehicles, so resource reallocation is particularly important.
Expand opening up. Enterprises should not only be agile, but also adopt an open and interconnected model. Facing a more diverse and changeable market environment, it is difficult for enterprises to meet all the needs of all kinds of customers on their own. For most enterprises, the ideal way to break the situation may be to seek the help of partners and ecosystems. For enterprises, whether to take the lead in establishing their own ecosystem or join the existing ecosystem depends on which method is more effective. Vehicle manufacturers need to clearly understand their strategic positioning in the mobile travel ecosystem and the required technology stack level according to the target strategy and capability. While promoting the above initiatives, it will also be a top priority to continuously provide innovative customer experience.
The diversity of Asian consumers and changes in consumer preferences and behaviors have promoted the continuous evolution of Asian travel market. The creation of massive value is no longer as highly dependent on consumer groups with specific income levels as in the past; Some product categories began to show a new consumption curve. Automobile and travel enterprises that track and master these consumption changes will have broader development prospects. Now is the best time to update Asian consumer market awareness and re plan the growth roadmap.
More reading: McKinsey: it is estimated that the proportion of luxury e-commerce will account for 18% of the total sales in 2025, which is three times that of now. McKinsey: 2016 China digital consumer survey report (with download) tofugear: 2018 Asian online consumer report Accenture: winning new Asian consumers (with download) Nielsen: five ways to win Asian consumers with innovation McKinsey: the development of artificial intelligence and obstacles make the tide of new consumption: face to face with a new generation of Chinese auto buyers McKinsey: a new journey of Chinese medicine driven by innovation McKinsey: the next decade of China's private banks McKinsey: 2020 Chinese consumer report McKinsey: will traditional auto companies watch themselves subverted Powerless McKinsey: 2019 automotive consumer insight report McKinsey: 2030 China's automotive industry outlook (with download) the era of code King: how auto enterprises master excellent software development ability (with download) automation future: in-depth prediction of its impact on employment and market (with download)
If you want to get the full report, you can contact us by leaving us the comment. If you think the information here might be helpful to others, please actively share it. If you want others to see your attitude towards this report, please actively comment and discuss it. Please stay tuned to us, we will keep updating as much as possible to record future development trends.
RecordTrend.com is a website that focuses on future technologies, markets and user trends. We are responsible for collecting the latest research data, authority data, industry research and analysis reports. We are committed to becoming a data and report sharing platform for professionals and decision makers. We look forward to working with you to record the development trends of today's economy, technology, industrial chain and business model.Welcome to follow, comment and bookmark us, and hope to share the future with you, and look forward to your success with our help.