Consumer research
Ten public opinion hotspots of consumer rights protection in 2020 From China Consumers' Association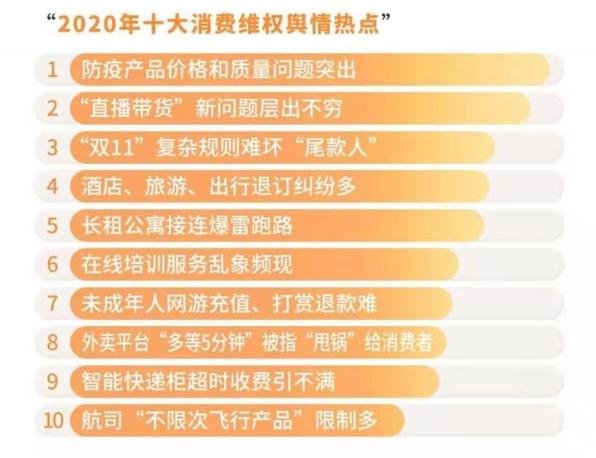 RecordTrend.com is a website that focuses on future technologies, markets and user trends. We are responsible for collecting the latest research data, authority data, industry research and analysis reports. We are committed to becoming a data and report sharing platform for professionals and decision makers. We look forward to working with you to record the development trends of today's economy, technology, industrial chain and business model.Welcome to follow, comment and bookmark us, and hope to share the future with you, and look forward to your success with our help.
The following is the Ten public opinion hotspots of consumer rights protection in 2020 From China Consumers' Association recommended by recordtrend.com. And this article belongs to the classification: Consumer research.
On January 14, the China Consumer Association and the people's network public opinion data center jointly released the "top ten public opinion hotspots of consumer rights protection in 2020". Facing the extraordinary year 2020, the public opinion of consumer rights protection also has its own hot spots. The top ten hot spots on the list are as follows: the price and quality of epidemic prevention products are outstanding; new problems of "live delivery" emerge in endlessly; the "double 11" complex rules are hard to break the "tailors"; there are many disputes about hotel, tourism and travel cancellation; long-term rental apartments are constantly on the run; online training services are often chaotic; it is difficult for minors to recharge online games, reward and refund; take out platforms "wait more than 5 minutes" It has been accused of "throwing pot" to consumers; the overtime charge of intelligent express cabinet has caused dissatisfaction; and there are many restrictions on "unlimited flight products" of airlines.
According to the China Consumer Association, in 2020, China's public opinion on consumer rights protection presents four major characteristics: first, the problem of consumer rights protection related to epidemic situation is prominent; second, the Internet consumption is booming, and the "cloud" consumer rights protection such as live broadcasting with goods, online education and online games is more prominent; third, new business and new mode bring new consumption problems, and the voice of "strong supervision" of Internet economy is rising; fourth, the public opinion on consumer rights protection based on the Internet economy is growing The traditional complaint hot spot is still the focus of public opinion, and the consumption environment needs to be further improved.
Hot spot 1: the price and quality of epidemic prevention products are outstanding
Social influence: 113.3
Since the outbreak of novel coronavirus pneumonia in 2020, the market demand for epidemic products has been increasing. The following is a substantial increase in the number of anti epidemic product quality violations and consumer complaints. The problem of protecting the right of consumption of epidemic prevention products focuses on five aspects. They are: individual illegal operators sell "three noes" and fake masks; swindle in the name of purchasing masks on behalf of others or group buying masks in wechat group; take advantage of the opportunity to bid up the prices of masks, protective clothing, temperature measuring guns and other epidemic prevention supplies; Individual e-commerce platform businesses infringe on the legitimate rights and interests of consumers by "chopping orders", bundling and tying, inducing consumers to download apps in the name of selling masks and other bad business practices; as individual e-commerce platform businesses carry out estimated sales, but the actual delivery of masks, alcohol, disinfectant and other epidemic prevention products is not timely, causing consumer dissatisfaction.
Hot spot 2: new problems of "live broadcasting with goods" emerge one after another
Social influence: 108.3
In 2020, there will be frequent "rollovers" of live broadcast with goods, and new problems such as fraud of public figures with goods, fraud of traffic flow, and false reports will emerge one after another. In November, the China Consumer Association named Li Jiaqi, Li Xueqin and other people to participate in the live broadcast. There are some problems, such as not allowing to change the goods after buying, data flooding and so on. In view of the chaos of live broadcasting with goods, the State Administration of radio, film and television (SARFT) issued the "notice on strengthening the management of online show live broadcasting and e-commerce live broadcasting" in November 2020, and the State Administration of Market Supervision issued the "guidance on strengthening the supervision of online live broadcasting marketing activities" on November 6, 2020, so as to strengthen the guidance and specification of online show live broadcasting and e-commerce live broadcasting, strengthen the guidance and value guidance, and promote the cooperation of live broadcasting e-commerce Regulation is accelerating.
Hot spot 3: "double 11" complex rules are hard to break "balance payer"
Social influence: 100.2
Compared with previous years, "double 11" in 2020 started in late October, which can be called "the longest" online shopping festival in history. The rules designed by Taobao and tmall platforms, such as no merger, no full discount coupon, no refund on the same day of "double 11", no refund until the balance is paid in advance, are even more difficult to break. These complex rules not only reduce the consumer experience, but also cause consumers to question their rationality. Public opinion calls for "double 11" to be less "routine" and "calculation" and more "sincerity" and "benefit".
Hot four: Hotel, tourism, travel cancellation disputes
Social influence: 99.6
In the early stage of the outbreak, the demand of major airlines, travel agencies, hotels, catering enterprises and OTA platforms increased sharply. However, due to the failure to handle the orders in a timely manner, a large number of consumer complaints and even collective rights protection occurred in some areas. China Consumer Association said that in the face of the severe test of public health emergencies, government departments, airlines, travel agencies, hotels, catering enterprises, OTA platforms, scenic spots and other business entities should sum up their experiences and lessons.
Hot spot 5: long term rental apartments
Social influence: 97.9
In 2020, eggshell, Qingke, chaoke, lanyue and implied long-term rental apartments will be hit by thunderbolt and runaway. In view of the massive consumer rights protection problems caused by the explosion of long-term rental apartments, the public opinion strongly condemns the phenomenon that the person in charge of long-term rental apartment enterprises runs away and loses contact. At the same time, it thinks that the relevant departments should act decisively and never let the problem related parties run away and leave the "mess" to the government and society. Public opinion believes that the regulatory authorities should establish and improve the supervision mechanism of long-term rental apartments as soon as possible, strengthen the supervision of Internet financial institutions participating in housing rental business, effectively reduce the financial leverage of housing rental market, and promote the high-quality development of long-term rental apartment industry.
Hot spot 6: online training services are in chaos
Social influence: 91.0
During the epidemic period, online education, which has achieved a blowout development, has been frequently faced with the problem of consumer rights protection. In July 2020, CCTV's "3.15" party exposed the false promises of hixue.com, which made it easy for consumers to pay and difficult for them to refund. In the same month, XRS online school was interviewed by Beijing online information office and local education authorities for its vulgar videos, abetting puppy love and other outstanding problems, and was ordered to rectify within a time limit. There are a lot of chaos in the industry, such as online teachers' fake qualifications, institutions running schools without certificates, induced consumption, false publicity, overbearing terms, difficult to cancel the contract and refund fees, which makes it more difficult for consumers to protect their rights.
Hot seven: minors online game recharge, reward refund difficult
Social influence: 89.4
In recent years, the development of "residential economy" has stepped into the fast lane. During the epidemic period, under the influence of objective factors such as epidemic prevention at home, online entertainment methods such as online games and live broadcast have become the first choice for many minors. It is worth noting that the minors often appear in the newspapers without telling their parents about giving rewards to the network anchor and recharging the online game platform. The amount of money involved is huge, and parents have no way to seek help when they lose money without knowing it.
According to the public opinion, due to the problems of cumbersome process, difficult proof, mutual prevarication between operation platform and game company, parents often face great difficulties in refund and rights protection, and it is difficult to protect the rights and interests of consumers.
Hot eight: takeout platform "wait 5 minutes more" is accused of "throwing pot" to consumers
Social influence: 88.5
On September 8, 2020, an article entitled "takeaway rider, trapped in the system" was "swipe the screen" on the social platform. This article has attracted a large number of netizens to follow-up reading and discussion, and also prompted the public to re-examine the algorithm, values and employment mode of the delivery platform. As a result, the delivery platforms such as hungry and meituan have been pushed to the forefront.
Public opinion believes that to solve the problem of "system difficulty" of takeaway riders, we need not only the initiative of takeaway platform and optimization of technology and algorithm, but also the joint consultation of takeaway platform, merchants, riders, regulatory agencies and consumers to promote the sustainable and healthy development of new formats. This also warns the enterprises concerned that while realizing their commercial interests, they should also shoulder their due social responsibilities and should not habitually "throw the pot" at consumers.
Hot nine: smart express cabinet overtime charges cause dissatisfaction
Social influence: 87.4
Fengchao's membership service launched on April 30, 2020 has caused a lot of controversy. According to the charging rules, the non member express cabinet will be charged 0.5 yuan for every 12 hours overtime and capped at 3 yuan. Some communities choose to stop using Fengchao express cabinet. Public opinion calls on relevant departments to continue to promote the construction of intelligent express boxes, public service stations and other express terminal facilities, increase service specifications and supervision, and help the masses solve the problem of "the last mile of express delivery".
Hot spot 10: more restrictions on "unlimited flight products" of AVIC
Social influence: 78.5
In 2020, in order to further boost the aviation economy, a number of airlines will launch "Xinfei" products to attract passengers. In June, China Eastern Airlines launched the first "weekend free flight" product in the civil aviation field. Passengers can take economy class of China Eastern Airlines and Shanghai Airlines on any Saturday and Sunday in 2020 and fly to other regions in China except Hong Kong, Macao and Taiwan. After the launch of the product, some consumers are enthusiastic about rush buying. Subsequently, Hainan Airlines, Huaxia Airlines, Spring Airlines and other airlines have launched "unlimited flights" products. At the same time, product sales are booming, but also by many consumer complaints. Complaints such as harsh use conditions, poor use experience, difficulty in purchasing return tickets, false publicity and difficulty in exchanging air tickets have caused public opinion to ask whether the "unlimited number of flights" product is really convenient for consumers to travel.
More reading: People's Daily: ten major events of consumer rights protection in 2016 China Consumer Association: analysis of complaints accepted by the National Consumer Association in the first half of 2020 China Consumer Association: 70% of quality and after-sales problems in 2015 China Consumer Association: Consumer Association in 2013 tourism and catering investigation report: "618" consumer rights protection public opinion analysis report in 2020 |The rise of consumer empowerment China Consumer Association: 2013 survey report on the protection of the rights and interests of China's elderly consumers 48.3% of the sample passwords are open with security risks. China Consumer Association: more than 650000 pieces of negative news on "double 11" in 2019. China Consumer Association: 58.9% of the goods on "double 11" in 2016 do not provide invoices. China Consumer Association: youth myopia status and online game consumption experience report. China Consumer Association: online car Hailing experience report in 2016 Nearly 70% of Experiencers can't cancel orders, research shows that the younger generation in Australia prefer to shop in physical stores
If you want to get the full report, you can contact us by leaving us the comment. If you think the information here might be helpful to others, please actively share it. If you want others to see your attitude towards this report, please actively comment and discuss it. Please stay tuned to us, we will keep updating as much as possible to record future development trends.