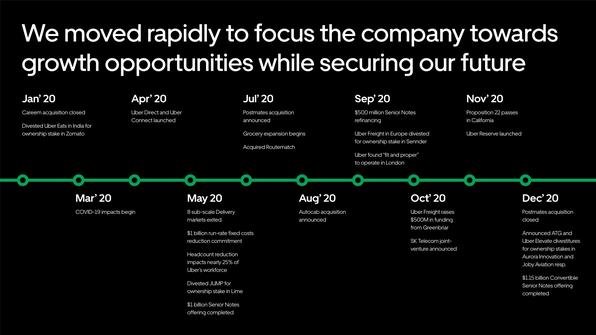 The following is the Business Review in 2020 and outlook in 2021 From Uber recommended by recordtrend.com. And this article belongs to the classification: sharing economy, Group buying, Electronic Commerce, mobile electronic commerce.
2020 is an eventful year for Uber. The outbreak has suppressed the taxi business, but also promoted the development of Uber's takeout business. In 2021, the industry generally predicts that the epidemic will come to an end, and the capital market is also waiting for the recovery of Uber's taxi business. How does Uber's management look forward to the future, and what strategic actions Uber will take this year? Let's learn from Uber's annual investor ppt.
1、 Review in 2020: focus on core business and escort for future development
In 2020, Uber will continue to promote the divestiture of edge business, and enhance its leading position in the advantageous market through acquisition. In the face of the impact of the epidemic, Uber has also launched two Uber distribution businesses, while focusing on cost reduction.
In terms of business expansion:
In January 2020, Uber completed the acquisition of careem, a taxi business in the Middle East and North Africa. Divest Indian takeaway business in exchange for zomato shares.
In April, Uber launched two delivery services, Uber direct and Uber connect, in order to let drivers with sharply reduced taxi orders have jobs.
In July 2020, Uber announced the acquisition of us delivery and distribution platform postmates (to be completed in December), and launched supermarket distribution business, and acquired routematch.
In September 2020, Uber divested its European freight business in exchange for sender's shares;
In November 2020, California prop 22 launched uberreserve service in the same month by treating odd jobs such as drivers as contractors rather than employees.
In terms of business reduction and cost reduction:
In March 2020, COVID-19 began to influence its business.
In May 2020, the company will withdraw from eight markets where takeout business is not good, promise to cut fixed costs by US $1 billion, reduce the number of employees by 25%, divest jump in exchange for shares of lime, complete bond financing of US $1 billion, and increase the number of employees;
In December 2020, ATG and Uber raise will be divested in exchange for the equity of Aurora and Joby aviation.
Through this wave of operations in 2020, Uber will focus on three core businesses: taxi, take out and freight. The number of employees also dropped from 27000 to 19000.
In 2020, Uber will recover from the severe impact of the epidemic and have a healthier cost structure.
The following is mainly about Uber's actions in response to the epidemic in terms of safety, partners and community. In summary, Uber focuses on the safe handling of important materials.
In 2021, Uber will continue to help the world mobile, such as taxi discounts, initiatives to give priority to carrying front-line industry personnel, cooperation with pharmaceutical companies to help distribute vaccines, etc.
2、 Uber is now a global platform with huge opportunities
Uber's three core businesses have huge market potential. The target market scale of taxi business is US $5 trillion, that of delivery business is US $5 trillion, and that of freight market is US $3.8 trillion.
Here is Uber's market share and position in the global market.
The following figure shows the market position of Uber's takeout business (compared with taxi business, Uber's takeout business obviously needs to continue to make efforts. Although the total scale is the first outside China, the US market is not as good as that of doordash, and the overseas market accounts for 60% of Uber's takeout business scale.)
In 2020, the take away business is a good hedge against the decline of taxi business.
Next, Uber has the advantages of technology, products, brand and network economy.
Here, Uber can support different services above through a common technology platform, such as taxi and take out.
Membership in 2021 will be a key priority for Uber. It currently has 5 million members and plans to expand to more cities in 2021.
Uber redesigned its products to improve cross platform use. In the fourth quarter, the first take out orders generated by Uber app accounted for 10%, and the annual Gmv was $1 billion.
In 2020, Uber app and Uber take away app ranked first in the number of downloads of tourism and food take away apps respectively.
U4b delivery service for enterprises improves the use of enterprises, and Gmv of delivery business will account for 35% in 2020.
3、 Taxi business: the undisputed No1 in the world
Because the taxi business has a leading position in the target market, the main goal is to make profits. Uber has improved its profitability through strict cost management, despite the impact of the epidemic.
Although the epidemic still exists, the impact of the recent closure on taxi orders has eased compared with the past.
Some markets have resumed growth, with the year-on-year declines in Brazil and Australia narrowing to 10-20%. In these markets, taxi scenarios outside the airport have recovered by more than 80%.
Social and work commuting scenarios recovered rapidly in the re liberalized market, recovering more than 90%, and all markets recovered more than 80%. Airport usage scenarios vary by market, with less than 10% in Taiwan and Hong Kong and half in Brazil and New Zealand.
The following is the category expansion in 2021: including new products and new businesses, enterprise services, new vehicles, new markets, etc.
4、 Takeaway business
The trend of takeout business is reproducing the track of taxi business in those years, and the growth is gratifying.
In 2020, the takeaway business seized the growth opportunity and improved the loss.
Both the order volume and the number of active businesses have made great progress.
The profitable market shows the long-term potential of the takeout business. At present, the profit-making market of Uber accounts for a small proportion of Gmv, while the market still in operation has a large scale and great potential.
In 2021, the sources of the growth of take away business bets are: supermarket distribution business, Uber direct, connect and postmates DAAS, and advertising business.
Supermarket department stores and new category distribution are important growth sources of takeout business, with annual Gmv of more than US $1.5 billion in the fourth quarter.
Uber direct, connect and postmates DAAS are just like meituan's takeout boys who bring the world to your eyes. They can give you everything, including flash delivery between users in the same city.
5、 Freight business
Uber's freight business is to see that technology is accelerating the transformation of logistics.
Technology can improve the utilization of freight.
This business is developing, and its scale is still very small, but it shows potential.
6、 Financial model & equity investment
There is basically no suspense about the realization of break even in 2021.
The following is the company's cash and equity investment.
Distribution of Uber's equity investment in taxi taking out
Uber's investment in advanced technology.
7、 Management and sustainable development
If you want to get the full report, you can contact us by leaving us the comment. If you think the information here might be helpful to others, please actively share it. If you want others to see your attitude towards this report, please actively comment and discuss it. Please stay tuned to us, we will keep updating as much as possible to record future development trends.
RecordTrend.com is a website that focuses on future technologies, markets and user trends. We are responsible for collecting the latest research data, authority data, industry research and analysis reports. We are committed to becoming a data and report sharing platform for professionals and decision makers. We look forward to working with you to record the development trends of today's economy, technology, industrial chain and business model.Welcome to follow, comment and bookmark us, and hope to share the future with you, and look forward to your success with our help.