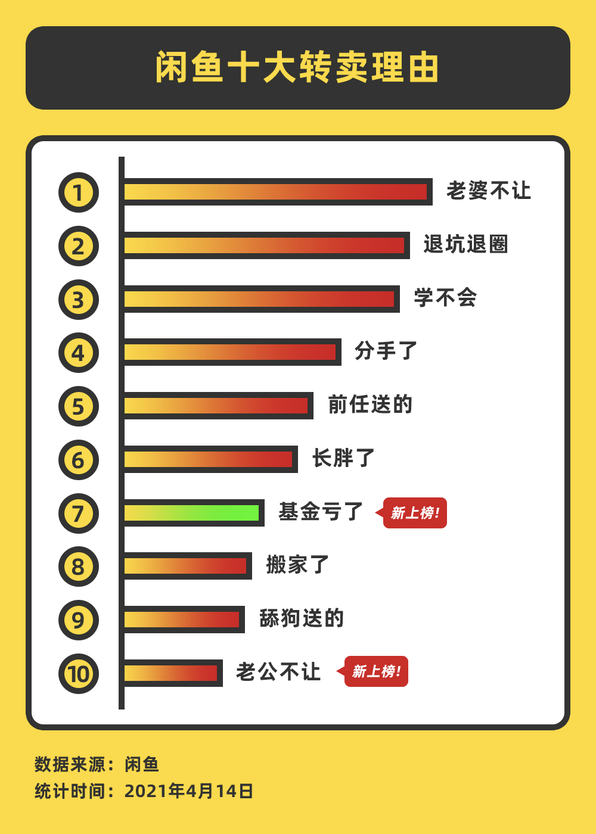 The following is the Top 10 reasons for resale: wife won't let her From Idle fish recommended by recordtrend.com. And this article belongs to the classification: Electronic Commerce, Online shopping.
Three years! There are more and more "aggrieved husbands" on idle fish. On April 14, Xianyu announced ten reasons for resale. From 2018 to now, "wife won't let" has always been at the top of the list. For example, "my wife won't let me go fishing. If I go fishing again, my wife will take my children back to my mother ' The lines are full of grievances.
What does the wife refuse to do? The reporter learned that in the "wife does not let" as the keyword of leisure fish goods, most of them are game machines, hand-made models and fishing tools, which are jokingly known as "wife does not let three big things".
As early as 2019, there were 970000 people waiting for their husbands' tearful babies; this year, the number has become 1.63 million. Among them, the men who bought these treasures accounted for the vast majority. As a result, generations of "idle fish husband" heart meat, in the idle fish on the completion of the cycle.
But this year, what is unique is that "my husband won't let me" also made it into the top ten for the first time. However, most of them are similar to "pregnant, husband does not let use cosmetics" such concern.
In addition to keeping a good heart, there are also uncertain new talents. "Can't learn" is also a popular reason to resell idle fish. What can't Chinese learn? Leisure fish data show that guitar, skateboard and make-up are the hardest hit areas that "can't learn".
Previously, the famous talk show actor fawn once said: "the commodity list of idle fish is the crematorium of broken dreams." This year's new reasons for resale are "fund loss". Since the new year, due to the fluctuation of the fund market, 200000 people have flocked to idle fish to sell idle items every week in March. The format of the content is mostly "fund loss, tearful transfer XX". Among the items resold are "bracelets that have been sold for many years", "a watch handed down by my grandfather" and "my mother's radio in her college days".
To this end, Xianyu wrote a letter to advise users to calm down: Mo Yan easily hang Xianyu, beware of selling precious memories on impulse.
The reasons for resale published by Xianyu every year are very vivid, reflecting the real life situation of users. This fresh reason for resale has also formed a unique "idle fish body".
Some netizens exclaim that idle fish is the largest literature website in China. The family ethics literature represented by "wife does not let me", the romantic love literature represented by "ex sent" and the realistic literature represented by "fund lost" are all the enduring themes of idle fish.
However, Xiaoer, an idle fish operator, said that the literary and storytelling description really helps to change hands of goods, but did not recommend that users exaggerate.
Read more: big data of idle fish: Beijing women like the latest and dislike the old; Shenzhen men are the most diligent and thrifty; idle fish: economic data of annual meeting of idle fish in 2019 The turnover rate of Bluetooth headset is 78% cbndata & Xianyu: the average annual income of Xianyu's "post-90s" users in 2016 is 3456 yuan. Xianyu: the top ten textbooks of "most annoying" for college students in 2016. Xianyu: 38% of the transaction volume of post-90s users in the 2017 Spring Festival Mobile phone list. Xianyu: Research on post-90s users in 2018 Love to trade digital products: ranking of mobile phone value preservation rate in July 2018: ranking of mobile phone value preservation rate in 2018: iPhone XS: big data shows that you can buy cbndata at 50-70% discount five months after the release of mobile phone & Leisure fish: post-90s share economic consumption report (with download) e-Car: revenue of 10.753 billion in 2019, native sales leads accounting for nearly 70% pinduo: cash reserve of 41.1 billion Huang Zheng holds nearly 17% of shares for Tencent, the largest shareholder. Is the honeymoon period with Amazon coming to an end? IProspect: Internet business opportunities for wealthy men
If you want to get the full report, you can contact us by leaving us the comment. If you think the information here might be helpful to others, please actively share it. If you want others to see your attitude towards this report, please actively comment and discuss it. Please stay tuned to us, we will keep updating as much as possible to record future development trends.
RecordTrend.com is a website that focuses on future technologies, markets and user trends. We are responsible for collecting the latest research data, authority data, industry research and analysis reports. We are committed to becoming a data and report sharing platform for professionals and decision makers. We look forward to working with you to record the development trends of today's economy, technology, industrial chain and business model.Welcome to follow, comment and bookmark us, and hope to share the future with you, and look forward to your success with our help.