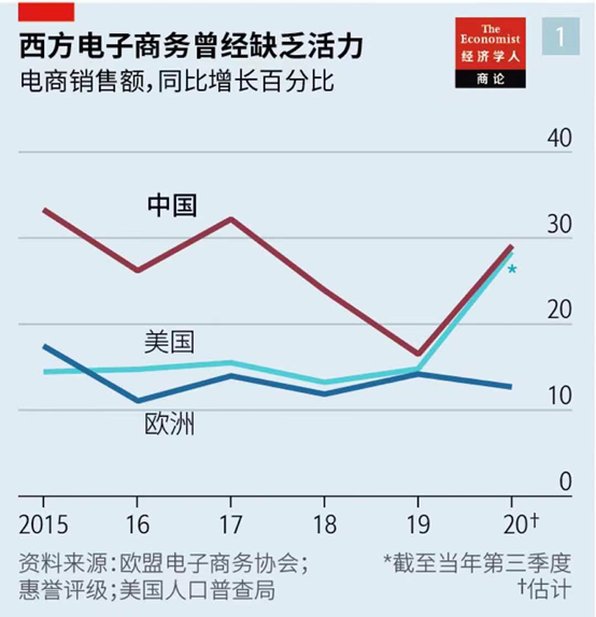 RecordTrend.com is a website that focuses on future technologies, markets and user trends. We are responsible for collecting the latest research data, authority data, industry research and analysis reports. We are committed to becoming a data and report sharing platform for professionals and decision makers. We look forward to working with you to record the development trends of today's economy, technology, industrial chain and business model.Welcome to follow, comment and bookmark us, and hope to share the future with you, and look forward to your success with our help.
The following is the Will China's e-commerce model go global? recommended by recordtrend.com. And this article belongs to the classification: Electronic Commerce.
In 2020, the new crown "black swan" event has greatly affected the world. The outbreak of the epidemic prompted many governments to issue home isolation measures to prevent the spread of the epidemic, and the offline retail industry at home and abroad suffered a major blow. However, the days of being closed to the outside world have led to a surge of online consumption, and online shopping has gradually become the mainstream way of shopping in the world.
Li Jiaqi is almost a household name in China. The 28 year old lipstick man, who used to sell cosmetics in Nanchang, now sells lipsticks live to millions of consumers on Taobao, China's largest Internet retail platform. He once sold 15000 Lipsticks in five minutes.
Chen Yi, nicknamed "little monster", sells sunscreen, snacks and other things to her 20000 fans on wechat, an instant messaging app that everyone uses. This 24-year-old girl from Qingdao, a coastal city, made good use of this way and got another income besides her bar chief.
There are also many farmers and fishermen who are not well-known but are also full of vigor to show their juicy apples or high-quality lobsters in the short video. Through the performance on the digital platform and the new distribution network, urban residents can directly buy agricultural products.
It's the face after face with lipstick, sunscreen, sun or snorkel that drives the explosive growth of e-commerce in China. They sway on the screens of hundreds of millions of smartphones in the fast-paced live video or shopping carnival that lasts for days.
China's fast growing online consumer market
In fact, China covid-19 has been developing rapidly before the new crown epidemic. In 2019, the sales volume of China's e-commerce is almost twice that of the United States, the United Kingdom, Germany, Japan and South Korea combined, and the growth is still accelerating.
In the past few years, new companies, including meituan and pinduoduo, have developed rapidly. They have not only found a booming business model, but also come up with new ways to attract consumers. Chinese technology companies or investment institutions continue to inject a lot of capital into them, and some of the capital is used as subsidies to attract buyers and sellers to join the platform, which is equivalent to a direct outflow as soon as they invest in it.
This model is obviously unsustainable, and these new companies are not yet profitable. But the heat will continue. And the west is just beginning to notice that.
Mark Schneider, the boss of Nestle, the world's largest food company, told his executives: "if you want to see the future, look at China." Lubomira Rochet, head of digital marketing at French beauty giant L'Oreal, believes that China's vibrant e-commerce is bottom-up and "consumer centric" driven, while western e-commerce is "technology driven" and "top-down".
There are also some western science and technology executives who think that the development of China's e-commerce depends not on creativity and entrepreneurship, but on structural forces.
They pointed out that China's mobile e-commerce accounted for 90%, much higher than 43% in the United States. Others attribute it to highly concentrated markets: Alibaba, Jingdong and pinduoduo, the top three companies, account for more than 90% of total e-commerce sales. In the United States, online giant Amazon and its two challengers, Shopify and eBay, make up less than 50%.
However, a survey of China's e-commerce shows that its vitality is "genuine". Alibaba is not the only one driving the boom. Pinduoduo has occupied 14% of the market in just a few years, partly resulting in Alibaba's market share decreasing from 67% to 61%, and forcing the giant to reduce the "commission rate" charged to sellers on its platform.
The rise of e-commerce in China vs the consumption boom in the United States in the 20th century
Outside the retail sector, digital companies crowded tiktok, including the US takeoff group, which had a takeaway from food, and the byte beating of its TikTok and its overseas version. These latecomers brought vitality to online shopping in China, which is very similar to the consumption boom in the United States in the 1950s and 1960s.
In fact, to understand the evolution of e-commerce in China, we can review the birth of American consumerism in the 20th century. The foundation of the latter is that many kinds of technologies work at the same time. At that time, cars brought people to the suburbs and gave birth to shopping malls, where people not only went shopping, but also socialized and entertained. Although radio and television have played a role through advertising and product placement, the cornerstone of Western retailing has always been physical stores.
According to Bain, a consulting firm, the per capita area of physical stores in the United States is 3.3 times that of China. Shengbo, a brokerage, estimates that 330 million Americans own 30 times as many shopping centers as 1.4 billion Chinese.
It's dazzling to visit the most upscale physical stores in the west, in sharp contrast to the bland and boring way of clicking and placing an order on Amazon. These stores are also traditional investments that retailers don't want to destroy. As a result, retailers and customers are less willing to bypass physical stores – at least before the outbreak.
Like people in other parts of the world, Chinese people still buy most products in physical stores, but there are some differences.
Compared with western countries, China's emerging middle class, who enjoy the dividends of smart phones and broadband Internet, feel more productive and comfortable in online shopping. The video shows the handicrafts, the online celebrities demonstrate the use of them, and friends recommend (or don't recommend) buying them on social media. Consumers and other netizens "group purchase" at a discount price. The live broadcast turned the whole process into entertainment. Finally, the real enterprise network delivery.
The result is a complex of shops, entertainment venues, food courts, game halls, and meeting places – a digital copy of the 20th century American shopping mall – and a hybrid link between virtual and physical spaces.
The main on-site tenant of this online shopping center is usually a super application, such as wechat, which has 1.2 billion users. It will direct traffic to Jingdong and pinduoduo, which are controlled by Tencent. After the user places an order, the two companies will arrange the delivery. Marc Andr é kamel of Bain says high population density also reduces delivery costs for consumers.
According to fr é D é ric Cl é ment of lengow, a consultancy, there is no line between social networks and shopping sites in China. Consumers love this form. Bernstein research predicts that even after the online shopping boom caused by the epidemic is over, e-commerce will still account for more than a quarter of China's total retail sales by 2021, about twice the proportion in the United States.
Two pillars of the rise of China's e-commerce
The first pillar of China's new retail architecture is "social commerce.". It relies on three related technologies: live, short video and social networking.
People are trapped at home because of the epidemic, and live broadcasting is booming. For people with relatively low salaries, it's worth the time to catch up on live broadcasting in order to get discounts on certain products. It is reported that the boss of L'Oreal China was shocked by various expressions, compliments and questions in the latest live sales activity. At the end of the live broadcast, a "lucky gift package" was delivered, offering super value discounts to several lucky customers.
There's room for all kinds of bargaining when buying in bulk, so it's the turn of social networks. Pinduoduo, founded in 2015, is known as "social sharing e-commerce", which allows consumers to form groups, usually through wechat, to bargain with merchants, so as to achieve the purpose of purchasing goods at a low price.
Pinduoduo has a market value of about $1977 billion. Although it is still losing money, its revenue is growing rapidly, up nearly 90% year on year in the third quarter of last year.
Alibaba's Taobao live double 11 pre-sale just started 30 minutes ago, and the sales reached $7.5 billion, which is almost the same as the sales expected by Amazon in October's "prime day" (which actually lasted 48 hours).
In addition, according to the data of Tianma, a consulting firm, xiaohongshu, which has been launched for seven years, has become one of the most popular cross-border e-commerce applications in China, with an estimated 85 million users. Its customers are mainly young women, who exchange shopping experience through text, pictures and videos. Tianma thinks xiaohongshu is a Chinese version of instagram and pinterest, two American Photo Sharing apps.
Tiktok is not backward. Many businesses cooperate with celebrities net to broadcast live goods on the tiktok. This tiktok opened its own shopping platform in June 2020. Tiktok's six hundred million day live users contribute a valuable resource – their attention. In autumn, the tiktok also launched its first "double eleven" Shopping Festival.
Fitch, a rating agency, believes that the market size of live broadcast retail will be close to 1 trillion yuan in 2020, double that of 2019. By 2025, the total value of live Kwai merchandise will increase to nearly 1/4 from 4.2% in 2019.
The second pillar of China's grand digital mall is the "Omni channel", or "Omni channel", which Western retailers are familiar with.
Like "social commerce", Omni channel mode flourished during the epidemic blockade and store closure. In China, the largest e-shopping malls have their own physical supermarket businesses. For example, Alibaba has HEMA fresh, and Jingdong has 7fresh fresh. JD also has its so-called "new channel" business, which cooperates with some of China's 6.8 million grocery stores to deliver brand goods to them, distribute the goods already on the shelves to local buyers, and provide them with data to optimize their operations.
Some physical retailers will provide digital coupons to encourage customers to spend in the store, and also attract attention through online live broadcast, hoping to increase the passenger flow to the store. There are also some physical stores that offer "no checkout" shopping, including unmanned stores with code scanning payment and smart vending machines.
Alibaba said that in the 12 months to March 2020, its mixed channel sales more than doubled year-on-year to 86 billion yuan, accounting for 17% of its main retail revenue from 11%. Sales of Jingdong's supermarket business grew 48% year on year in the third quarter. Meituan has expanded its distribution business from takeout to fresh groceries. Mini warehouses set up by start-ups such as Daiichi Youxian, which promises to send daily necessities home in 30 minutes, are blooming everywhere in Chinese cities.
Before 2020, most of the reactions triggered by social commerce and online and offline shopping in the West are at a loss, and the epidemic makes people quickly re-examine these two models.
As George Lee, Facebook's product director, put it, the epidemic is like a "call to action.". Facebook has 160 million enterprise users, most of whom are small and medium-sized enterprises. After the government ordered many physical stores to close down, they had to move online quickly.
Last May, Facebook launched Facebook shops, allowing businesses to create a unified online store on its core social network and sister app instagram. In November, instagram's main interface was revamped for the first time in years, adding labels called reels and shop to promote short videos and online retail. Facebook's instant messaging apps, including WhatsApp, can be used to connect with businesses on its platform and may eventually be used for sales. Facebook live can also be live.
Instagram's Vishal Shah distinguishes between "buying" and "shopping" in describing Facebook's goals – transforming a practical process into a more personal experience. Other social media companies are also moving in this direction. From 2020, snapchat users can test their make-up and shoes in a virtual way, enhancing what the app calls "walkability.". Shopify has worked with tiktok to help its more than 1 million businesses market their products through video.
In December, Wal Mart, the largest supermarket chain in the United States, held a live event called "holiday shopping together" on tiktok (the two have now established a partnership). Tiktok is a way to imitate the use of the jitter in China, so that viewers can buy the fashion products displayed by TikTok through the Internet.
Like most things related to e-commerce, Amazon is one step ahead in Omni channel sales. It has nearly 500 whole foods market stores and has launched some Amazon fresh services in the United States, offering free same day delivery to some of its prime subscribers.
Big retailers such as Wal Mart and target are also making big strides in Omni channel.
Shoppers who are wary of the new coronavirus are afraid of the crowded supermarket aisles, which makes the way of "placing an order online and picking up goods at the store" very popular.
Will China become the "beacon" of global e-commerce?
But not everyone thinks that the United States will follow the path opened up by China.
Bain believes that despite some recent progress, social commerce accounts for a much smaller share of total retail sales in the United States than in China. Russell grandinetti, head of Amazon's international retail business, said consumers have different needs at different times. Sometimes they just want to buy something with good price quickly, and they have no time to hold the online celebrities. Amazon has pioneered some browsing methods, such as online book reviews and tips that "the person who bought the product also bought the following products," he said. Prime video and twitch, Amazon's gaming platform, have attracted "millions of customers" for Amazon's free shipping service, who were primarily interested in entertainment content, he said. As for live broadcasting, "it's just not as popular in the West as it is in China.".
But grandinetti believes that live broadcasting will eventually prevail in the West as well.
Other observers pointed out that the large scale of physical retail stores in the United States has reduced the logistics cost of online and offline integration, which may encourage more mixed channel shopping mode. In other ways, the United States will go its own way. The labor price in the United States is higher than that in China, and it is likely to realize the automation of online fulfillment faster. People there value privacy more than convenience, which may weaken shoppers' willingness to share spending habits with friends on social media.
Moreover, the booming retail industry in China is still likely to lose its vitality. An aging population will eventually lead to a shortage of cheap warehouse workers and delivery drivers. This may mean higher freight rates, longer waiting time, and even trade union demands for better working conditions, leading to further increases in costs.
In addition, the degree of trust in wanghong is declining, especially those who take a huge reward to promote the brand. Those who earn less may lose patience and return to their daily work. Parkl's Wheatley said, "the top 1% of revenue is very profitable. The rest are starving artists. "
The reason why western enterprises do not immediately follow the example of China's e-commerce is probably not because of their inherent defects, but because of their own over specialization.
From Amazon headquarters in Seattle, Facebook in Silicon Valley to Wal Mart in Bentonville, American companies used to focus on their core businesses – e-commerce, social media and supermarkets. It was only recently that they began to invade each other's territory.
Over time, this may make the boundaries of business more blurred. At a recent online group meeting, Eric Feng, Facebook's e-commerce incubator, jokingly concluded: "China, you are the light that guides us forward.
Read more: Financial Times: China's e-commerce innovation has far surpassed that of Europe and America. First financial weekly: how can e-commerce quietly change China? Top 150 of China's e-commerce ranking in Q3 2015 five key words and three trends of China's e-commerce in 2017 Boston Consulting: it is estimated that the scale of China's e-commerce market will reach 2 trillion yuan in 2015 e-commerce trend analysis of China's three important e-commerce development trends in 2014 iResearch: the overall transaction scale of China's e-commerce market will reach 1.76 trillion yuan in Q1 2012 Year on year growth of 25.8% China's e-commerce: opportunities for Asian enterprises (with download) Forbes: China's growing addiction to e-commerce trend forecast of China's B2B industry in 2015 Ogilvy China: brand's breakthrough in China's e-commerce: new momentum of China's e-commerce development
If you want to get the full report, you can contact us by leaving us the comment. If you think the information here might be helpful to others, please actively share it. If you want others to see your attitude towards this report, please actively comment and discuss it. Please stay tuned to us, we will keep updating as much as possible to record future development trends.