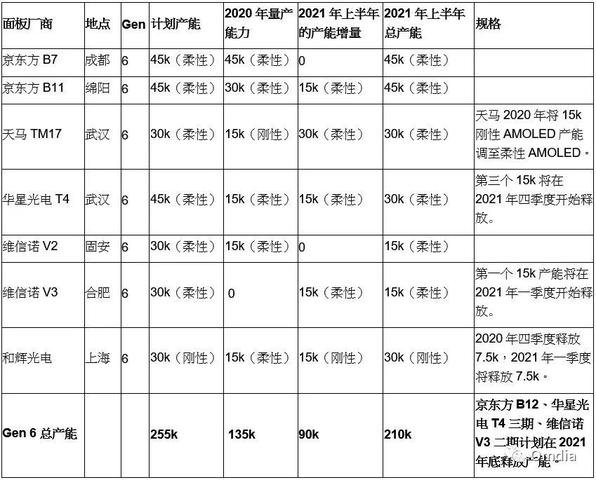 RecordTrend.com is a website that focuses on future technologies, markets and user trends. We are responsible for collecting the latest research data, authority data, industry research and analysis reports. We are committed to becoming a data and report sharing platform for professionals and decision makers. We look forward to working with you to record the development trends of today's economy, technology, industrial chain and business model.Welcome to follow, comment and bookmark us, and hope to share the future with you, and look forward to your success with our help.
The following is the China's AMOLED capacity will increase significantly in 2021 From Omdia recommended by recordtrend.com. And this article belongs to the classification: Hardware equipment industry.
main points
According to the calculation of substrate, the mass production capacity of China's Gen 6 flexible AMOLED will be 105000 pieces per month in 2020.
About 75000 flexible AMOLED and 15000 rigid AMOLED will join the supply chain, and the glass investment is planned in early 2021.
Chinese rigid AMOLED suppliers will enter the supply chain of first-line brands. Meanwhile, flexible AMOLED suppliers will face serious low-cost competition in 2021.
Amgen's production capacity will increase by 5 chips per month in the first half of 2026
In the year of AMOLED shipment decline, Chinese AMOLED panel manufacturers did not slow down the pace of capacity expansion. In the last quarter of 2020, all five AMOLED panel manufacturers released new capacity as promised in the investment announcement. Here are the details of the 90000 piece capacity increase.
Table 1: China's Gen 6 AMOLED capacity
Source: Omdia
How to consume these capacities will be a big challenge for AMOLED manufacturers, because the price of flexible AMOLED is too high to be applied to mid-range smart phones with the price below 3000 RMB. In the face of very limited customers and business opportunities, flexible AMOLED manufacturers need to make a choice between loss of cash flow or increase of operating rate; and customers' requirements of upgrading specifications also require AMOLED manufacturers to continue to invest in equipment transformation production line, but it is difficult for manufacturers to recover the investment cost from the product premium in the future, excessive competition will force AMOLED manufacturers into a prisoner's dilemma 。 Therefore, the commercial demand of folding or rolling screen mobile phones is imminent, because only expanding the screen area can help to improve the added value of mobile phones and reduce the production capacity.
According to omdia's smartphone display market tracker – pivot – history – 3q20, in 2020, affected by the epidemic and the US government's ban on Huawei's semiconductors, AMOLED shipments were 454 million, down 3.6% year on year (YY). However, flexible AMOLED shipments increased from 158 million to 241 million, mainly contributed by apple and Huawei. Apple will continue to lead the shift in 2021, but only BOE is expected to benefit from it. As for other AMOLED manufacturers in China, they need to attract other brands that want to use AMOLED in their smartphones. Although new glory is also actively switching to flexible AMOLED, the shortage of 5g chips in 2021 makes it difficult for new glory to achieve its goal. Other brands will also increase the demand for flexible AMOLED next year, but after all, the terminal price is limited, so the purchase growth of flexible AMOLED will also be limited.
In 2020, the shipment volume of rigid AMOLED will drop from 313 million in 2019 to 213 million, but the demand for rigid AMOLED will be quite strong in 2021. Hopewell and vicino will get the opportunity from Xiaomi and new glory as the second supplier after Samsung display.
Due to the fierce competition, the price of 2.5D flexible amoeld will be reduced to $30. This price will also bring a lot of pressure to Samsung's rigid AMOLED and flexible AMOLED, so Samsung can't stand alone in the fierce AMOLED competition. Next year, after the depreciation of these new AMOLED production capacity begins, the loss will be the biggest challenge for AMOLED manufacturers in the future. Therefore, omdia suggests that before the arrival of folding mobile phones or more attractive applications, panel manufacturers should suspend the capacity investment of flexible AMOLED to maintain the healthy development of the industry.
More reading: omdia: it is estimated that the global display glass substrate will continue to be in short supply in 2021 counterpoint: the sales volume of AMOLED smart phones will exceed 600 million in 2020 omdia: in the second quarter of 2020, the shipment of automotive panels will only reach 27.9 million, a year-on-year decrease of 33.9% IHS Markit: it is estimated that the revenue of AMOLED TV display market will reach US $7.5 billion in 2025 IHS Markit: AMOLED Analysis on the development trend of display driver chip IHS: it is estimated that the shipment volume of foldable AMOLED panel will reach 50 million in 2025 IHS Markit: the global AMOLED panel production capacity will more than quadruple in the next five years IHS Markit: the global AMOLED TV panel shipment will exceed 10 million units in 2023 DIGITIMES: the proportion of smart phones with AMOLED display will rise to 27.6% in 2017, the flexible AMOLED panel shipment is expected to reach 150 million units in 2017 NPD DisplaySearch: the AMOLED mobile panel shipment is expected to reach 217 million units in 2013 omdia: the global notebook computer shipment is expected to reach 171 million units in 2020 Omdia: 28nm will become a long node technology for semiconductor applications in the next five years. Omdia: China's intelligent video surveillance market will reach US $16.7 billion in 2024. Omdia: it is estimated that the sales of display panels of Chinese manufacturers will reach US $42.5 billion in 2020, with a year-on-year growth of 5%
If you want to get the full report, you can contact us by leaving us the comment. If you think the information here might be helpful to others, please actively share it. If you want others to see your attitude towards this report, please actively comment and discuss it. Please stay tuned to us, we will keep updating as much as possible to record future development trends.