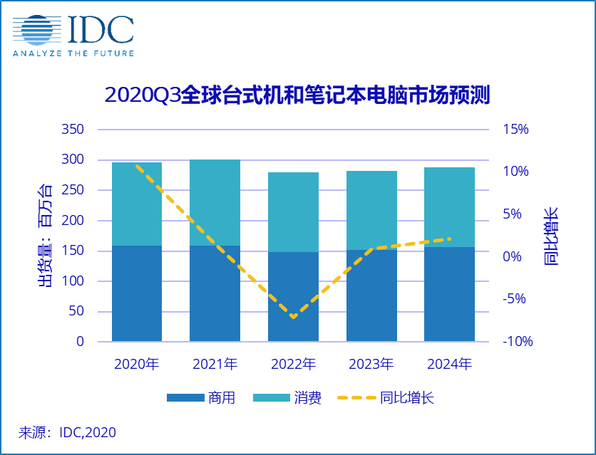 RecordTrend.com is a website that focuses on future technologies, markets and user trends. We are responsible for collecting the latest research data, authority data, industry research and analysis reports. We are committed to becoming a data and report sharing platform for professionals and decision makers. We look forward to working with you to record the development trends of today's economy, technology, industrial chain and business model.Welcome to follow, comment and bookmark us, and hope to share the future with you, and look forward to your success with our help.
The following is the Desktop and laptop shipments will grow 18.2% year on year in the fourth quarter of 2020 From IDC recommended by recordtrend.com. And this article belongs to the classification: IDC, Hardware equipment industry.
With the increasing demand for work at home and distance education, together with the boost of the Christmas holiday consumption season, the current surge in PC demand is expected to continue. According to the latest forecast of International Data Corporation (IDC), in the fourth quarter of 2020, the shipment of desktop computers and notebook computers will increase by 18.2% year-on-year, and it is expected that the shipment will increase by 1.4% in 2021. The popularity of mobile devices is obvious, with notebook computers expected to grow by 26.4% year-on-year in the fourth quarter of 2020 and 3.2% in 2021, while desktop computers will show a downward trend in both periods. Looking forward to 2021, IDC predicts that PC shipments will slow down and show a certain decline. However, it seems that the global epidemic has injected new vitality into the market.
Ryan Reith, vice president of IDC's global mobile device tracker program, said: "the growth momentum of the PC market can at least be said to be good. At the beginning of the year, we expected the industry to have a six-month rapid growth this time, but after studying the supply chain channel in 2021, we found that this growth will continue. The school's make-up task is still very heavy, many schools around the world are doing their best to ensure the supply of computers. At the same time, consumers have rich demand for notebook computers, ranging from low-end entry-level computers to high-end game books. In particular, this growth coincides with growth in other device categories such as smartphones, PC monitors, TVs and game consoles. This shows a significant shift in consumer spending. "
"We predict that not only will PC shipments increase this year and next, but fundamental changes in people's workflow will have a lasting impact on the PC market in 2022 and beyond," said jitesh ubrani, research manager of IDC global mobile device tracker. With the gradual development of the family towards one PC for each person, and at the same time, the purchase level of PC is getting higher and higher, and the longer-term forecast of PC shipment volume and average price is also improved accordingly. "
Due to the closure of the city due to the epidemic, the tablet market has also grown. IDC predicts that total Tablet PC shipments will grow 10% year on year in 2020. Most consumers who want a tablet with a removable keyboard have chosen Apple's iPad line indisputably. In many emerging markets, some of the devices used by students to make up lessons are tablets, especially Android tablets, which are much cheaper on average than PCs or other tablets.
IDC's global quarterly PC device tracker collects data from more than 90 countries / regions, providing detailed, timely and accurate global PC device market information. This includes global trend data and insight for desktops, laptops, removable tablets, regular tablets and workstations. In addition to insightful analysis, the project also provides quarterly market share data and five-year forecasts for countries or regions. The study includes historical data and forecast trend analysis. More reading: IDC: China's network market size is 3.95 billion US dollars in the first half of 2019 IDC: 12.49 million PC monitors will be shipped in the first half of 2020, down 10.1% from the same period last year. IDC: in the third quarter of 2020, China's total PC market shipment will reach 1, 4.45 million pcs, up 10.1% year on year Year on year growth of 11% IDC: in July 2020, the market share of the video game market increased by 30.4% year on year. IDC: in Q1 of 2020, the overall revenue of China's IT security hardware market manufacturers will be about 414 million dollars IDC: in the first quarter of 2020, the scale of China's enterprise level external storage market will reach 690 million dollars IDC: the total revenue of IT security hardware market manufacturers in the fourth quarter of 2019 will be 1.11 billion US dollars IDC: new crown epidemic Enterprises in the global IT market are expected to reduce it spending IDC: China's PC monitor market is expected to ship 28.28 million units in 2020 IDC: Q4 in the fourth quarter of 2019, the sales of traditional PCs (desktop, notebook and workstation) will approach 71.8 million, an increase of 4.8% IDC: in Q3 of 2019, the shipment volume of China's x86 server market will be 861, 529 sets, a year-on-year decline of 4.2% IDC: the global convergence system market revenue in the third quarter of 2019 is $3.75 billion IDC: the overall revenue of IT security hardware market manufacturers in the third quarter of 2019 is 879 million US dollars IDC: the market scale of China's storage software market in 2019 will reach 519 million US dollars, with a year-on-year increase of 11.1%
If you want to get the full report, you can contact us by leaving us the comment. If you think the information here might be helpful to others, please actively share it. If you want others to see your attitude towards this report, please actively comment and discuss it. Please stay tuned to us, we will keep updating as much as possible to record future development trends.