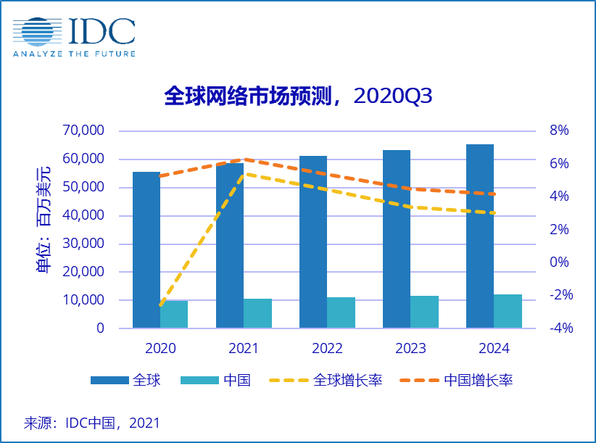 The following is the Forecast of the development trend of China's network market in 2021 From IDC recommended by recordtrend.com. And this article belongs to the classification: IDC, Hardware equipment industry.
With COVID-19's gradual control, the economy of China and the whole world has been on the right track, and digitalization has played a great role in this process. As the basis of digital connection, the network has entered a new stage of development. China's network market plays an important role in the process of market development, technology evolution and business model change. Looking forward to the future, the network will pay more attention to the reliability of business and application, the improvement of efficiency and better experience. Based on this, IDC has made relevant forecast for China's network market in 2021, and displayed it in the form of data chart.
market development
Forecast 1: in the next five years, China's network market will continue to grow faster than the world's
Affected by COVID-19, the global market in 2020 (including Ethernet switches, routers and WLAN) has declined year by year. China's network market is still positive due to effective epidemic control and economic growth resilience. Looking forward to 2021 and the next few years, China's network market will enter the era of medium speed growth, but it is still a country with fast growth in the world.
Forecast 2: updating and subdivision scenario demand is the main growth point in the future
After years of construction, the era of network popularization has passed, and the next few years will focus on the demand for upgrading. In addition, there are also new opportunities for segmentation scenarios of major industries. With the transformation of China's economy, the demand for network construction of enterprises represented by science and technology will increase, such as the new infrastructure field; the double cycle new development pattern will help the rise of consumer and service enterprises, which contains network construction opportunities; the introduction of the 14th five year plan will greatly support the information technology application and innovation industry, which will also bring more investment in network construction funds.
Technology evolution
Forecast 3: by 2024, the proportion of 100g port revenue will exceed other rates
The sharp growth of data has not seen an obvious inflection point, and the construction of large and super large data centers is still very fast. From the speed point of view, the revenue of 100g port is increasing, and it will exceed the speed of any other port. In the domestic market, 50g has not been widely used. It is expected that it will be upgraded from 25g to 100g and then to 400g in the next few years.
Forecast 4: Wi Fi 6 and Pol are the driving forces for the development of campus network
It is estimated that by 2021, Wi Fi 6 will account for more revenue than Wi Fi 5, and will gradually replace it in the following years. Wi Fi 6 and its later 6e and Wi Fi 7 are all designed to improve the quality of wireless communication in the park, so as to adapt to the wave of mobility. In terms of short-range and high-capacity wireless coverage, Wi Fi still has irreplaceable technical and commercial advantages.
In terms of wired network in the park, all-optical local area network (POL) is growing rapidly. Under the background of simplifying network access as much as possible, users have the power to migrate to optical network. Especially in the multi-user operation and maintenance, multi service bearing and industrial environment, the advantages of Pol can be better played.
Forecast 5: the compound growth rate of sd-wan will exceed 50% in the next five years
Whether it is the use of software and hardware infrastructure products or service subscription, sd-wan has been well received by users as soon as it is launched, and its growth rate is far higher than that of traditional network hardware. Multi branch interconnection, business cloud, application optimization and cross-border access are the main application scenarios of sd-wan, which bring customers the value of simplified operation and maintenance, cost saving and network acceleration.
Business change
Forecast 6: the proportion of distribution in the enterprise network market will increase from 20% to 30%
As network products become more and more mature, the sales of some middle and low-end products are gradually closer to consumer products, and the proportion of distribution sales mode is gradually increasing. Some enterprises begin to try the online mode, which is more suitable for the habits of the new digital generation with the help of short video and live broadcast. At the same time, the network construction demand of some small and medium-sized enterprises and underdeveloped areas is gradually increasing. It is difficult for these customers to implement the traditional sales mode, so it is also conducive to the penetration of the distribution mode.
Forecast 7: cloud management network to cultivate enterprise service purchase awareness
The development of cloud has changed the way manufacturers reach users. Under the influence of traditional business model, cloud management network has shown signs of rapid growth. There are more and more cloud native enterprises and cloud native applications, which change the operation mode of enterprises and make it easier for enterprises to accept the way of purchasing network services. Cloud management network brings not only the change of product management function decoupling, but also the change of traditional network operation mode. Read more: IDC: the scale of China's Internet market in the first half of 2019 is US $3.95 billion IDC: the scale of China's Internet market in the first half of 2019 is US $3.95 billion juniper Research: 2016 global technology market development trend forecast big data development trend forecast 2013 online video advertising development trend forecast 2014 website analysis top 10 development trend forecast IDC: 2010 Q3 Apple Mac sales increased by 24% year on year IDC: 2013 Q4 global enterprise client shipping volume hit a new high 16 million units IDC: positive growth of global computer display market in the third quarter of 2013 IDC: global PC shipment will reach 91.6 million units in the fourth quarter of 2020 IDC: the overall revenue of IT security hardware market manufacturers in the second quarter of 2019 is US $602 million IDC: the overall revenue of IT security hardware market manufacturers in the fourth quarter of 2019 is US $1.11 billion IDC: the scale of China's IT security hardware market in 2018 is US $3.53 billion, a year-on-year increase of 26.51% IDC: the shipment volume of China's PC monitors in the second quarter of 2019 is 7.229 million units IDC: the overall revenue of China's IT security hardware market in Q1 2020 will be about US $414 million
If you want to get the full report, you can contact us by leaving us the comment. If you think the information here might be helpful to others, please actively share it. If you want others to see your attitude towards this report, please actively comment and discuss it. Please stay tuned to us, we will keep updating as much as possible to record future development trends.
RecordTrend.com is a website that focuses on future technologies, markets and user trends. We are responsible for collecting the latest research data, authority data, industry research and analysis reports. We are committed to becoming a data and report sharing platform for professionals and decision makers. We look forward to working with you to record the development trends of today's economy, technology, industrial chain and business model.Welcome to follow, comment and bookmark us, and hope to share the future with you, and look forward to your success with our help.