Hardware equipment industry
TrendForce
It is estimated that the market size of the third generation semiconductor will reach 61 million US dollars in 2021, with an annual growth rate of 90.6% From TrendForce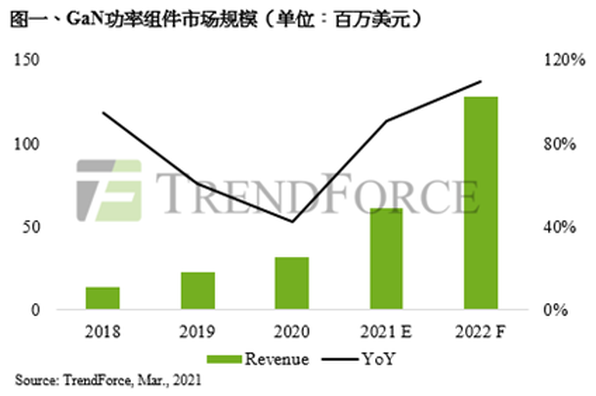 The following is the It is estimated that the market size of the third generation semiconductor will reach 61 million US dollars in 2021, with an annual growth rate of 90.6% From TrendForce recommended by recordtrend.com. And this article belongs to the classification: TrendForce, Hardware equipment industry.
Trendforce pointed out that the growth momentum of the third generation semiconductor in 2021 is expected to pick up at a high speed due to the demand of automobile, industry and communication. Among them, Gan power devices have the most obvious growth power. It is estimated that this year's market will reach 61 million US dollars, with an annual growth rate of 90.6%.
Trendforce further pointed out that firstly, it is expected that the epidemic will slow down after the advent of the vaccine, which will drive the demand for industrial energy conversion components such as inverters, frequency converters, and communication base stations to stabilize; secondly, as Tesla Model 3 electric vehicle inverters gradually change to SiC After the device manufacturing process, the third-generation semiconductors have gradually attracted more and more attention in the automotive market. Finally, in order to enhance the autonomy of semiconductors, the Chinese government proposed the fourteenth five year plan this year to invest a huge amount of money to expand production capacity, which will be the driving force for the high-speed growth of Gan, SiC and other third-generation semiconductors in 2021.
According to the survey of trendforce, although some Fabs of Gan devices, such as TSMC and world advanced, are trying to import 8-inch wafers, the current main force is still 6-inch wafers. As the epidemic slows down, the demand for 5g base station RF front-end, mobile phone charger and vehicle energy transmission will gradually increase. It is expected that the revenue of communication and power devices will be US $680 million and US $61 million respectively in 2021, with an annual increase of 30.8% and 90.6%.
Trendforce expects that Gan devices will continue to penetrate into mobile phone and notebook accessories, and the annual growth rate will reach the peak in 2022. With the gradual popularization of manufacturers' adoption, the growth momentum will slow down slightly.
For SiC devices, the supply of 6-inch wafers is tight due to the use of this substrate in communication and power fields. It is estimated that the revenue of SiC devices in power field will reach 680 million US dollars in 2021, an annual increase of 32%. At present, major substrate manufacturers such as Cree, II-VI and STMicroelectronics have successively launched 8-inch substrate development plans, but it is still expected to gradually ease the supply dilemma after 2022. More reading: trendforce: the price of Q2 client SSD is expected to increase by 3-8% on a month on month basis in 2021. Trendforce: the market share of Q3 apple notebook will drop to 7.9% in 2018. Trendforce: the overall sales of global module market will reach US $16.1 billion in 2019, only a decrease of 3% on a year-on-year basis Annual growth rate 23.1% trendforce: the average penetration rate of global DDR4 memory industry in Q3 will reach 90% in 2020 trendforce: supply and demand balance of LED chip market will be restored in 2018 The total output value of DRAM reaches 17.65 billion US dollars, only increasing by 1.1% trendforce: it is estimated that the price of Q3 server DRAM products will drop by 10% – 15% in 2020 trendforce: it is estimated that BOE's market share of notebook panel will reach 29.2% in the first half of 2020 trendforce: Forecast of revenue ranking of top 10 Q3 Fabs in 2020 SMIC International's 5th trendforce: it is estimated that the overall revenue of Q4 global OEM market will increase by 6% on a month on month basis in 2019
If you want to get the full report, you can contact us by leaving us the comment. If you think the information here might be helpful to others, please actively share it. If you want others to see your attitude towards this report, please actively comment and discuss it. Please stay tuned to us, we will keep updating as much as possible to record future development trends.
RecordTrend.com is a website that focuses on future technologies, markets and user trends. We are responsible for collecting the latest research data, authority data, industry research and analysis reports. We are committed to becoming a data and report sharing platform for professionals and decision makers. We look forward to working with you to record the development trends of today's economy, technology, industrial chain and business model.Welcome to follow, comment and bookmark us, and hope to share the future with you, and look forward to your success with our help.