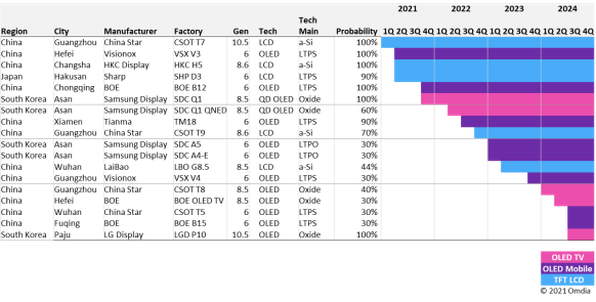 The following is the OLED capacity will lead new investment in flat panel display From Omdia recommended by recordtrend.com. And this article belongs to the classification: Hardware equipment industry.
Covid-19 can be used as a catalyst for innovation and change in the flat panel display industry. The flat panel display industry is also a typical cyclical industry. It will provide some leading panel suppliers with the opportunity to expand their gap with their competitors. In order to lose the opportunity, Korean manufacturers are more active in taking the LCD business from many Chinese mainland manufacturers and developing new flat panel display technology, organic light-emitting diode (OLED).
Starting from 2021, the panel plant is expected to implement more than 30% of the capital expenditure expansion investment plan, and 18 new production lines will be invested in 6 generation lines or higher generation lines.
Figure 1: TFT array plant investment (mass production) plan
Source: AMOLED and LCD Supply Demand & Equipment Tracker – 3Q20, Omdia
In addition to the 6 generation LTPS production line planned by SHARP, Chinese mainland panel makers will continue to invest in LCD capacity in the 8.5 generation or higher generation line. The Chinese mainland panel makers also plan to continue investing to expand their capacity on the basis of existing capacity, while TCL Huaxing aims to begin mass production of its new 10.5 generation line T7 production line, which will be produced in the first quarter of 2021 and is the second generation 10.5 generation line of Huaxing optoelectronics. At present, there will be five generation 10.5 LCD panel production lines, including BOE's B9 and B17 production lines and sharp's Guangzhou SiO production line.
TCL Huaxing optoelectronics and Laibao also plan to start mass production of their planned 8.6 generation T9 production line and 8.5 generation production line in 2023.
However, omdia expects panel manufacturers to invest more actively in the 6-generation OLED production line than LCD production line, and plans to invest a total of 8 6-generation OLED production lines by 2024.
In 2021, vicino and BOE will start mass production with new OLED capacity, while Tianma plans to start mass production of its tm18 production line in 2022. Samsung display is also expected to invest in two generation 6 production lines, which are likely to mass produce ltpo OLED panels, while BOE and TCL Huaxing optoelectronics plan to start mass production of corresponding products in 2024.
Meanwhile, panel suppliers are expected to continue to invest in OLED TV panel capacity. Samsung display is currently installing equipment and machines in its QD OLED production line, aiming to start mass production by the end of this year. It is reported that the company is even considering additional investment in OLED TV panel production capacity, because after selling the LCD panel factory in Suzhou, China and the LCD panel factory in South Korea, the company is seeking to completely withdraw from the LCD panel business to focus more on mobile and large-size, new OLED panel business. QD OLED and quantum dot nano LED (qned), which are currently being developed, are known as the next generation display technology together with micro LED which is being developed by the VD Department of Samsung Electronics.
Its local competitor lejin shows that it is likely to make a final decision on the additional investment of its South Korean 10.5 generation P10 production line after successfully improving the yield of its production line in Guangzhou, China, improving its profitability by reducing production costs, and expanding its target market.
Its rival TCL in Chinese mainland, Huaxing photoelectricity and BOE also plans to start the production of Gen 8.5 oxide OLED panel in 2024. However, given the large technological gap with their South Korean counterparts, they are only 30% to 40% likely to achieve the goal. However, if they succeed in implementing the plan, their technology may pose a great threat to their Korean counterparts.
Based on the above new LCD and OLED investment plans, the capacity of OLED panel is expected to continue to grow at a double-digit rate, while the capacity of LCD panel is expected to grow at a single digit rate due to the continuous closure of old production lines.
Figure 2: area capacity growth rate (YoY)
Source: AMOLED and LCD Supply Demand & Equipment Tracker – 3Q20, Omdia
It is expected that the rapid growth of OLED panel market will promote the growth of OLED device market. Omdia predicts that the OLED equipment market will grow to US $14.1 billion in 2023, of which the investment in OLED equipment is expected to reach US $10.6 billion. But the total investment will lag behind the large-scale LCD investment between Chinese mainland panel makers from 2017 to 2018.
Figure 3: FPD equipment revenue by panel technology / process
Source: AMOLED and LCD Supply Demand & Equipment Tracker – 3Q20, Omdia
Chinese mainland manufacturers are expected to lead the display equipment for some time. However, from 2022, Korean panel manufacturers are expected to increase investment in new display technologies such as ltpo OLED and qned. Investment in equipment in South Korea is also expected to start to increase.
Aggressive investment in new display technology is expected to keep South Korean panel manufacturers in a leading position in the market.
Read more: omdia: 28nm will become a long node process for semiconductor applications in the next five years omdia: it is estimated that the global display glass substrate will continue to be in short supply in 2021 omdia: China's AMOLED production capacity will be significantly improved in 2021 omdia: it is estimated that the shipment of 4K large-size display panels will reach 148 million pieces in 2020 omdia: Apple iPhone from 2020 to 2022 OLED panel blueprint omdia: Apple's iPhone panel shipment is expected to reach 207 million pieces in 2020, up 11% year on year Markit: large panel display market will return to balance in 2019 omdia: it is estimated that the shipment volume of laptop panel will reach 229 million pieces in 2021, with a year-on-year growth of 7% omdia: it is estimated that the monthly production capacity of panel manufacturers will reach 8.51 million pieces in 2021 Annual output of 102 million omdia: in the third quarter of 2020, the global LED display market revenue increased by 10.8% on a month on month basis
If you want to get the full report, you can contact us by leaving us the comment. If you think the information here might be helpful to others, please actively share it. If you want others to see your attitude towards this report, please actively comment and discuss it. Please stay tuned to us, we will keep updating as much as possible to record future development trends.
RecordTrend.com is a website that focuses on future technologies, markets and user trends. We are responsible for collecting the latest research data, authority data, industry research and analysis reports. We are committed to becoming a data and report sharing platform for professionals and decision makers. We look forward to working with you to record the development trends of today's economy, technology, industrial chain and business model.Welcome to follow, comment and bookmark us, and hope to share the future with you, and look forward to your success with our help.