Hardware equipment industry
Only with an annual investment of 195 billion yuan in the next five years can semiconductor manufacturers have a chance to surpass Samsung and TSMC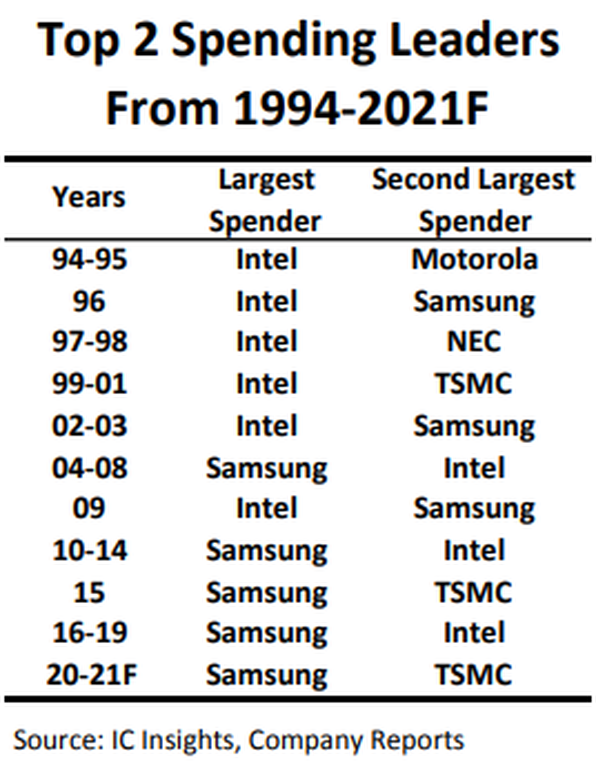 The following is the Only with an annual investment of 195 billion yuan in the next five years can semiconductor manufacturers have a chance to surpass Samsung and TSMC recommended by recordtrend.com. And this article belongs to the classification: Hardware equipment industry.
The competition of advanced semiconductor process is entering a new stage. In the past 25 years, it has become more and more expensive to keep up with the development of cutting-edge IC technology. SMIC, the largest and most advanced wafer foundry in China, is still far behind TSMC, Samsung and Intel in its 14nm process. To catch up with the advanced manufacturing processes of Samsung and TSMC, global competitors need to invest US $30 billion (about $195 billion) a year in at least the next five years to have a chance of success.
The company with the highest capital expenditure can produce the most advanced chips
Now, Samsung, TSMC and Intel are the only companies that can invest in the most advanced processes of logic devices. Among the three companies, only TSMC and Samsung are really in the leading position. They can both mass produce 7Nm and 5nm chips. Intel is expected to mass produce 7Nm chips by 2022, when Samsung and TSMC are expected to mass produce 3nm process chips.
Historically, chip companies with the highest level of capital expenditure have been able to produce the most advanced products. In the past 27 years, Intel has ranked among the top two capital spenders in the global semiconductor industry for 25 consecutive years (Figure 1). However, in 2020, Intel's capital expenditure is only about half of Samsung's, and it is expected that it will again be far less than half of Samsung's capital expenditure in the future.
In 2010, Samsung spent more than $10 billion on semiconductor capital expenditure for the first time, which increased to $11.3 billion in 2016 and more than doubled to $24.2 billion in 2017. Since then, Samsung's semiconductor capital expenditure has remained high, reaching US $21.6 billion in 2018, US $19.3 billion in 2019 and US $28.1 billion in 2020.
Figure 1: the first and second largest companies in the global semiconductor industry in terms of capital expenditure, 1994-2021
In the history of the semiconductor industry, Samsung's capital expenditure of US $93.2 billion during 2017-2020 is unprecedented, which is more than twice the total of US $44.7 billion of all Chinese domestic semiconductor suppliers in the same period.
Samsung has also released its capital spending guidance for 2021, and IC insights estimates that the company's spending will be basically the same as in 2020.
Let's look at TSMC, the only pure wafer foundry that provides leading technology. The market demand for its 7Nm and 5nm processes is very strong. The revenue from the two advanced processes accounts for 47% of its sales in the second half of 2020. At present, most of TSMC's capital expenditure is to increase the capacity of 7Nm and 5nm processes.
What attracts people's attention is that TSMC's speed of turning to 5nm is very fast. In the first half of 2020, TSMC basically has no 5nm process revenue, but 5nm products account for 8% (US $3.5 billion) of the total sales in 2020.
On January 14, 2021, TSMC released important news that it plans to increase its capital expenditure this year to US $25-28 billion, higher than the US $27.5 billion estimated by IC insights. TSMC expects to spend about $6.9 billion a quarter this year, more than double the fourth quarter of 2020.
Now it seems that Samsung and TSMC are aware of the golden opportunity. Samsung's capital expenditure began to surge in 2017, and TSMC began to increase capital expenditure in 2021. Icinsights estimates that the total capital expenditure of Samsung and TSMC this year will reach at least US $55.5 billion, setting a record for the proportion of the top two capital expenditures in the total capital expenditure of the semiconductor industry (Figure 2).
Figure 2: share of capital expenditure in global semiconductor industry
As there is no other company with comparable capital expenditure, Samsung and TSMC are likely to further away from their competitors in terms of advanced process technology this year.
Hard to surpass Samsung TSMC
Can the EU, the US and the Chinese mainland catch up with Samsung and TSMC through investment? Considering that there is still a big gap, IC insights believes that governments need to spend at least $30 billion a year for at least five years to get a chance of success.
Of course, in addition to the leading technology brought by capital expenditure, the market share of the two major companies also has an absolute advantage. According to the data of trendforce, a research institute in Taipei, from a regional perspective, Taiwan's market share in the global wafer foundry market in 2020 will be as high as 63%, far exceeding South Korea, which ranks second with 18%.
Figure 3: Global wafer foundry market share in 2020, source: trendforce
Among them, TSMC alone accounted for 54% of the market share, Samsung accounted for 17%, China's largest wafer foundry SMIC international accounted for 5%, and Huahong Hongli accounted for only 1%.
High market share brings high revenue. According to trendforce, TSMC's revenue in the first quarter of 2021 is expected to reach NT $12.91 billion, which is higher than that of 10.31 billion in the first quarter of 2020, more than three times that of Samsung, which has the second largest market share, and more than the total revenue of the other nine fabs.
Figure 4: revenue of the world's top ten Fabs
If no other chip company or government takes prompt and decisive action, Samsung and TSMC will successfully occupy the world's leading chip technology, which is the cornerstone of all advanced electronic systems in the future.
In such a situation, any pursuer is facing a huge challenge. For China, even if it is determined to invest a lot of money in the long run, it will certainly be hindered by trade problems, which prohibit the sale of some of the most critical process equipment to China.
Wu Hanming, academician of the Chinese Academy of engineering and Dean of the school of micro nano electronics of Zhejiang University, also pointed out in today's speech at semicon China that China's integrated circuit industry is doomed to be difficult and faces political and industrial barriers. China's chip manufacturing is facing three challenges: graphics transfer, new materials & technology and yield improvement.
Wu Hanming believes that "China's chip manufacturing should use advanced technology, plus characteristic technology, advanced packaging and system structure. The advanced technology have a brilliant future in the process of supporting the advanced technology.
IC insights: in 2017, the global semiconductor R & D investment was 34 billion US dollars, a year-on-year increase of 6% IC insights: in the first half of 2020, Huawei Hisilicon, the world's top 10 semiconductor manufacturers, was the first to enter the top 10 IC insights: in 2020, the sales of global semiconductor manufacturers ranked Huawei Hisilicon has dropped out of the top 15 Gartner: sales list of global semiconductor manufacturers in 2019 Intel returns to the top of the list Gartner: Top 10 global semiconductor manufacturers in 2020 IC insights: Top 10 global semiconductor manufacturers in 2019 Huawei Hisilicon has the highest growth Insight: sales data of top 15 global semiconductor manufacturers in the first half of 2018 Looking back on 2019 and looking forward to 2020
If you want to get the full report, you can contact us by leaving us the comment. If you think the information here might be helpful to others, please actively share it. If you want others to see your attitude towards this report, please actively comment and discuss it. Please stay tuned to us, we will keep updating as much as possible to record future development trends.
RecordTrend.com is a website that focuses on future technologies, markets and user trends. We are responsible for collecting the latest research data, authority data, industry research and analysis reports. We are committed to becoming a data and report sharing platform for professionals and decision makers. We look forward to working with you to record the development trends of today's economy, technology, industrial chain and business model.Welcome to follow, comment and bookmark us, and hope to share the future with you, and look forward to your success with our help.