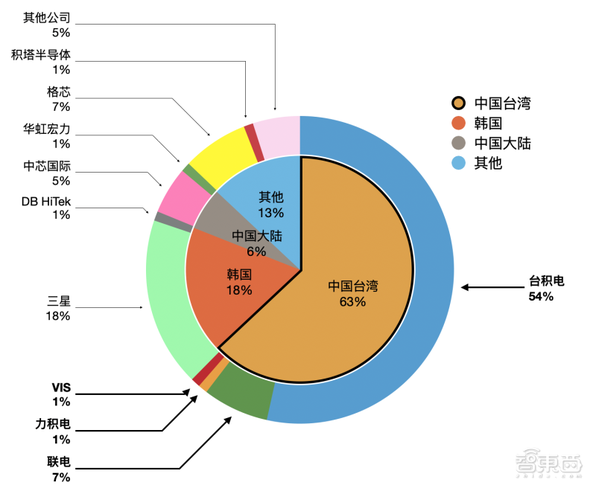 The following is the Two charts to see through the pattern of chip manufacturing Taiwan's share exceeds 50% recommended by recordtrend.com. And this article belongs to the classification: Hardware equipment industry.
How does Taiwan contain global chips? Today, the US media use two charts to show the dependence of the world on Taiwan semiconductors. From computers, smart phones to car brake sensors All kinds of electronic devices are inseparable from chips, and in the key link of chip manufacturing, Taiwan and the mainland of China are playing an important role.
1、 Chart 1: three major positions of chip manufacturing: Taiwan, China dominates 60% of the market
According to trendforce, a research institute in Taipei, Taiwan will account for more than 60% of the world's wafer foundry market in 2020, far exceeding South Korea, which is the second place with 18%.
In 2020, Taiwan will account for more than 60% of the global wafer foundry market (data source trendforce)
Among the top ten Fabs in the world, leading TSMC, the third largest company and the seventh largest company are all headquartered in Taiwan. Vis, the eighth largest company headquartered in the Strait of Malacca, also has a production base in Taiwan.
Among them, TSMC alone has a global market share of 54%.
It can be seen that Taiwan's important strategic position in the global chip industry chain is closely related to TSMC's leading position in market share and technological advancement.
Apple, Huawei, Qualcomm, NVIDIA, AMD, MediaTek and other well-known chip design enterprises are all TSMC's customers.
The market share of Chinese mainland is 6%, of which SMIC has contributed 5% of the market share.
2、 Chart 2: TSMC's revenue is hard to match
Trendforce forecasts that the total revenue of the world's top ten Fabs in Q1 of 2021 is expected to increase by 20% year on year.
From the revenue of the world's top chip Fabs in Q1 2020 and Q1 2021, TSMC's win is quite obvious.
Revenue forecast of 2020q1 and 2021q1 top 10 Fabs in the world (tuyuan CNBC, data source trendforce)
Among the top ten fabs, TSMC's Q1 revenue is expected to reach NT $12.91 billion in 2021, more than the total revenue of the other nine fabs, more than three times that of Samsung.
Moreover, the revenue gap between TSMC and Samsung in Q1 is also further widening.
TSMC's Q1 revenue in 2021 is expected to grow by 25% year on year, while Samsung's Q1 revenue is expected to grow by 11% year on year.
The reason why TSMC's Q1 revenue in 2021 is expected to increase significantly is related to the shortage of wafer capacity since 2020 and the strong demand for chips in 5g, high-performance computing, automobile and other terminal markets.
Since 2020, the shortage of chip capacity has affected many downstream application markets. As a result, several automobile manufacturers have cut production and stopped production. Many governments have sent signals to Taiwan for help.
In this context, TSMC, which has a very hot production capacity, said that if it can increase its production capacity, it will give priority to the production of automotive chips.
3、 Behind the super market performance, advanced technology strength is abundant
Behind the fact that TSMC is far ahead in the market share, the law of "the strong will always be strong and the winners will take all" is fully displayed in the chip manufacturing market.
One of the advantages of TSMC lies in its advanced technology.
At present, TSMC and Samsung are the only two manufacturers in the world that can mass produce 5nm process chips. But in terms of integration, TSMC's 5nm technology density is higher than Samsung's.
In addition, TSMC has begun to lay out the 3nm process, which is expected to be put into production in 2022.
Samsung's 3nm GAA process is under development and is also expected to be put into mass production in 2022.
Density comparison of global advanced process technology
In addition to Samsung's current wafer market position, it's hard to look to the whole market.
4、 SMIC International's 7Nm R & D has been completed and is expected to catch up with TSMC
SMIC is the largest foundry game player in Chinese mainland, ranking fifth in the latest global market.
Among the top four manufacturers, liandian and Gexin have all given up the research and development of advanced processes. Only TSMC and Samsung are still competing for the chip manufacturing market with 7Nm and smaller processes. Another company, Intel, which is located in the advanced manufacturing track, rarely engages in the chip OEM business.
In this way, SMIC is the most promising black horse among the players who still plan to lay out advanced manufacturing processes.
According to previous reports, the yield of SMIC in the 14nm process has reached 95%, which can be said to be the same as that of TSMC. According to industry sources, SMIC has completed the 7Nm process development.
However, considering that the process is still time-consuming and the background of trade friction between China and the United States, the EUV lithography machine needed to produce 5nm chips is still not in place. If SMIC wants to occupy a place in the advanced process market, it still has a long way to go.
"TSMC is dominant. In the high-end market, it doesn't have many competitors. " "SMIC's model may take a while to work," said Dan Wang, a technical analyst at gavekal, a market analyst. But for now, it may be a very profitable company indeed. "
Conclusion: it is difficult to shake the status of Taiwan's wafer foundry industry
By dismantling the revenue data of the world's leading wafer foundry players in various countries and regions, it is not difficult to find out the reason why Taiwan occupies an important position in the global wafer foundry market: as the headquarters of the leading wafer foundry enterprises such as TSMC and liandian, Taiwan has a deep accumulation in wafer production capacity and advanced technology.
Despite the impact of unfavorable factors such as Sino US trade friction, COVID-19 and core shortage since 2020, many countries and regions have launched a boost plan for wafer fabrication capability. But in the short term, Taiwan will not be able to change the fact that Taiwan is a global foundry center.
The Economist: Intel out, TSMC Samsung dominant trendfocus: Q4 in 2018 global mechanical hard disk shipments fell below 90 million, down 16% year-on-year JPR: 41% of PC game players are using AMD processor display industry: Looking back to 2019 and looking forward to 2020, ihsmarket: Global CMOS image sensors worth US $12 billion, Sony's share exceeds 50%, Q2's share of global Fabs exceeds 50%, TSMC's share exceeds 50%. In February 2021, Nb panel full-size products rose by an average of US $1.8. Asymco: win Tel market was eroded by IOS and Android, and fell below 50% Top 10 bluestacks: 50% of Apple goddess in your heart has freckles on her face Qualcomm Huawei ranks in the top three canalys: the global PC market is expected to grow by 8% in 2021
If you want to get the full report, you can contact us by leaving us the comment. If you think the information here might be helpful to others, please actively share it. If you want others to see your attitude towards this report, please actively comment and discuss it. Please stay tuned to us, we will keep updating as much as possible to record future development trends.
RecordTrend.com is a website that focuses on future technologies, markets and user trends. We are responsible for collecting the latest research data, authority data, industry research and analysis reports. We are committed to becoming a data and report sharing platform for professionals and decision makers. We look forward to working with you to record the development trends of today's economy, technology, industrial chain and business model.Welcome to follow, comment and bookmark us, and hope to share the future with you, and look forward to your success with our help.