Home appliance industry
Global TV sales totaled 62.9 million sets in the third quarter of 2020, up 15% year on year From Omdia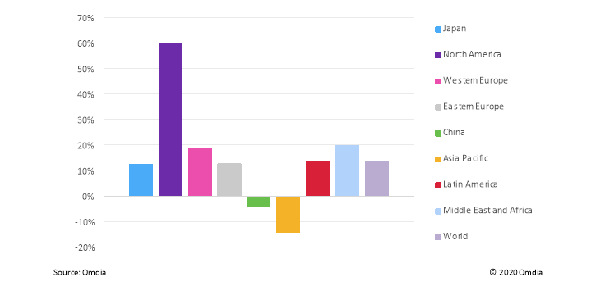 RecordTrend.com is a website that focuses on future technologies, markets and user trends. We are responsible for collecting the latest research data, authority data, industry research and analysis reports. We are committed to becoming a data and report sharing platform for professionals and decision makers. We look forward to working with you to record the development trends of today's economy, technology, industrial chain and business model.Welcome to follow, comment and bookmark us, and hope to share the future with you, and look forward to your success with our help.
The following is the Global TV sales totaled 62.9 million sets in the third quarter of 2020, up 15% year on year From Omdia recommended by recordtrend.com. And this article belongs to the classification: Home appliance industry.
Omdia, a research firm, announced that TV sales in the third quarter of 2020 increased by 15% year-on-year, totalling 62.9 million units, 10.5% higher than expected.
Omdia, a research firm, reported that total shipments increased by 15% year-on-year to 62.9 million units, 10.5% higher than expected. In the third quarter of 2020, it achieved the highest third quarter performance of TV sales ever. It added that the impact of the new epidemic has increased the value of family entertainment, while reducing other expenses such as commuting, dining out and vacations. As a result, many families have extra money for entertainment upgrades. However, considering the overall situation from 2020 to now, the total shipment volume is lower than that in 2019.
From the perspective of various regions, omdia pointed out that North America has ushered in the best quarter ever, with an "amazing" shipment volume of 16.4 million units, the highest quarter since omdia tracked the market, followed by the fourth quarter of 2011 and the fourth quarter of 2018, both about 15.1 million units. Then there was 12.6 million in the third quarter of 2016. While analysts say part of the current growth is due to replenishing depleted product lines, it shows renewed consumer enthusiasm.
In Western Europe, shipments were close to the expected 7.6 million, the best third quarter since 2011, on a par with the fourth quarter results. Despite the postponement of the Olympic Games, Japan also continued to maintain strong shipment volume, also the best third quarter since 2011.
China's quarter, by contrast, was quiet – although life and supply chains returned to normal, demand was constrained by a sharp rise in the cost of LCD panels due to the extremely tight production capacity of panel factories. This year, the price of LCD panel has increased as much as 60%. What consumers see is the rise of TV price and the decrease of promotion activities. After a very weak second quarter, emerging markets are also said to have performed unexpectedly. Novel coronavirus pneumonia may be a bit more disrupted for them, and this quarter is likely to break down.
As for TV display technology, omdia said that the shipment volume of ultra high definition TV is also very strong. In early 2020, when the shipment volume of small (non ultra high definition) TV is strong, the market position will be restored. The second quarter since 2019 is the most seasonally strong on record. UHD resolution accounts for 58.6% of all TV shipments. Although the shipment volume of 8K was better than expected, it only accounted for 825000 vehicles. The sales volume of 8K TV sets accounted for 0.22% and 0.13% of the sales volume of all UHD TV sets and TV sets respectively, which was the same as last year. Therefore, its important share in the TV market has not yet reached a breakthrough level.
As LG display's new plant in China increases the supply of such displays, OLED TV shipments have achieved a long-awaited growth. The price rise of LCD panel will also reduce the cost pressure of OLED TV. The penetration rate of smart TV continues to advance steadily, with the proportion of all TV shipments rising from 79.2% a year ago to a record 85.9%.
Assessing the trends identified in the study, Paul grey, senior director of television research at omdia, said it was clear that the current trend was not just to release backlog demand and replenish inventory. "With winter in the northern hemisphere and the latest closures, watching TV is becoming more and more valuable to consumers. "We expect strong demand to continue at least until the end of this year." "So far, the increase in costs (mainly LCD panels) has not fully affected consumers," he said. Novel coronavirus pneumonia and the long-term economic consequences of the new crown pneumonia will become more apparent in the coming months. Much depends on whether other regions can reproduce the V-shaped recovery in China. "
Source: rapid TV news this article is compiled by the future media network
It is estimated that 4K TV sets will be adopted by 10% of North American families in 2018. IResearch: the sales volume of TV sets with networking function in China will reach 23.97 million in 2013. Ovi Consulting: the top 10 TV market share in China in 2013 omdia: Q3 in 2020 Realme becomes the fastest growing smartphone brand in the world, with a year-on-year growth of 43.9% omdia: "4K is the dream of marketers in the next two years" omdia: linear TV accounts for 63% of US TV viewing in 2019 Viewing rate of long video accounts for 16% omdia: September 2020 panel shipping ranking and price fluctuation analysis (with download) omdia: linear TV is still the main viewing form in 2019 omdia: 28nm will become the long node process technology for semiconductor applications in the next five years omdia: VR consumption is expected to reach $1.1 billion in 2020 omdia: 28nm It is estimated that the global display glass substrate will continue to be in short supply in 2021 omdia: it is estimated that the global Gigabit broadband users will exceed 187 million in 2025 omdia: it is estimated that the shipment of notebook computer panels will reach 229 million in 2021, with a year-on-year growth of 7% omdia: the global LED display market revenue will grow by 10.8% in the third quarter of 2020
If you want to get the full report, you can contact us by leaving us the comment. If you think the information here might be helpful to others, please actively share it. If you want others to see your attitude towards this report, please actively comment and discuss it. Please stay tuned to us, we will keep updating as much as possible to record future development trends.