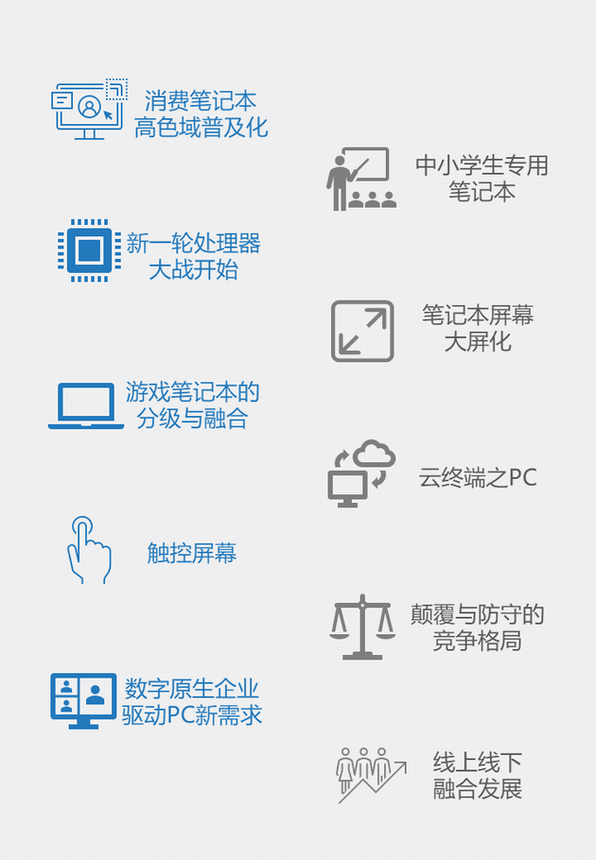 RecordTrend.com is a website that focuses on future technologies, markets and user trends. We are responsible for collecting the latest research data, authority data, industry research and analysis reports. We are committed to becoming a data and report sharing platform for professionals and decision makers. We look forward to working with you to record the development trends of today's economy, technology, industrial chain and business model.Welcome to follow, comment and bookmark us, and hope to share the future with you, and look forward to your success with our help.
The following is the China's PC market is expected to grow by 10.7% in 2021 From IDC recommended by recordtrend.com. And this article belongs to the classification: IDC, PC.
On the afternoon of January 6, IDC, a research firm, released its top 10 PC market forecasts for 2021. IDC predicts that China's PC market will grow by 10.7% in 2020. After eight consecutive years of negative growth for the first time. Smart office and government industry will become the main driving force for the growth of China's PC market. However, there are still many uncertain factors in the market, such as epidemic control, spare parts shortage and so on.
In terms of products, high gamut touch screens will be popular, and a new round of processor war cannot be avoided. With the price reduction of RTX in the second half of 2021, game notebook will usher in a new wave of integrated development.
The following is the full text of IDC's top 10 forecasts for China's PC market in 2021:
Top 10 forecasts of China's PC market in 2021
Forecast 1:
With the popularization of high gamut of consumer notebook, with the improvement of PC heavy application properties, consumers' requirements for screen quality are significantly improved. It is estimated that more than 65% of consumer laptops will be equipped with high gamut screens (NTSC 72% or sRGB 100% or more) in 2021.
Forecast 2:
The epidemic situation has accelerated the use of computers for primary and secondary school students, such as online learning. In 2021, the shipment volume of computers purchased for primary and secondary school students' auxiliary learning will reach about 8.8 million, which is about six times of the K12 demand in 2019, and nearly one third of the consumer PC market. With the stable growth of the market in the future, manufacturers will also launch their own computers for primary and secondary school students.
Forecast 3:
At the beginning of a new round of processor war, 2021 will be the first year of a new round of PC processor market war. On the one hand, Intel will switch 11 generations of CPU on a large scale, and support AI, WiFi 6, Xe display and other functions more perfectly. Amd continues to maintain its leading edge in the manufacturing process; Apple's M1 processor also makes the industry reconsider the feasibility of arm based PC in the future; in addition, Qualcomm will promote the latest Xiaolong 888 processor in 2021, which will further improve its performance. In addition, domestic PC processors will be widely used in government and other markets. All this indicates that the prelude of a new round of processor war has been opened.
Forecast 4:
With the notebook screen becoming larger and thinner, customers are looking for larger screen to improve customer experience. Therefore, in 2021, there will be a downward trend in the 13 inch and below notebook market, and more customers will turn to the 14 inch and above notebook market.
Forecast 5:
With the classification and integration of game notebook, the proportion of RTX graphics card in game book will reach about 40% in the fourth quarter of 2020, which leads to the game book market gradually divided into two sub markets: competitive high-end game book represented by RTX graphics card and ordinary game book represented by GTX graphics card. It is expected that this two-level differentiation will continue in the first half of 2021. With the price reduction of RTX in the second half of 2021, game notebook will usher in a new wave of integrated development.
Forecast 6:
As more and more manufacturers launch cloud PC solutions, whether the front-end computing power will decline has become an important topic. At present, in the next three years, PC scenarios will increasingly focus on heavy productivity application scenarios. Cloud computing will effectively share part of the problem of insufficient front-end computing power, but the improvement of front-end computing power is still the core direction in the next three years.
Forecast 7:
Touch screen, with the growth of digital natives, more young consumers are used to a variety of modes of interaction. Voice, video, touch, etc. In 2023, more than 10% of laptops will support touch, 10% will support voice education, and 7% will support visual interaction.
Forecast 8:
With the impact of the epidemic, localization and other factors leading to the rebound of the PC industry, more and more manufacturers will consider increasing the PC sales business in 2021. They will subvert the market through killer applications or quickly enter the market through their own customer relationship. On the other hand, traditional global PC manufacturers still have strong R & D, product and scale advantages. In the next three years, 50% of the new entrants will withdraw from the PC market due to acclimatization, and some intermediate PC manufacturers' business will decline.
Forecast 9:
Digital native enterprises drive the new demand of PC. IDC divides commercial enterprises into four types: Digital driven enterprises, digital native enterprises, mass following enterprises and adhering to conventions. In recent years, the number and business space of the original enterprise will be improved obviously, while the number and business space of the future enterprise will be improved obviously. It is estimated that the growth rate of demand for PC by digital native enterprises will exceed 20% in 2021.
Forecast 10:
With the development of online and offline integration, 41% of PCs will be sold online in 2020, and the proportion of e-commerce has been increasing, which is changing the marketing mode of China's overall channel system. In 2021, more than 35% of offline retail stores will open in e-commerce to enrich their sales channels. Offline marketing will become a new way of thinking in the future.
More reading: IDC: Top 10 forecasts of China's PC market in 2018 IDC: global PC shipment is expected to reach 70.6 million units in Q4 in 2017, with a year-on-year growth of 0.7% IDC: HP's share of Indian PC market reaches 33.8% in Q2 of 2017 IDC: new changes in PC market city level IDC: Q4 traditional PC (desktop, notebook and workstation) sales close to 71.8 million units in the fourth quarter of 2019 Growth of 4.8% IDC: in the second quarter of 2020, the shipment of China's commercial PC market will reach 6.159 million units, up 0.2% year on year. IDC: in Q1 of 2013, the global PC market will track the decline of China's market more than expected. IDC: in Q2 of 2012, the quarterly tracking report of China's PC market will exceed 5.6% in Q2 of 2012. Canalys: in Q3 of 2020, the shipment of global PC market will reach 79.2 million units 12% year on year growth IDC: it is estimated that the sales volume of China's PC market will be about 50.6 million units in 2019, down 3% year on year IHS iSuppli: in 2012, China's PC shipment will reach 69 million units, surpassing 66 million units in the United States. Can Apple dominate the PC market with MAC products? Intel announced 12000 layoffs: PC market shrinking is the main reason DFC: the global PC game market is expected to exceed 42 billion US dollars in 2020
If you want to get the full report, you can contact us by leaving us the comment. If you think the information here might be helpful to others, please actively share it. If you want others to see your attitude towards this report, please actively comment and discuss it. Please stay tuned to us, we will keep updating as much as possible to record future development trends.