Industry 4.0
Review and annual forecast of China's industrial robot market in the first three quarters of 2020 From MIR DABANK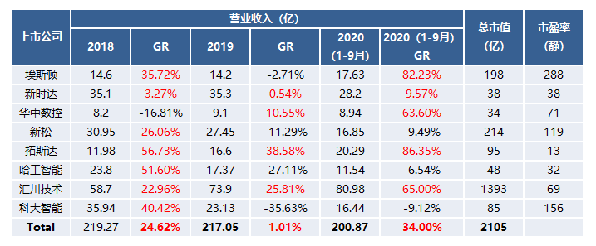 RecordTrend.com is a website that focuses on future technologies, markets and user trends. We are responsible for collecting the latest research data, authority data, industry research and analysis reports. We are committed to becoming a data and report sharing platform for professionals and decision makers. We look forward to working with you to record the development trends of today's economy, technology, industrial chain and business model.Welcome to follow, comment and bookmark us, and hope to share the future with you, and look forward to your success with our help.
The following is the Review and annual forecast of China's industrial robot market in the first three quarters of 2020 From MIR DABANK recommended by recordtrend.com. And this article belongs to the classification: Industry 4.0.
According to the data of Mir database, the year-on-year growth rate of China's industrial robot market in the first three quarters of 2020 has reached 10%, and China's industrial robot market will usher in rapid development in 2020. Next, Mir Rui will focus on the downstream industries, models and hot topics of industrial robots, and take you to review the market situation in the first three quarters of 2020 and forecast the year 2020.
After the trough in 2019, China's industrial robot enterprises will usher in high-speed development in 2020.
Development trend of Listed Companies in China's industrial robot industry
In 2001 and 2020, China's industrial robot market will hardly be affected by the epidemic, and the year-on-year growth rate will turn from negative to positive.
2016-2022 China's industrial robot shipment and forecast
(source: Mir databank)
*The total shipment count includes: ≤ 20kg 6-axis, > 20kg 6-axis, SCARA, collaborative, Delta
In the first three quarters of 2020, the annual growth rate of China's industrial robot market will reach 10%. Industry side: mainly driven by downstream markets such as electronics, new energy and metal processing; product end: light load industrial robot is the main factor of market growth. According to the current market situation, Mir Rui industry predicts that the market scale of China's industrial robots will reach 163573 in 2020, with a year-on-year increase of 9.5%.
China's industrial robot market size and forecast in each quarter from 2019 to 2020
(source: Mir databank)
In the first quarter, affected by the epidemic situation, there were problems such as the demand of downstream industries was tight, it was difficult for factories to return to work, logistics and transportation were blocked, and the market demand for industrial robots fell sharply.
In the second and third quarters, due to the better control effect of epidemic situation in China, the downstream industries gradually recovered and the market demand for industrial robots was gradually released. Among them, the electronics industry has been driven by Apple's industrial chain investment, smart wear, 5g related industries, etc., and the investment in new energy vehicle related projects has continued to land; the investment in emerging industries such as photovoltaic and lithium battery has also gradually recovered.
In the fourth quarter, China's economy was running smoothly, and the demand of main downstream industries continued to boom. It is predicted that the industrial robot market will still maintain a stable growth rate.
02. The industrial robot market is mainly driven by general industrial segments such as electronics, lithium batteries, photovoltaic, metal processing, etc.
Year on year growth rate and forecast of industrial robot shipment by industry
(source: Mir databank)
● Electronics: 5g accelerates the "big year" of investment in commercial superimposed electronic industry, and promotes the strong recovery of electronic industry. 5g mobile phone and its parts, wireless headset, smart watch, smart speaker, AR / VR and other market segments have achieved rapid growth in demand for robots.
Lithium battery: the power battery is affected by the recovery of the new energy vehicle industry, and the investment is strong in the second half of the year. In addition to notebook computers and mobile phone batteries, the demand for wireless headphones, Bluetooth speakers, etc batteries has exploded, driving the demand for robots.
Photovoltaic: under the influence of the stable epidemic situation and policies, the photovoltaic industry has recovered significantly in the second half of the year, and the demand for industrial robots has been further released due to the phenomenon of "rush to install" accelerating the implementation of enterprise investment.
Metal processing: metal processing involves many subdivided industries, driven by construction machinery, mask machine, kitchen utensils, bike sharing and other fields, the overall performance is good. Industrial robots are widely used in machine tool loading and unloading, arc welding, painting, polishing and other scenes.
03. In 2020, SCARA, ≤ 20kg 6-axis and delta will drive the growth of industrial robot market.
Year on year growth rate and forecast of industrial robot market in 2017-2022
(source: Mir databank)
● driven by the electronics, lithium battery and photovoltaic industries, SCARA began to recover strongly in the second quarter. The growth rate of SCARA market in 2020 will turn positive year on year.
(6-axis ≤ 20kg) performed well, and its application in the electronic industry was further expanded, such as surface spraying treatment of wireless earphone and grinding of precision parts, performance test of I watch, etc.; the demand in metal processing, loading and unloading and arc welding fields ushered in growth. In 2020, the 6-axis market of ≤ 20kg will achieve positive growth.
Delta is mainly used in food and beverage, medical supplies sorting, packaging and other fields. Driven by the epidemic situation, the Delta market growth rate will increase in 2020.
04. Hot spot analysis 1: the development of industrial robots has entered the third stage
Characteristics of the third stage of development:
Industry application differentiation:
● from the traditional automobile industry application oriented to multi industry application.
Electronic, automobile, metal processing, logistics, ceramic furniture, clothing, food and medicine industries.
Slight differences in product structure:
The overall product structure type is relatively fixed.
The application demand structure of individual industries is slightly different.
Hardware Convergence Development:
Product globalization requires standardization of data interface and structure interface.
Hardware integration platform promotes convergence.
Enrichment of application software:
The increasing number of application segments in the industry has made the application software of robot industry more and more technologically.
The core algorithm of motion control and force control of industrial robot changes with the change of application.
Preliminary application of artificial intelligence:
Artificial intelligence in industrial field has been applied in machine vision field.
Big data and industrial internet bring intelligent production.
05. Hot spot analysis 2: the use cost has been decreasing year by year, and the turning point of industrial robots entering small and medium-sized factories is coming.
Hardware cost reduction:
Foreign investment: localized production in China.
Domestic capital: production capacity improvement and parts localization.
Product application simplification:
The structure and usability of the industrial robot are optimized, the operating system and programming are simplified, and the installation, debugging, operation and maintenance are improved.
Good progress has been made in market cultivation
In recent years, industrial robot manufacturers have increased the coverage and intensity of training, and more than 400 universities nationwide have set up industrial robot related majors.
In recent years, domestic industrial robots have held a large number of free training.
Improvement of technical service level and decrease of after-sales service price:
The domestic industrial robot has obvious advantages in technical service, fast service response and good user experience.
Foreign brand industrial robots are also optimizing the after-sales service process.
Read more: Mir database: review and annual forecast of China's automation market in the third quarter of 2020 Facing demographic changes tractica: non industrial robot market share will increase to 76% by the end of 2018 industrial robot industry report: outbreak is inevitable trend Current situation and trend of people Ministry of industry and information technology: China's industrial robot ownership has accounted for 1 / 4 of the world's largest industrial robot market – Information Map State Intellectual Property Office: industrial robot industry patent competition presents five countries, four enterprises, three core pattern Ministry of industry and information technology: industrial robot industry operation data from January to September 2020 VentureBeat: automation replaces 800000 workers But it has created 3.5 million new jobs. Global industrial robot stock and growth rate in 2009-2019 (with original data table) regional distribution of global industrial robots in 2010-2019 (with original data table)
If you want to get the full report, you can contact us by leaving us the comment. If you think the information here might be helpful to others, please actively share it. If you want others to see your attitude towards this report, please actively comment and discuss it. Please stay tuned to us, we will keep updating as much as possible to record future development trends.