Industry information
2021 will be the key year of building an effective private brand From Tencent smart retail Chen Fei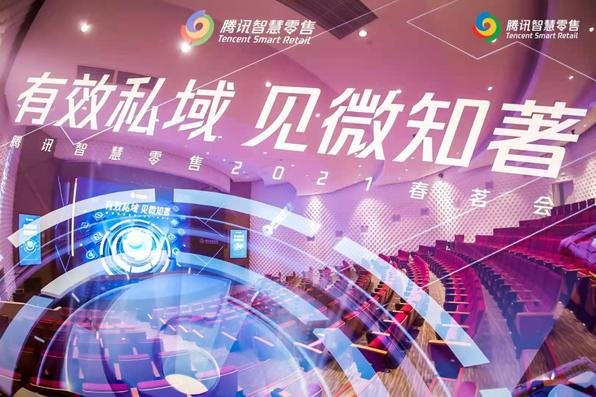 The following is the 2021 will be the key year of building an effective private brand From Tencent smart retail Chen Fei recommended by recordtrend.com. And this article belongs to the classification: Industry information.
On March 25, the 2021 Spring Tea Party of Tencent smart retail was officially held. Nearly 100 leading retail enterprises gathered in Shenzhen to review the development of private sector business in 2020 and explore new retail opportunities in 2021. At the meeting, Tencent smart retail put forward for the first time the new goal of helping businesses to create "effective private domain", and summarized the "four forces model" and "private domain growth model" for private domain infrastructure and public-private domain diversion; Tencent has three new solutions for private domain formats, namely, several strategies, and Tencent marketing cloud; in addition, the official website of Tencent smart retail college announced the gray scale launch for business Home to build a complete curriculum training system.
Two methodological models to interpret "effective private domain"
2020 is the year of success in private domain. In the eighth phase of Tencent smart retail "small program multiplication action" which has just ended, many brands have explored innovative private domain playing methods in the process of practice and become the benchmark of private domain format in the industry.
Bosiden, Dior, Lenovo, Belle, dingdong, duodian and other 50 clothing, beauty, 3C and fresh enterprises won awards for their excellent private domain operation ability and small program Gmv growth rate. During the "actual combat" period, the Gmv of the small program of the clothing excellent merchants increased by 500% in a single month, the total channel proportion of the small program of the beauty excellent brand accounted for more than 20%, and the Gmv of the channel excellent merchants increased by more than 130% in a single month.
Chen Fei, vice president of Tencent smart retail, said in his speech that since the first year of private domain in 2020, the development of private domain has been accelerating. It is expected that in 2022, the trading ecology based on private domain will have the opportunity to usher in a large-scale outbreak, which means that 2021 will become a key year for building an effective private domain.
(Chen Fei, vice president of Tencent smart retail)
In this context, Chen Fei said that Tencent smart retail will link with Tencent's internal and external resources, and work with ecological partners to help businesses create "effective private domain", so that the brand can have independent, repeatable, low-cost and even free access to private domain users. Smart retail will also promote the growth and development of its partners in five dimensions: four force growth model, centralized flow resources, basic product tools, service provider ecology and private education courses.
In order to help merchants improve "effective private domain" more efficiently and achieve better public-private domain collaboration, Tencent smart retail summarizes "four forces" model and "private domain growth" model for private domain infrastructure and public-private domain diversion, so as to help brands continuously reduce the threshold of private domain construction and operation.
The "four forces" model is from the internal perspective of the enterprise to help the enterprise comprehensively improve the private domain operation ability from the four abilities of "organization force", "commodity force", "operation force" and "product technology force". The first mock exam is also going to be upgraded to a "four force growth platform", which will make a more appropriate growth model based on the vertical retail sector, making it more operable, tractable, visualized and quantifiable.
The "private domain growth model" comes from the "white paper 2021 on private domain of smart retail" jointly released by Tencent smart retail and Bain company at the spring tea meeting. Cai Qing, global partner of Bain company, explained the model in detail.
She said that in the later stage of the epidemic, consumer trends showed four major changes: consumption polarization, significant circle segmentation, Omni channel normality, and private ecological prosperity. "Private growth" and "four forces" help enterprises find their own private operation direction from the perspective of external consumer interaction experience and internal enterprise capability respectively. Through top-down private domain operation solutions, it helps enterprises plan, build and maintain private domain formats.
Three solutions to solve the crux of private domain operation
In order to help more enterprises to operate well in the private sector, Tencent continues to give full play to its own technical advantages, and uses "the right medicine" products to solve the business's private sector operation pain points. At the spring tea meeting, Tencent has several new upgrades of version 2.1. At the same time, Tencent smart retail also announced two new solutions: several strategies and Tencent marketing cloud.
With the rapid development of private sector business, Tencent's breadth and depth have changed greatly. It needs to provide one-stop and all station data services for Tencent's global marketing and trading links. Therefore, it is necessary to carry out full contact analysis and full channel access in the direction of "people, goods and market". "We hope that we can not only provide analysis and insight, but also cooperate with Tencent advertising and other products to promote the development of the whole product matrix. This is the role we play as a central station. " Said Chen Junliang, director of Tencent smart retail data center.
As a one-stop business analysis and digital asset management platform for brands and retailers, Tencent has served more than 500 leading businesses in various industries.
(Chen Junliang, director of Tencent smart retail data center)
Many retail enterprises don't know how to use the deposited user digital assets to help enhance more accurate user insight, so as to provide more suitable services and better operate the location of offline stores. There are several solutions that light consulting and product.
He di, general manager of Tencent smart retail vertical industry ecology, said that on the basis of businesses' access to smart retail, several strategies will provide quantitative grid map, personalized crowd clustering and analysis and insight of potential customer penetration. With more efficient, more professional, more economic product advantages for businesses to solve this pain point.
(he di, general manager of Tencent smart retail vertical industry ecology)
In addition to using Tencent's strategy to equip retail enterprises with data capabilities, Tencent smart retail also wants to further help businesses release private domain operation potential. Tencent marketing cloud takes marketing automation, customer management platform, buried point and data statistics and content management system as the main functional modules to help customers get through the whole link marketing closed loop, improve marketing efficiency and optimize marketing effect.
Dai Jiayao, deputy director of Tencent smart retail Zhongtai product center, said that Tencent marketing cloud is a relatively open product, which will be built from the actual situation of customers and interaction scenarios, so as to achieve better data-driven marketing effect.
(Dai Jiayao, deputy director of Tencent smart retail Zhongtai Product Center)
In addition, the course training system of Tencent smart retail also brought heavy news. On March 24, the official website of Tencent smart retail college was launched online, with the first batch of 20 courses launched.
As Tencent's first official knowledge learning and professional certification service platform focusing on "private sector format", it will be open to enterprise management, product, operation, marketing and other personnel in multiple retail segments, as well as agent operators and SaaS ecological service partners. Focusing on the demand pain points encountered by retail enterprises in the process of building and operating private sector formats, we provide different types of targeted courses such as "private sector growth learning", "SaaS tool learning", "industry case sharing" to help businesses improve Gmv of private sector formats.
From digital assistant to business growth partner, Tencent smart retail is continuously improving its capability matrix in methodology model, centralized flow, product, service provider ecology, training system and other aspects on the occasion of its third anniversary, helping many retail enterprises to establish an online and offline integrated brand self-management position.
Chen Fei said that the brand growth of the doubling plan confirms that the future can be expected. Tencent smart retail is confident that in the next few years, it will work with brands and service providers to build a billion level club in the private domain, and achieve the goal of 10 billion level, 50 billion level and 20 billion level brands. Harvard Business Review: "data scientist" is the sexiest profession in the 21st century. Nikon: nikal lens production exceeds 80 million. Isux: the development of mobile social network from the perspective of mobile e-commerce. Google: the best Android application and Android game in 2013. Wechat AI wins again! Win the first place in wmt2020 international machine translation competition in China and Britain: only one third of first-time buyers choose iPhone app store vs. Google play: 75% of Americans prefer paper books Google official: 1.5 million Android devices activate 69% of windows every day Phone applications are "dead" — information graph analysis: will data monopoly lead to Internet paralysis? App Annie: in 2011, China's mobile app downloads increased by 298%, revenue increased by 187%, and women's reversing time was 20 seconds more than men's on average, because it was difficult to operate the website data analysis application under big data
If you want to get the full report, you can contact us by leaving us the comment. If you think the information here might be helpful to others, please actively share it. If you want others to see your attitude towards this report, please actively comment and discuss it. Please stay tuned to us, we will keep updating as much as possible to record future development trends.
RecordTrend.com is a website that focuses on future technologies, markets and user trends. We are responsible for collecting the latest research data, authority data, industry research and analysis reports. We are committed to becoming a data and report sharing platform for professionals and decision makers. We look forward to working with you to record the development trends of today's economy, technology, industrial chain and business model.Welcome to follow, comment and bookmark us, and hope to share the future with you, and look forward to your success with our help.