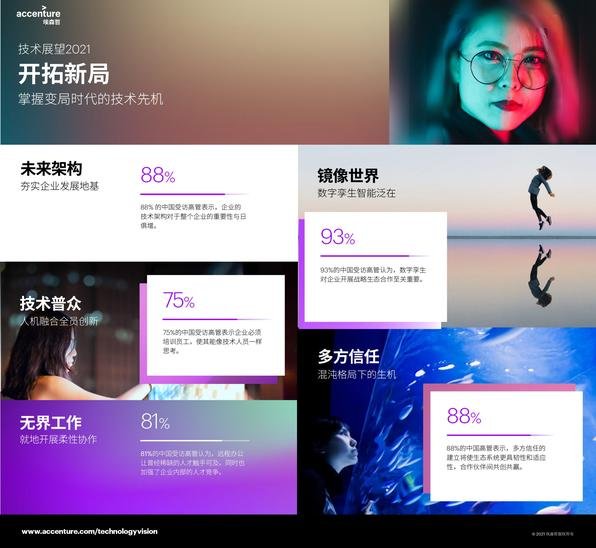 The following is the Accenture releases technology outlook 2021 Report recommended by recordtrend.com. And this article belongs to the classification: Industry information.
Accenture (NYSE Code: ACN), the latest technology outlook 2021 report, pointed out that technology has become the lifeline in the global COVID-19 crisis, not only for survival and health, but also for new work and business models, creating a new interaction and experience. Technology has permanently changed people's expectations and behavior, and created a new face for various industries.
For the 21st year in a row, Accenture has released the "technology outlook" report, which predicts that the key technology trends of enterprises and industries will be defined in the next three years. The theme of technology outlook 2021 is "opening up a new situation: Mastering the technological opportunities in the era of change". The report points out that as enterprises gradually shift from coping with crisis to focusing on the future, those leading enterprises that have the courage to explore and are determined to innovate are using technology to control change and reshape the future. The report further shows how leading enterprises can do their best to accelerate digital transformation in a year or two.
The relevant research of Accenture shows that the leading enterprises can quickly adapt to the market demand and carry out innovation based on their strong digital core capabilities, and their revenue growth is five times that of the backward enterprises; however, the gap between the two is only two times between 2015 and 2018. Enterprises have begun to reshape themselves, using technological innovation to open up a new situation.
"COVID-19 has accelerated the pace of digital transformation of enterprises," said Paul Daugherty, President and chief technology officer of Accenture technical services. Many enterprises and organizations have adopted extraordinary methods to use technology to reduce the impact of the epidemic on business operations and people's lives. The speed of action has never been seen before. However, some other enterprises lack the digital foundation for agile transformation and face the severe test brought by their own shortcomings. Leading enterprises are good at turning crisis into opportunity, promoting industry transformation, reshaping experience and building a new trust relationship with the help of technological change momentum. "
Accenture surveyed more than 6200 business and information technology executives around the world, including 250 Chinese executives. 88% of Chinese executives interviewed said their companies were taking action to accelerate the pace of innovation. 85% of Chinese executives believe that to be a leader in the future market, they must first be a definer of the future market.
The report points out that enterprises need to master three key points to control change and define the future. First of all, technology leads the way, chopping the waves: the era of sharing dividends by following the trend is over, and the changes brought by the epidemic will exist for a long time; only by placing technology in the top priority of business strategy can enterprises keep ahead. Secondly, we should take the initiative to seek change and stand up to the tide bravely: leaders will use new thinking and new models to reshape the new development pattern different from the past. Third, focus on the mission and improve the pattern: as global citizens, leading enterprises will shoulder a wider range of responsibilities. They should carefully design and apply technology, play a positive role, and build a more sustainable and inclusive world inside and outside enterprises.
Accenture's technology outlook 2021 reveals five important trends that enterprises need to pay attention to in the next three years, helping enterprises to accelerate transformation and control the changing situation
Future structure: consolidate the foundation of enterprise development. Enterprises are leading a new industry competition. Future oriented information technology (it) system architecture will be a key link for enterprises to build competitiveness and stimulate vitality. In order to build and use the most competitive technology stack, enterprises should consider the establishment of business and technology integration strategy. 77% of Chinese executives believe that the ability of enterprises to create business value will increasingly depend on the development space and opportunities of their technical architecture.
Mirror world: Digital twin intelligence ubiquitous. Leading enterprises are building an intelligent digital twins world, integrating data and intelligent technology, and completely restoring the real world in the digital environment. Many things, such as real factories, supply chains, product life cycle and so on, have brought new opportunities for operation, collaboration and innovation. 88% of Chinese executives expect their companies to invest more in digital twins in the next three years.
Unbounded work: flexible cooperation on the spot. One of the biggest workplace changes in people's memory has prompted enterprises to transcend the limits of rules and regulations. Whether it's at home, in the office, at the airport, in the office of a partner, or in other places, once you can work locally, people can work seamlessly. Therefore, enterprise leaders need to rethink the purpose of their work, seize the opportunity, and rethink the business model to adapt to this new environment. 83% of Chinese executives believe that the focus of industry leaders on the office environment will shift from "bring your own tools" to "work without boundaries".
Multi party trust: the vitality under the chaotic pattern. Under the epidemic situation, various demands such as tracking case contacts, smooth payment, new ways to build trust and so on began to emerge, making enterprises begin to pay attention to the unsolved problems in the existing ecology. With the help of the multi trust system, enterprises can greatly enhance their resilience and responsiveness, use new methods to develop markets, and establish new industry ecological standards. 88% of Chinese executives said that the establishment of multi-party trust will make the ecosystem more resilient and adaptable, and create new value with many partners.
Yu Yi, President of enterprise technology innovation division of Accenture Greater China, executive president of Alibaba business division and head of cloud priority business in Greater China, said: "at a critical moment, leading enterprises are not afraid of change and have the courage to innovate. In order to shorten the gap with the leading enterprises, other enterprises need to consolidate the technical foundation, enhance the digital maturity, support innovation, and upgrade the short-term response to the long-term development. Looking forward to the future, only by combining vision and technology more closely, can enterprises grasp the initiative and turn resilience into competitiveness.  "
The world is changing rapidly, and the concept of technology first innovation has never been as important as it is today. For example, when the global catering industry is generally hard hit, Starbucks has used its technological capabilities to expand its users and retail channels, successfully breaking through the dilemma. In the face of surging demand from mobile ordering and drive in restaurants, Starbucks has deployed a new order management system to integrate multiple customer orders and save the overall time of order making. Technology is the core enabling factor for Starbucks to build agility and resilience and successfully cope with change.
Over the past 21 years, Accenture has always adhered to the systematic observation of the global business pattern, exploring and summarizing the emerging technology trends with the most subversive potential for enterprises and industries. For details of this annual report, please visit here or follow the official wechat of Accenture to grasp the latest trend.
On research methods
At the beginning of the project, Accenture's technology outlook 2021 report writing team heard opinions from the external advisory committee of technology outlook. This is a team of more than 20 senior people from the public and private sectors, academia, venture capital institutions and start-ups. In addition, the report team interviewed technology pioneers, industry experts and nearly 100 heads of Accenture's business departments. At the same time, in order to gain a comprehensive insight into the application of emerging technologies, Accenture research conducted a global survey, which examined 6241 business and information technology executives from 14 industries in 31 countries and regions, focusing on which technology applications and investment priorities respectively.
About Accenture
Founded in Ireland, Accenture is a leading professional services company with global leading capabilities in digital, cloud computing and network security. With unique industry experience and professional skills, as well as the world's leading technology center of excellence and intelligent operation center, we provide customers with a full range of services, including strategy and consulting, interactive marketing, technology and intelligent operation. Our business covers more than 40 industries, as well as various functions of the enterprise's daily operation Department. Accenture is one of the Fortune Global 500 companies with about 514000 employees serving customers in more than 120 countries. Adhering to the corporate mission of "integrating science and technology with wisdom and carrying forward the future with ingenuity", we are committed to creating value through leading change and creating a better future for our customers, employees, shareholders, partners and the whole society.
Accenture has been operating in Greater China for more than 30 years, with a team of more than 17000 employees in many cities, including Beijing, Shanghai, Dalian, Chengdu, Guangzhou, Shenzhen, Hangzhou, Hong Kong and Taipei. As a reliable excellent partner for digital transformation, we are participating in the construction of business and technology ecosystem more innovatively to help Chinese enterprises and governments grasp the power of digital transformation, realize transformation by formulating strategies, optimizing processes, integrating systems, and deploying cloud computing, and enhance global competitiveness, so as to gain a foothold in China and win in the world. More reading: Accenture research: only 12% of Chinese enterprises have set up flexible supply chain, Accenture brand has been renewed globally "let there be change" Accenture releases new book Revealing the future of 5g era family Accenture's research on cancer, heart and immune diseases shows that 80% of the Chinese patients interviewed begin to receive Internet diagnosis and treatment CEO's participation in LinkedIn: the most popular employer in 2012: 1 / 5 for technology software company Accenture global report finds digital challenges: More than 90% of Chinese industrial enterprises interviewed said that they urgently need to enhance internal cooperation. Alibaba cloud and Accenture announced that they have reached a cooperation agreement. Accenture: win new Asian consumers (download attached) Accenture & Chinese Academy of Sciences: new resource economy city index in 2015 Accenture: Digital trust in the era of Internet of things Accenture: tap the subversive potential of 3D printing Accenture: predict the industrial Internet of things in 2030 Net will create 14.2 trillion US dollars of new output value for the world
If you want to get the full report, you can contact us by leaving us the comment. If you think the information here might be helpful to others, please actively share it. If you want others to see your attitude towards this report, please actively comment and discuss it. Please stay tuned to us, we will keep updating as much as possible to record future development trends.
RecordTrend.com is a website that focuses on future technologies, markets and user trends. We are responsible for collecting the latest research data, authority data, industry research and analysis reports. We are committed to becoming a data and report sharing platform for professionals and decision makers. We look forward to working with you to record the development trends of today's economy, technology, industrial chain and business model.Welcome to follow, comment and bookmark us, and hope to share the future with you, and look forward to your success with our help.