Industry information
AI adults are the most active, and new economic fields such as games, new life services and intelligent hardware are the best to find jobs From Pulse releases big data on talent flow of 2021 spring recruitment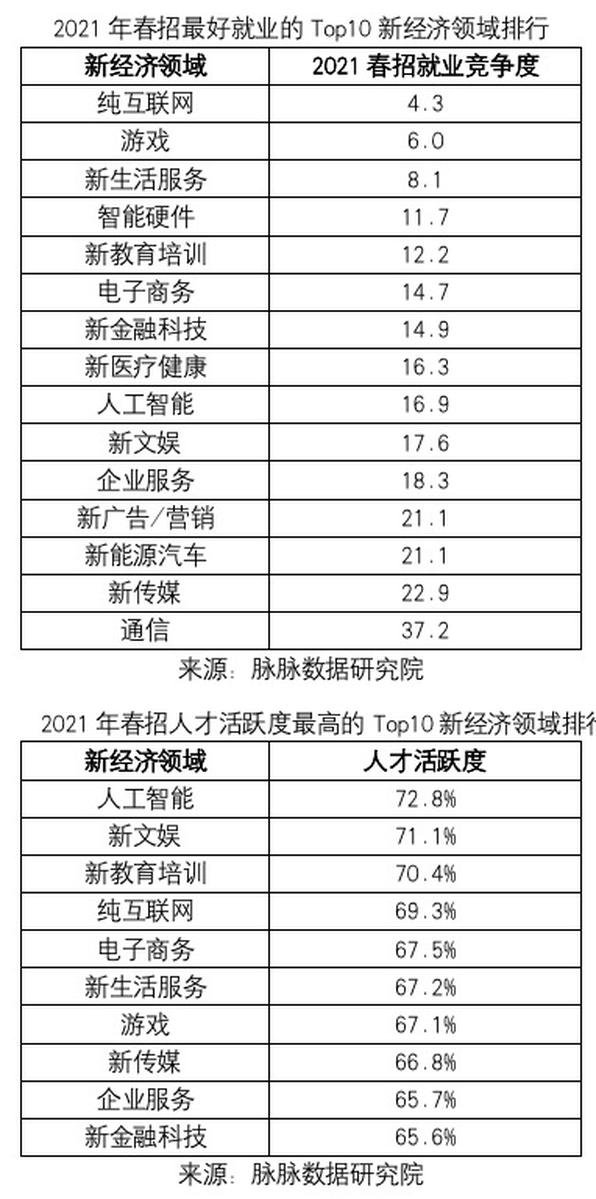 The following is the AI adults are the most active, and new economic fields such as games, new life services and intelligent hardware are the best to find jobs From Pulse releases big data on talent flow of 2021 spring recruitment recommended by recordtrend.com. And this article belongs to the classification: Industry information.
With the comprehensive and stable epidemic situation and the dual wheel drive of digital transformation, the development of new economy has become a highland of new opportunities in the workplace. On March 25, the workplace social networking platform released the new trend of talent flow in 2021 spring recruitment. Pulse talent big data platform shows that during the spring recruitment this year, the recruitment market has fully recovered, the supply and demand of talents are booming, and the new economy is becoming a new engine of employment growth. Artificial intelligence has become the new economic field with the highest employment activity, while the competition in new economic fields such as games, new life services and intelligent hardware is the lowest.
Strong growth in spring recruitment market, 52% increase in employment activity
According to the monitoring data of pulse talent big data platform, in the fourth week after the Spring Festival in 2021, the employment activity (the number of people with strong intention to apply for a job / talent base) of employees increased by more than 52% compared with the same period last year. Compared with the "cooling off period" of enterprise recruitment after the epidemic last year, the number of enterprise recruitment has also achieved a comprehensive recovery, and the employment competition (number of people with strong intention to apply for a job / position) has decreased by 78% year on year. Job seekers are active and the pressure of employment competition is small, which is a huge benefit for job seekers.
In the "ask employees" section of Maimai community, the activity of interactive contents such as the work inside information of large factories, the disclosure of real salary and how to choose offers also confirms this trend. In the "ask employees" section, the number of user questions in the first week of March increased by nearly 150% compared with the fourth week of February. The content about the comparison of offer choices is the most popular, such as: "how to compare the rank systems of different Internet companies?" "What's the future of team culture and business development of the company you're going to join?" "What is the salary range for the rank?". These sophisticated answers and real suggestions from internal employees provide more reliable and thoughtful information judgment and decision-making reference for talents who plan to apply for a job and are planning for a long-term career.
Looking for the best new jobs in this year
The new economic field has become a place where new career opportunities emerge, and the flow of talents to the new economic field is still the general trend of recruitment this year. From the perspective of talent activity in the field of new economy, artificial intelligence, new entertainment and online education have become the top three in the industry. In addition to the pure internet field, the top five new economy industries for spring recruitment in 2021 are: Games, new life services, intelligent hardware, new education and training, and e-commerce. Compared with last year, the job supply of new energy vehicles, games, intelligent hardware and other fields has increased significantly, and they are the three new economic fields with the fastest growth in supply.
Wang Qian, co-founder of pulse, said that pulse's big data on talent flow will provide useful reference for career opportunities and enterprise talent introduction. In addition, as a social platform in the workplace, a large number of real workplace information generated by real employees are gathered. In the asking employees and other sectors, through mutual help and sharing of interactive workplace community atmosphere, it helps employees understand the target enterprise in advance, and provides reliable decision support in the process of career choice.
Wang Qian suggested that this year's job seekers should try their best to understand all aspects of the industry information before job hopping, avoid short-term and simplified decision-making; through the experience of "insiders" and "past employees", they can realize cognitive upgrading, establish long-term career planning, seek "gold" in stability, and have better money and prospects. More reading: Pulse Data Research Institute: annual report on China's workplace mobility trends 2021 pulse release statement response to online rumor "station B sues unfair competition wins": settled with BiliBili pulse: 2014 entrepreneur network survey report (with information chart) pulse: 2020 talent attraction report (with download) pulse & CTR & GroupM: 2019 China's workplace social report pulse: Contemporary career Overview of people's marriage and love: three perspectives of women in the workplace report pulse: social report pulse of China's workplace in 2019: growth guide for graduates in 2019 (with download) pulse: future career travel outlook pulse of 2019: Top 10 most popular positions in spring 2017 China Institute of Information Technology & Pulse: report on talent flow of digital economy in 2018 (with download) car purchase & Pulse: analysis report on changing demand of working people Pulse: popular recruitment positions in spring of 2018 & Ping An Hao doctor: 65% of Chinese women in the workplace health survey in 2017 have psychological problems
If you want to get the full report, you can contact us by leaving us the comment. If you think the information here might be helpful to others, please actively share it. If you want others to see your attitude towards this report, please actively comment and discuss it. Please stay tuned to us, we will keep updating as much as possible to record future development trends.
RecordTrend.com is a website that focuses on future technologies, markets and user trends. We are responsible for collecting the latest research data, authority data, industry research and analysis reports. We are committed to becoming a data and report sharing platform for professionals and decision makers. We look forward to working with you to record the development trends of today's economy, technology, industrial chain and business model.Welcome to follow, comment and bookmark us, and hope to share the future with you, and look forward to your success with our help.