Industry information
"All in educational technology" From Focus on scientific research and development, help inclusive education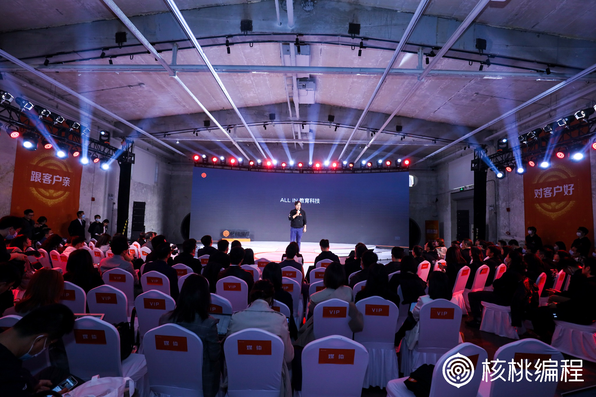 The following is the "All in educational technology" From Focus on scientific research and development, help inclusive education recommended by recordtrend.com. And this article belongs to the classification: Industry information.
On March 25, walnut programming, the leader of children's programming education industry, completed a new round of financing, and said in the press conference: it will continue to invest in AI teaching product construction, high-quality teacher reserve and teaching and research system to continuously improve the user experience and service quality.
Zeng pengxuan, founder and CEO of walnut programming, said: "it's a great honor to witness the historic breakthrough of children's programming industry with new and old partners. Since its establishment for 1 325 days, walnut programming has always adhered to the large-scale teaching of students in accordance with their aptitude based on science and technology, and is committed to becoming the most trusted education brand of parents. In the future, we will continue to uphold the original intention of education and make every effort to "all in education technology" so that every child can love and learn, and quality education is within reach. "
Since its inception, walnut programming continues to win the common favor of the industry and users. Walnut programming creates an "irreversible" product experience, with 85% of students taking the initiative to attend classes and 98% of students completing classes. The repurchase rate of students, which is regarded as the lifeline index of the teaching and training industry, is ahead of the average level of the industry, which can be described as realizing the normalization of high-speed growth. As of March 2021, walnut programming paid students have exceeded 3.2 million, which is recognized as the largest children's programming education institution with paid students.
Wang Bei, partner of Hillhead venture capital, said: "in the past three years, we have witnessed the original technology exploration of walnut programming in the field of children's programming and the continuous iteration based on AI human-computer interaction mode, and continuously improved the user's learning experience and learning effect with more perfect technology, richer content and better service. "Hillhead venture capital continues to be optimistic about programming education, supports walnut programming, and continues to promote technological innovation in the industry, so that more Chinese teenagers can enjoy high-quality and inclusive education services."
Education "customization" has become a trend, education practitioners need to provide the most suitable education program for each child. Wang Yuhang, co-founder and CTO of walnut programming, said: "we firmly believe that AI is the only way to teach students in accordance with their aptitude on a large scale. At the same time, we have pioneered AI human-computer dual teacher teaching mode in the teaching and training industry, and realized large-scale personalized teaching by constructing learner model, teaching paradigm and personalized engine." The data shows that there are 29.5 billion learning behavior operation records of walnut programming students. On this basis, walnut programming released a new independently developed graphical programming tool nuts. According to reports, nuts is a graphical programming tool specially designed for Chinese children. No line of code comes from scratch. The loading speed, operating efficiency and scalability have been greatly improved. In the future, it will be fully integrated into all kinds of children's programming competitions.
Liu Yiran, partner of Yuanjing capital, said: "we judge that online education has gone through two stages: online live broadcasting and online course productization, and is entering the stage of intelligent product. Walnut programming takes programming education as an emerging education discipline as the breakthrough point. It has gained the leading position in the market with its leading products and operating efficiency. At the same time, it constantly explores and iterates the next generation of intelligent education products to break through the problems of limited high-quality supply and uneven distribution of education resources in the education industry, and realize the supply side revolution of the education industry and the substantial improvement of students' experience "I'm not sure
Education is not an economy of attention. Following the first principle of education, educators should help learners to give full play to their learning nature and let every child fall in love with learning. It is understood that in 2020, there will be more than 30000 winners of walnut programming national competition, with a year-on-year increase of 143%. Among them, walnut programming won the first prize of the 11th Blue Bridge Cup finals; in the Ministry of education white list competition NOC competition, nearly 400 walnut programming students won all grade awards; in the 2020 National Youth software programming grade examination, the passing rate of walnut programming students exceeded 85%, ranking first in the children's programming industry; in the Information Science Olympiad CSP, walnut programming 9 The 30-year-old student broke the national record of the youngest to win the first prize of promotion. Moreover, at the 2020 "huashuxing" youth Mathematics Conference, 90% of walnut programming students won the gold, silver and bronze awards. At the same time, as the only team composed of programming students, it won the third place in the national team.
Walnut programming was established in August 2017, focusing on online children's programming education services for 4-12 years old. It is committed to promoting programming education by means of science and technology. Through the first AI man-machine dual teacher teaching mode, it realizes large-scale individualized teaching, helps children exercise programming skills and develop good logical thinking. So far, more than 400 teaching, production and research teams have been set up, and the teaching base has covered Jinan, Xi'an and Wuhan. More reading: "children's programming is included in primary and secondary school curriculum" and other favorable policies appear frequently. Walnut programming improves 2 million children's learning ability Hugo Award author Hao Jingfang visits walnut programming: Children's programming develops children's general learning ability Insights: 131 investment transactions in Q1 education science and technology in 2017 CB insights: 135 investment transactions in Q1 education science and technology in 2017 bright future: 4q20 financial report teleconference record: due to the special reason of epidemic situation, the performance growth of online school accelerates dealroom: the year-on-year growth of global education science and technology venture capital in 2020 is 94% CB insights: Q3 in 2016 Cbinsights: in the first half of 2016, nearly US $1 billion was invested in the field of educational technology CB insights: in 2015, the financing of Chinese educational technology enterprises exceeded US $1 billion CB insights: in Q1 of 2016 Investment in education and technology decreased by 57%. Lepu medical new coronavirus antibody colloidal gold detection kit, infrared thermometer and other products have been supplied to dozens of countries
If you want to get the full report, you can contact us by leaving us the comment. If you think the information here might be helpful to others, please actively share it. If you want others to see your attitude towards this report, please actively comment and discuss it. Please stay tuned to us, we will keep updating as much as possible to record future development trends.
RecordTrend.com is a website that focuses on future technologies, markets and user trends. We are responsible for collecting the latest research data, authority data, industry research and analysis reports. We are committed to becoming a data and report sharing platform for professionals and decision makers. We look forward to working with you to record the development trends of today's economy, technology, industrial chain and business model.Welcome to follow, comment and bookmark us, and hope to share the future with you, and look forward to your success with our help.