Industry information
Amazon cloud technology launched a new machine learning service in China to create an extensive and in-depth AI and machine learning tool set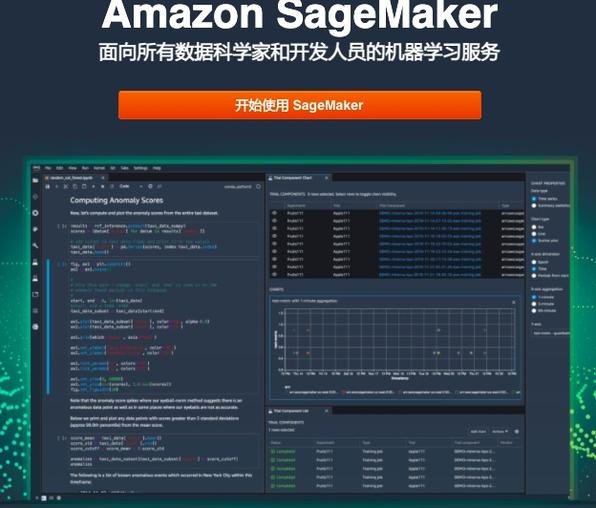 The following is the Amazon cloud technology launched a new machine learning service in China to create an extensive and in-depth AI and machine learning tool set recommended by recordtrend.com. And this article belongs to the classification: Industry information.
The first anniversary of Amazon sagemaker machine learning service in China
On May 11, 2021, at Amazon, a fully hosted machine learning service   On the first anniversary of sagemaker's landing in China, Amazon cloud technology announced that through close cooperation with guanghuanxinnet and Xiyun data, it will further launch a number of new services and functions of artificial intelligence and machine learning in China, enriching its artificial intelligence and machine learning aimed at the needs of different enterprises  ( AI / ml) toolset. Amazon cloud technology provides extensive and in-depth machine learning services at three levels of machine learning technology stack for customers with different needs, including top-level artificial intelligence services, middle-level machine learning services, and bottom-level framework and infrastructure. At the AI service level, Amazon cloud technology launched Amazon in Beijing   Personalize, customers can easily and quickly build personalized recommendation system without machine learning expertise; In the middle tier, Amazon   Seven new functions, including data Wrangler, feature store and pipelines, launched by sagemaker in re: invest 2020, are launched in Beijing and Ningxia, making it easier for customers to build an end-to-end machine learning pipeline; In terms of computing power, Amazon cloud technology has launched Amazon EC2 INF1 cases in Beijing and Ningxia. This case is based on Amazon inferentia, a machine learning reasoning chip developed by Amazon cloud technology. Compared with the current GPU based case with the lowest cost, it can improve the throughput by up to 30% and reduce the cost of each inference by up to 45%.
Gu fan, general manager of cloud services product management of Amazon cloud technology in Greater China, said, "Amazon   Since sagemaker's landing in China for one year, we have witnessed various types of customers in various industries in China actively apply Amazon cloud technology services for machine learning innovation. We hope that by landing more services in China, we will adhere to the principle that "giving people fish is better than giving them fish", and even go further in the way of "helping the horse and giving them a ride.", Help customers apply machine learning technology more quickly, give the ability of machine learning to every builder, and accelerate the inclusive development of artificial intelligence and machine learning. "
At present, hundreds of thousands of customers around the world choose Amazon cloud technology to run machine learning workload. In China, Amazon's cloud technology machine learning service is favored by customers in various industries, such as health care, education, travel, industrial intelligence, games, new media, etc. Yitikang, Jingtai technology, new century medical, lemonbox, youdaoledu, jiliquala, AOL, Shouqi car hailing, Debbie software, momenta, Tucson future, Walker AI, tianherong, Zhongke Chuangda With the wide adoption of a number of enterprises and institutions such as Hualai technology, Daewoo infinite, Shaanxi University of science and technology, yidiantianxia, Zibo thermal power, a variety of artificial intelligence application innovations have been realized in all walks of life.
Shandong Zibo Thermal Power Group Co., Ltd. uses the rich Al / ml technology and services of Amazon cloud technology to quickly build, train and deploy machine learning models to achieve accurate heating. It can calculate the best heating mode according to the weather, industrial control data, building maintenance structure and other information, and give specific operation instructions, It can not only keep the best comfortable temperature of human body at room temperature, but also save the cost as much as possible. Wang Degang, chairman and party secretary of Zibo Thermal Power Group Co., Ltd., said, "over the years, Zibo thermal power has used information technology to transform traditional heating, and is committed to becoming the maker of industry standards and the leader of industry development. Through cooperation with Amazon cloud technology and innovation of machine learning ability, we have built an intelligent heating platform based on machine learning and big data analysis, which helps us transform from traditional heating to industrial intelligence, achieve energy conservation and emission reduction while meeting the needs of users, and establish a green energy ecosystem. In the future, we hope that we can continue to innovate with the help of advanced cloud technology to promote the digital and intelligent transformation of domestic thermal industry"
In order to further accelerate the inclusive of AI / machine learning, Amazon cloud technology has built a strong partner network. Through the members of the partner network, Amazon cloud technology builds industry machine learning model to help more customers solve the problem of industry algorithm model construction and implement industry solutions. Shanghai yinzhida Information Technology Co., Ltd. is a member of Amazon cloud technology partner network. It provides technical expert services for predictive analysis and business intelligence solutions based on artificial intelligence and big data technology to help customers realize digital transformation. Sun Xiaozhen, CEO of Shanghai yinzhida Information Technology Co., Ltd., said, "we provide data services to hundreds of multinational enterprises and local customers in Asia. We have rich experience in data analysis and business implementation. We have many practices and successful cases in life science, FMCG, automobile, retail, electronic consumer products, finance, insurance and transportation industries. However, our algorithms and talent pool in machine learning are far from meeting the needs of customers. Amazon cloud technology's rich machine learning services have greatly improved the technology development and service capabilities of yinzhida, helped us build solutions covering different industries and scenarios, and realized business development and continuous innovation. "
Nowadays, enterprises and institutions of all sizes and types are actively exploring the application of artificial intelligence and machine learning technology, and hope to play a practical effect as soon as possible. In order to meet the innovation needs of different customers, Amazon, with more than 20 years of profound technology accumulation in the field of artificial intelligence / machine learning, has provided a wide and in-depth, iterative and innovative machine learning service portfolio.
Without machine learning expertise, you can build a personalized recommendation system through Amazon personalize
At the AI service level, Amazon cloud technology provides out of the box AI services for customers without machine learning expertise and capabilities. Amazon personalize, a fully hosted machine learning service for building personalized recommendation system, has been launched in Beijing. Without machine learning professional knowledge, developers can train, adjust and deploy their own customized machine learning model to build personalized recommendation system, which can be used in a wide range of personalized recommendation scenarios such as product recommendation, personalized marketing, personalized search and customized direct sales.
Create an all inclusive AI / ml toolset, seven new features make Amazon sagemaker more powerful
As the core product of Amazon cloud technology machine learning service, Amazon sagemaker is the industry's first integrated development environment for machine learning developers. It eliminates the heavy work in the process of machine learning, enables customers to focus on their own business and application innovation, and greatly reduces the total cost of ownership of machine learning while improving customer work efficiency. Seven items just appeared at Amazon cloud technology global conference re: invest 2020 in December last year   Amazon   The new function of sagemaker has been implemented in Beijing and Ningxia recently.
1. Amazon sagemaker data Wrangler simplifies the data preparation of machine learning. Through this function, customers can import data from various data stores with one click. Amazon SageMaker   Data Wrangler has more than 300 built-in data converters, allowing customers to standardize, transform and combine features used in machine learning without writing any code.
2.Amazon SageMaker   Feature store, a fully managed and specially built feature repository, is used to store, update, retrieve and share machine learning features. It allows customers to store and access features, making it easier to name, share, and reuse them across teams.
3. Amazon sagemaker pipelines is the industry's first continuous integration and continuous delivery service specially built and easy to use for machine learning, which improves the efficiency of machine learning through choreography and automation. With this service, users can create, automate and manage end-to-end machine learning workflow on a large scale.
4. Amazon sagemaker clarify enables machine learning developers to better control their training data and models, so as to identify and limit deviations and explain the reasons for making relevant predictions.
5. Amazon sagemaker distributed training libraries provides an easy-to-use method for training large-scale deep learning models and data sets. Compared with the existing distributed training implementation, it can complete distributed training at a speed of up to 40%, and help users reduce the time required for manual implementation of data parallel and model parallel strategy.
Amazon sagemaker model monitor helps customers maintain the accuracy of machine learning models at all times. It can automatically detect the models deployed in the production environment, and issue alerts when inaccurate predictions are detected, thus helping customers maintain high-quality machine learning models.
7. Amazon sagemaker debugger can automatically identify complex problems in machine learning training tasks by capturing training indicators in real time, such as gradient value becoming too large or too small. It can monitor the utilization rate of system resources (such as GPU, CPU, network and memory) in real time, help users improve the utilization rate of resources, warn the resource bottleneck in the training process, let developers schedule resources in time, take corrective measures quickly, and reduce the time and cost.
Amazon EC2 INF1 case based on high performance machine learning inference chip Amazon inferentia landing in China
In terms of the underlying framework and infrastructure of machine learning, Amazon cloud technology fully provides the latest technology options based on various chip suppliers, provides a variety of configurations from small to large, and supports various popular machine learning frameworks and algorithms on the market. At the same time, in order to continuously provide customers with better cost-effective computing power, Amazon cloud technology independently designed chips and launched high-performance machine learning reasoning chip Amazon inferentia. The Amazon EC2 INF1 case based on Amazon inferentia is implemented in Beijing and Ningxia, which gives Chinese customers another choice of computing power for cloud based high-performance and lower cost machine learning reasoning. To learn more about Amazon EC2 INF1 instances, visit: https://aws.amazon.com/cn/ec2/instance-types/inf1/
Amazon cloud technology's AI and machine learning services also benefit from Amazon cloud technology's extensive and profound capabilities in computing, storage, database and data analysis, as well as their excellent security, reliability, scalability and cost efficiency. These services are seamless integration and effective support, enabling more organizations and individuals to carry out digital transformation and innovation. Read more: Amazon cloud service (AWS) officially launched in Ningxia and Beijing   Sagemaker Amazon cloud service (AWS) accelerates the speed of cloud products and services landing in China, from the professional field to the mass field. AWS joins hands with China's local travel giant Shouqi car Hailing Amazon cloud technology to launch predictive maintenance service for industrial equipment based on machine learning. The survey shows that 32% of Singapore's institutions are using machine learning technology, and Amazon cloud service (AWS) comprehensively promotes machine learning innovation Applied Deloitte: the development context and technical system of artificial intelligence, Faced with two fundamental problems, Amazon graviton2, a self-developed processor, is launched in China. Amazon cloud technology is rich in ecological diversity. Amazon sagemaker helps AI achieve game content filtering accuracy of 96%. Northwestern University of the United States: research finds that machine learning can promote rapid economic development. Healthtransformer: AI and machine learning companies accounted for 12% of medical technology investment transactions in 2017 Real estate technology 2020: the future of real estate
If you want to get the full report, you can contact us by leaving us the comment. If you think the information here might be helpful to others, please actively share it. If you want others to see your attitude towards this report, please actively comment and discuss it. Please stay tuned to us, we will keep updating as much as possible to record future development trends.
RecordTrend.com is a website that focuses on future technologies, markets and user trends. We are responsible for collecting the latest research data, authority data, industry research and analysis reports. We are committed to becoming a data and report sharing platform for professionals and decision makers. We look forward to working with you to record the development trends of today's economy, technology, industrial chain and business model.Welcome to follow, comment and bookmark us, and hope to share the future with you, and look forward to your success with our help.