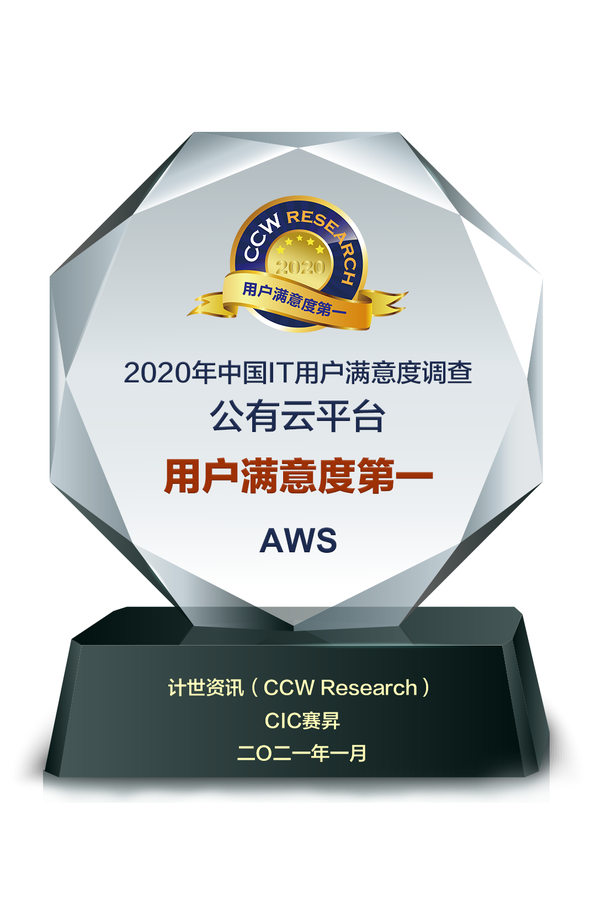 RecordTrend.com is a website that focuses on future technologies, markets and user trends. We are responsible for collecting the latest research data, authority data, industry research and analysis reports. We are committed to becoming a data and report sharing platform for professionals and decision makers. We look forward to working with you to record the development trends of today's economy, technology, industrial chain and business model.Welcome to follow, comment and bookmark us, and hope to share the future with you, and look forward to your success with our help.
The following is the Amazon Web Services recommended by recordtrend.com. And this article belongs to the classification: Industry information.
On February 2, 2021, under the guidance of the national industrial information security development research center and the support of the national user committee, CCW Amazon cloud service (AWS) won six awards at the China it user satisfaction conference sponsored by research, including the first public cloud platform user satisfaction, the first cloud database user satisfaction, the first Chinese enterprise cloud platform user satisfaction, the first cloud Devops solution user satisfaction, the first user preferred cloud big data platform, the first user preferred cloud machine learning AI platform.
Since 2002, China's it user satisfaction activity has been held once a year, and this year is the 18th. Through the survey, the activity comprehensively reflected the current situation and development trend of China's it user satisfaction, made an objective and detailed evaluation of the domestic IT product and service satisfaction, and followed the purpose of "let users tell users", widely released the excellent IT products and services in the survey, thus promoting the continuous development and maturity of China's IT market.
Liu Yongdong, general manager of Jishi information, said: "China's it user satisfaction is an objective evaluation of domestic IT product and service satisfaction. It not only reflects the actual situation of current enterprises in choosing technology, but also shows the development trend and track of future technology. It has important reference significance for more enterprises to choose suitable IT products and services. AWS has the leading technology, service and infrastructure in the world, and has won six honors in this user survey of Jishi information, which is not only the true result of its leadership in the field of cloud computing, but also reflects its strategic ambition of deeply cultivating the Chinese market for a long time and fully supporting the digital transformation of Chinese enterprises. "
Zhang Wenyi, global vice president of Amazon and executive director of AWS Greater China, said, "thank you for Chinese users' recognition of AWS. "Becoming the most customer-centric company in the world" has always been Amazon's mission. In China, the core of our work is to accelerate the implementation of AWS's extensive and far-reaching and innovative cloud services in China, accelerate the digital transformation and innovation of customers, and help more and more Chinese customers go out to the world by using AWS's global infrastructure. In the future, we will make more efforts to do these work, and constantly improve customer satisfaction. "
Analysts of Jishi highly praised AWS
In this survey, AWS won six awards: public cloud platform user satisfaction first, cloud database user satisfaction first, Chinese enterprise offshore cloud platform user satisfaction first, cloud Devops solution user satisfaction first, user preferred cloud big data platform, user preferred cloud machine learning AI platform. Analysts in charge of various surveys of Jishi information gave high praise to AWS respectively.
Public cloud platform user satisfaction first
Ren Weiwei, chief analyst of Jishi information, said: "cloud computing is a truly global technology. Chinese enterprises and users have grasped the new wave of information revolution through cloud computing technology. Our user research shows that the focus of users' choice of public cloud is gradually evolving from the relatively simple price comparison of infrastructure to the comprehensive capability evaluation of infrastructure and platform as a service (PAAS). In the survey, we have contacted many deep loyal users of AWS. They not only adopted the infrastructure of AWS, but also used a large number of different products such as databases, data analysis and development tools. Public cloud has become the underlying support of business and the core ability to achieve differentiation. For them, AWS's global cloud infrastructure, leading technology and practical products are the main reasons why they choose AWS. "
Cloud database product user satisfaction first
Ren Weiwei, chief analyst of Jishi information, said: "just a few years ago, putting the enterprise's core database on the cloud was a very shocking avant-garde behavior for many traditional enterprises. Today, it has become the first choice for many digital applications. Pay as you go, no maintenance, flexible scaling, and seamless integration with other resources and capabilities on the cloud are the obvious advantages of cloud database over traditional databases. Our research found that AWS has advantages in the number of users, dosage and time of use; users of AWS are very satisfied with the products, especially in the diversity and integration ability of the products.
Customer satisfaction of Chinese enterprises' cloud platform is the first
Ren Weiwei, chief analyst of Jishi information, said: "the epidemic situation in 2020 and the changing world pattern have not slowed down the pace of Chinese excellent enterprises going to sea. As more Chinese enterprises go out to sea to participate in global competition, cloud service has become an important way to realize their global business landing, so cloud service providers with global infrastructure have obvious advantages. Through the infrastructure, global service resources and first-class global partner network in 24 geographical regions around the world, AWS helps Chinese customers rapidly expand their overseas business, enabling enterprises to land their products, innovate their business and operate in compliance with the regulations, which is a solid guarantee for them in their journey to the sea. "
Public cloud Devops solution, customer satisfaction first
Ren Weiwei, chief analyst of Jishi information, said: "Devops is developing rapidly driven by multiple factors. External factors include: cloud computing infrastructure is becoming more and more popular, data center automation technology and configuration management tools are becoming popular, etc.; internal factors include: business leaders need to speed up product delivery, development teams are increasingly using agile software development process and methods, and enterprises are facing challenges The industry is increasingly dependent on sustained delivery capabilities. Our research shows that for many users, how to overcome the bottleneck of corporate culture rather than technological breakthrough is often the key to the success of Devops. We unexpectedly found that the customer satisfaction of AWS largely comes from the value that AWS provides in helping users improve their corporate culture, not just the products and technologies themselves.
Public cloud big data platform users preferred brand
Ding Zhen, research and Consulting Director of Jishi information, said: "under the guidance of the new infrastructure, big data has become an important direction of China's information technology development. Innovation and transformation are the two major themes faced by Chinese enterprises at this stage, and also the driving force for the development of big data technology. With the rapid maturity of big data platform based on public cloud, more and more Chinese enterprises are considering building their own data analysis platform relying on public cloud, which is also the main reason why we specially set up such an award this time. The survey found that quite a number of users of AWS big data products have been using them for a long time and have high product loyalty.
User preferred brand of AI machine learning platform
"Artificial intelligence technology has been developing rapidly in recent years, especially in 2020. Driven by the new infrastructure and the fight against the epidemic, it has rapidly begun to be applied in the industry. Our research found that, relatively speaking, computer vision, language processing and other upper applications have received more attention in China, while the lower level of machine learning, due to its higher technical threshold, the application level of domestic enterprises is still relatively low. For many users who want to get the most openness, Amazon sagemaker of AWS is one of the optional excellent business machine learning platforms outside the open source community. In this field, domestic manufacturers still have a long way to go. "Read more: AWS Technology Summit 2018 Shanghai station is set to sail. It is estimated that more than 50 technical forums and more than 6000 professionals will attend the meeting, creating the most Amazon cloud service AWS marketplace in China for AWS technology summit "Reshaping" enterprise software SaaS journey: Mango platform Xiaomang app chooses Amazon cloud service (AWS) to support its e-commerce big data platform. Amazon cloud service (AWS) launches a new accelerated win plan for ISV in China. Amazon re: invest 2020 observation 1: cloud database challenges traditional IT system AWS ushers in a bigger market, AWS and arm show production level cloud electronic design automation, AWS release five machine learning services for industry, AWS release Amazon Devops guru machine learning driven new operation service, Amazon sagemaker help Debbie software improve the accuracy of hotel room status query, which is expected to bring a total of billions of dollars of additional revenue to its global hotel customers Sagemaker helps AI to achieve 96% accuracy of game content filtering Amazon cloud service (AWS) machine learning service Digital China officially becomes China's strategic partner of Amazon cloud services (AWS)
If you want to get the full report, you can contact us by leaving us the comment. If you think the information here might be helpful to others, please actively share it. If you want others to see your attitude towards this report, please actively comment and discuss it. Please stay tuned to us, we will keep updating as much as possible to record future development trends.