Industry information
Borui data cooperates with Alibaba cloud to deeply cultivate cloud and launch new cloud dial test products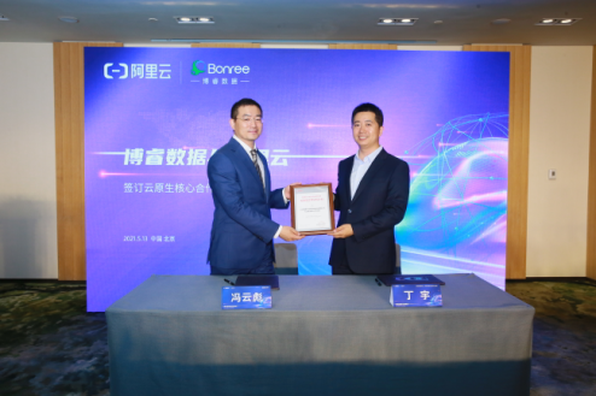 The following is the Borui data cooperates with Alibaba cloud to deeply cultivate cloud and launch new cloud dial test products recommended by recordtrend.com. And this article belongs to the classification: Industry information.
On May 13, Borui data and Alibaba cloud announced that they had reached in-depth cooperation, focusing on the field of enterprise intelligent operation and maintenance. The two sides signed the cloud native core partner program to build the world's leading SaaS product cloud dial test by combining the leading dial test network of Borui data with the unique aiops capability of alicloud, so as to provide leading, professional and comprehensive intelligent operation and maintenance capabilities for enterprises.
Gartner predicts that by 2024, 30% of enterprises will improve the operation performance of digital business through observable technology, which is three times higher than 10% in 2020. In 2023, the global observable market is expected to reach US $16.494 billion.
Feng Yunbiao, CEO of Borui data, attended the signing ceremony and said that the continuous growth of observable market has brought not only opportunities, but also more challenges. The enterprise's observable vision is no longer limited to applications, but needs to have an insight into the application status of mixed it infrastructure, data sources, network, cloud and edge end from a global perspective, so as to improve the efficiency of enterprise operation and maintenance more actively, automatically and intelligently. Enterprises need not only the high availability of applications, but also the upgrading of user experience brought by digital transformation and development. In 2021, the first mock exam data innovation DNA put forward the "service reachable data link" model, which is based on the innovative transformation of the existing APM technology products. It helps enterprises locate and analyze their performance in the whole data link of "cloud, tube, edge and end". Quickly iterate from "application available" update to "service reachable".
Previously, Alibaba cloud released the cloud native partner program to help partners upgrade their products and solutions through cloud native technologies and products, so that partners can focus more on their own business advantages and play a "long board effect". This year, the cloud native partner program has been further upgraded, and Borui data has become one of the first enterprises to sign the cloud native core partner program with Alibaba cloud. The two sides will continue to increase cooperation in the field of cloud native observability to help enterprises operate efficiently and intelligently.
Cooperation and upgrading to solve the operation and maintenance pain points of enterprises in the era of cloud origin
With the rise of micro services and containerization, the application complexity brought by cloud nativity is increasing exponentially. Enterprises put forward higher requirements for system observability. Alibaba cloud has built arms3.0, a unified observable product covering the whole stack of applications. Its core advantages are as follows:
(1) Full stack unified data
Full stack data: the only observable data covering all kinds of Alibaba cloud services on the whole application chain. By default, it supports 40 + cloud services, 30 + application components and 20 + application frameworks.
Open source friendly: support mainstream open source observable standard data access, including opentracing, opentelemetry and Prometheus.
(2) Wisdom can observe the brain
Intelligent analysis: real time correlation analysis of all kinds of observable data, support the automatic discovery and diagnosis of 80 + kinds of abnormal scenes, quickly discover anomalies and locate root causes.
Low cost: the unique pre aggregation, edge computing, hot and cold data separation technology can effectively reduce TCO by using the scale effect of cloud platform.
(3) Cloud service linkage problem
Cloud operation and maintenance cloudops: linkage with Alibaba cloud's elastic expansion and reduction capacity and the capabilities of various PAAS platforms to quickly recover the problems found and form application self-healing.
Nail operation and maintenance chatops: open the nail cooperation platform to form a closed loop for problem tracking and processing.
Recently, Gartner released "Gartner APM Magic Quadrant 2021". Alibaba cloud has become the only cloud manufacturer selected in China, and its product capabilities and strategic vision have been highly recognized by Gartner analysts.
Gartner comments on alicloud APM:
China has the strongest influence: Alibaba cloud is the largest cloud service provider in China, and users of Alibaba cloud can use cloud monitoring tools to meet their observability needs.
Significant effect of open source integration: Alibaba cloud attaches great importance to integrating open source standards and products (such as Prometheus) into its platform.
Cost advantage: compared with using third-party APM products on alicloud, alicloud APM products are more cost-effective.
Cloud dial test is a SaaS product that Borui data cooperates with Alibaba cloud. It can monitor the application performance and user experience of Internet Applications (web pages, network links, etc.), and provide out of the box enterprise level active dial test application monitoring solution for cloud users without embedded code. Cloud dial test can quickly locate the affected scope and root cause of target application performance problems, so as to accurately solve it problems and improve enterprise service quality. Within two months after the release of cloud dial test, it has served 1000 + enterprise users, accumulating more than 100 million times of dial test.
Cloud based observability escorts enterprise digital innovation
Ding Yu, head of alicloud cloud native application platform, said that alicloud has leading cloud native technology and rich cloud native product family in China, and its cloud native technology and product capabilities have passed the highest level evaluation of global authoritative institutions for many times. At the same time, Alibaba cloud has been committed to giving back to the community and actively embracing open source. It is the most comprehensive technology company in China that has made open source contributions in the cloud native field.
In the era of cloud nativity, Alibaba cloud's original observable products are dedicated to escorting enterprise digital innovation. Arms helps walnut programming reduce 30% of operation and maintenance workload, shorten 60% of the average time-consuming of fault location, greatly improve the user experience, and help walnut programming to build a reputation; Changjietong uses Alibaba cloud arms to locate the fault source and performance bottleneck of the system, reduce the workload by 50%, and quickly push the application to the market; Perfect diary uses performance to test the overall business carrying capacity of PTS and arms pre judgment system and the elastic expansion capacity of Alibaba cloud container service ACK, saving 50% of server cost   above; At the same time, we have established a guarantee mechanism to promote normalization and stability.
Join hands to promote the implementation of intelligent operation and maintenance of enterprises
As a global leader in APM technology, Borui data is a manufacturer with strong APM background and strong data analysis / AI capabilities. Using big data and machine learning technology to build an advanced intelligent operation and maintenance monitoring capability, Borui data can meet the most extensive use cases based on its own universality, effectively control enterprise costs, and ensure the smooth operation of digital business.
Feng Yunbiao, CEO of Borui data, said that joining the Alibaba cloud native partner program values Alibaba cloud's strategic vision and layout in the cloud native field. To become the original core partner of Alibaba cloud this time, we hope to continue to consolidate the scope and depth of cooperation between the two sides in the future, bring products and technologies that lead the industry trend to enterprises, and provide enterprises with more abundant excellent solutions based on Alibaba cloud arms3.0, so as to solve the operation and maintenance problems of enterprises in the era of digital economy.
"Observability is an important driving force for cloud native development," said Ding Yu, the head of Alibaba cloud native application platform. "Borui data is Alibaba cloud's native core partner. In the future, Alibaba cloud will work with more partners to give full play to its ecological advantages and provide customers with flexible resources, stable systems, agile applications, business intelligence, and high-quality services in the cloud native era Security and credibility create greater value. " Read more: Amazon cloud technology's self-developed cloud native processor provides high cost-effective computing power for graffiti intelligence; foreign APM enterprises are frustrated in China; how will the domestic application performance market move towards the butterfly effect of APM in the future: oneapm, a code level application performance monitoring platform, announces RMB 70 million round B financing CNCF: China Cloud native survey in 2020 Gartner: APM Magic Quadrant in 2019 China Mobile: Cloud native white paper of telecom industry (with download) Gartner: Alibaba cloud ranks first in Asia Pacific market share, More than Amazon and Microsoft combined with foreign media: the world's first MariaDB conference is held. Alibaba cloud's database application is surprising. Alibaba cloud's chief security architect exclusively reveals how the encryption computing technology behind the dragon cloud server can build high availability applications on Alibaba cloud. Gartner: Alibaba cloud has the largest market share in Asia Pacific, More than Amazon, Microsoft and Gartner: alicloud has ranked the third in the global cloud database market share. How to choose the right enterprise data management products for you? How to ensure the effectiveness, diversity and accuracy of business report data: using dataphin, I have realized automatic modeling. Alicloud data expert dry goods data platform model design series (1): preliminary study on dimensional modeling
If you want to get the full report, you can contact us by leaving us the comment. If you think the information here might be helpful to others, please actively share it. If you want others to see your attitude towards this report, please actively comment and discuss it. Please stay tuned to us, we will keep updating as much as possible to record future development trends.
RecordTrend.com is a website that focuses on future technologies, markets and user trends. We are responsible for collecting the latest research data, authority data, industry research and analysis reports. We are committed to becoming a data and report sharing platform for professionals and decision makers. We look forward to working with you to record the development trends of today's economy, technology, industrial chain and business model.Welcome to follow, comment and bookmark us, and hope to share the future with you, and look forward to your success with our help.