Industry information
BSI group released "the fourth annual index of organizational viability" report, 33% of enterprises are confident of its organizational viability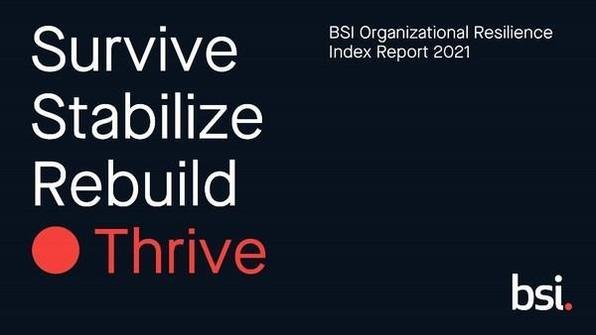 The following is the BSI group released "the fourth annual index of organizational viability" report, 33% of enterprises are confident of its organizational viability recommended by recordtrend.com. And this article belongs to the classification: Industry information.
After visiting 500 top leaders around the world, BSI Group officially released the fourth annual organizational viability index on March 15, 2021. The report shows that despite the challenges in 2020, business leaders' confidence in organizational viability continues to grow.
The report pointed out that under the severe impact of the epidemic on the global economy, organization leaders remain cautiously optimistic, and more than half (57%) of British, American and Indian enterprises expect to achieve growth in financial performance this year. Organizational viability reflects an organization's ability to predict, prepare, respond to and adapt to the increasing changes and emergencies in order to survive and develop – all of which have been tested in the past year.
Overall, in 2020, the awareness of global enterprises on organizational viability has increased, and one third of enterprises (33%) are full of confidence in their organizational viability – an increase of 5% compared with that in 2019. It is encouraging that many of the organizations interviewed believe that the measures they have taken before the outbreak have been successful, helping them survive, stabilize and begin to rebuild, and enhancing their confidence in the future.
Although 2020 will be a tough year for most people, many organizations have become more confident in the test of the epidemic. In this study, we found that there is a significant correlation between organizations with stronger performance and those with stronger awareness of their own organizational viability.
"2020 is a global test of organizational viability, which strongly proves that the ability of organizations to prepare for and respond to unexpected changes or sudden interruptions is becoming more and more important. We are encouraged by business leaders' focus on better business development, their clear recognition of the value of putting the health, safety and well-being of employees, customers and communities first, and their cautious and optimistic attitude towards the future. When we look forward to the "next normal", we hope that our annual organizational viability index will continue to provide insight, vision and inspiration for the organization to seize future opportunities and ensure that its business remains resilient in the future. "
– Susan Taylor Martin, CEO of BSI group
"China's excellent results in this global COVID-19 examination have enabled us to see more China Enterprises' ability to counter the trend. This report also proves that China's enterprises have good resilience and confidence in their future performance. At the same time, as a world-famous standard organization, BSI is committed to enabling organizations to improve performance and achieve organizational excellence. It will continue to share the best practices of standards with organizations through comprehensive solutions such as standard setting, auditing and certification, training services, etc., so as to promote Chinese enterprises to achieve high-quality and sustainable development in today's era of rapid change. "
– Lin Jin, Managing Director Asia Pacific and Managing Director Greater China of BSI group
Although the global recovery is volatile, and recovery is taking place at different rates around the world, the index report shows that financial security and confidence are not evenly distributed around the world.
Although Japanese and Chinese companies have experienced similar economic shocks in 2020, only Chinese organizations predict that 2021 will be better. At the same time, respondents also believed that the slow recovery of confidence in Japan reflected the business culture rather than the market situation.
The business leaders in India, the United States and the United Kingdom are relatively optimistic about the future development. Although nearly half of the organizations perform worse than the same period in 2020, their confidence in the future development of the organization is double or even triple.
In the survey, Japanese enterprises generally reflect that 2020 is a very bad year, and they are not optimistic about the next recovery. Only 38% of Japanese organizations expect 2021 to be a better year. In contrast, US companies are the least likely to reverse in 2020. In addition, India is the most likely country to achieve growth, and 64% of Indian companies expect to become stronger in 2021.
The report also points out that after the turmoil in 2020, the aerospace industry has the lowest confidence in its organizational viability, and only 43% of enterprise leaders expect the situation to improve in 2021. This figure is 67%, 61%, 57% and 56% respectively in the built environment industry, health care industry, food industry and automobile industry.
Although novel coronavirus pneumonia is seriously affected, diversity and sustainable development remain the top priority among priorities in the global organizations. The report found that benefiting employees, customers and the community is crucial to rebuilding the viability of an organization, rather than being prioritized by problems that are considered more urgent.
According to the report, among the 16 key elements that constitute organizational viability, the most important and the least important elements are ranked as follows (+ / – number indicates the annual ranking change)
Influence (the most influential factor for organizational viability)
Supplier management – 10 places higher than 2019 level scanning – 2 places higher than 2019 business continuity – 13 places higher than 2019 innovation – 2 places higher than 2019 community participation – 2 places higher than 2019 performance (factors of outstanding organizational performance)
Financial management – consistent with 2019 ranking, vision and goals – consistent with 2019 ranking, adaptability – 10 places higher than 2019 ranking, leadership – 1 place higher than 2019 ranking, information and knowledge management – 1 place lower than 2019 ranking Taylor: Ten Principles of excellent level design Black Friday: reunion dinner and shopping? Midination: income comparison between top singers and other occupations Forbes: five of the world's most innovative growth companies in 2014, 33 secrets of digital marketing listed in China Cloud subscription has broken millions, with an increase of more than 330000 in the last quarter. Kantar: from March to June 2013, the share of Android smart phones in the United States accounted for 51.5%, the share of IOS rose, Google: Android jelly bean market share 33%, and the statistics of the box office of "Thailand lost" in 2012 strongly supported the development of the artificial intelligence industry. Alibaba cloud released a number of high-performance computing products
If you want to get the full report, you can contact us by leaving us the comment. If you think the information here might be helpful to others, please actively share it. If you want others to see your attitude towards this report, please actively comment and discuss it. Please stay tuned to us, we will keep updating as much as possible to record future development trends.
RecordTrend.com is a website that focuses on future technologies, markets and user trends. We are responsible for collecting the latest research data, authority data, industry research and analysis reports. We are committed to becoming a data and report sharing platform for professionals and decision makers. We look forward to working with you to record the development trends of today's economy, technology, industrial chain and business model.Welcome to follow, comment and bookmark us, and hope to share the future with you, and look forward to your success with our help.