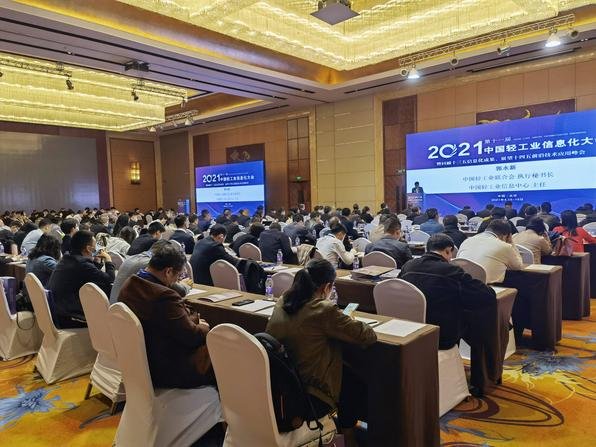 The following is the Dip technology attends 2021 China light industry informatization Conference recommended by recordtrend.com. And this article belongs to the classification: Industry information.
From April 15 to 16, the 11th China light industry informatization conference 2021 was held in Beijing, inviting hundreds of industry leaders from the Ministry of industry and information technology, the economic and Information Technology Commission and other government leaders, Industry Association experts from China Light Industry Federation and other industry leaders from Luzhou Laojiao, Mengniu, Belle and Midea. As the co organizer of the conference, dip technology was invited to attend the conference and was selected as the outstanding solution of light industry digitization in the report on the integration and development of light industry in China issued by China Light Industry Federation. Zhao jiehui, chairman and CEO of dip technology, delivered a keynote speech to share the insight and judgment of data intelligence in reconstructing the digital future of light industry.
From data application to data intelligence, enterprise digital transformation has entered a new stage
According to Zhao jiehui, the development process of digitalization has experienced three stages: the first stage is to realize the automation of the process, which is called the information stage; The second stage is the data application stage. Cloud native architecture and big data technology make it possible to process offline structured business data, and promote business data and data business; With the mature application of multi-mode real-time data technology, 5g, IOT, AI and other technologies, the digital process has developed to the stage of data intelligence. Full scene intelligence and cross domain collaboration have become the development goals of the new stage, promoting the continuous expansion of digital application scenarios.
Zhao jiehui, chairman and CEO of dip technology, delivered a keynote speech
Under the background of deep integration of light industry and industrialization, the new generation of information technology accelerates the transformation of enabling production mode, and the pace of digital transformation of light industry accelerates. According to the development report on the integration of light industry and industrialization in China issued by China Light Industry Federation, e-commerce and personalized customization of light industry are at the leading level in China, and the integration level of light industry and industrialization is directly proportional to the competitiveness of enterprises. Zhao jiehui believes that in the wave of industry 4.0, if the manufacturing industry wants to realize the integration of industrialization and informatization, it should take "agile innovation" and "business intelligence" as the core principles in the process of transformation, so as to make the digital upgrading of data-driven business.
Build an assembled intelligent platform to realize the digital transformation of industrial scene
As a full scene data intelligence service provider, Dipu technology has an insight into the digital needs of enterprises. Based on the cloud native Internet architecture, it integrates data intelligence technology, builds 2048 technology base with first-class technology R & D team, and constructs China's leading "assembled intelligence" platform.
The core products include the data intelligent service product system with datafacts as the core, the cloud native multi-mode real-time data warehouse with Fastdata as the core, the cloud native technology product system with openkube as the core, and the deepexi DXP data intelligent experience platform product system. Relying on its outstanding digital ability, the core products are business intelligence, space intelligence, industrial intelligence, and service platform At present, it has served 80 + well-known large and medium-sized enterprises.
Focusing on the industrial intelligent scene, by building the Internet of things + intelligent data platform, dip technology is applied to intelligent marketing, Omni channel trading, data operation analysis and other scenes, effectively docking with the existing production system, forming a digital scheme of cloud side collaboration, enabling the enterprise's digital overall construction, business scene innovation, data intelligent management and other aspects, Build digital transformation intelligent closed loop.
According to Wang Bing, vice president of sales and service system & general manager of North District of dip technology, dip technology has three leading capabilities in the field of industrial interconnection
(left) Wang Bing, vice president of Dipu technology sales service system & general manager of North District
1. Digital infrastructure based on cloud neutral architecture
Dip technology provides digital infrastructure system with cloud neutral architecture. Based on openkube Enterprise Cloud native architecture, it quickly builds industrial base for manufacturing enterprises to support their needs of gradual digital transformation.
For example, for a certain equipment manufacturing enterprise in Sichuan, five theme data centers and 11 main business scenarios are implemented to solve the application problems at the data level.
2. Storage and real time analysis of multimodal data
With Fastdata cloud native database service, focusing on the unique data needs of manufacturing industry, relying on Pb level time-series spatiotemporal database, stream batch integrated real-time data warehouse engine and other capabilities, Dipu technology solves the real-time processing and analysis problems of massive data in the industrial scene, and then forms a set of data migration, data standards, data integration and data integration Lean management as one of the "smart brain" level data application and operation ecology.
For example, build a comprehensive digital intelligent pharmaceutical platform for Kelun pharmaceutical industry, use Kelun's "intelligent brain" analysis to find the golden curve of pharmaceutical manufacturing, distinguish abnormal batches, and predict equipment performance, so as to provide new momentum for the development and innovation of the pharmaceutical industry.
3. Data AI service based on cloud edge collaboration
Based on the overall architecture of edge cloud collaboration, Dipu technology provides data intelligence services of datafacts. It provides multiple business flexible support capabilities such as AI analysis, data integration, development, management and visualization in the cloud. It distributes data to edge computing devices through secure data channels to realize zero delay detection and real-time data analysis of products.
For example, the digital production line upgrade based on AI + big data is provided for oppo's assembly line, and the accuracy is increased by 29%; For a well-known flooring and other manufacturing enterprises, provide image and data AI intelligent detection production line based on integrated equipment, greatly improve enterprise efficiency and reduce labor costs.
Light industry is an important industry related to thousands of households, people's daily life and improving people's quality of life, and plays an important role in the national economy. In the first year of the "14th five year plan" and a new starting point for a modern and beautiful life, dip technology will continue to focus on data intelligent services, help the digital transformation and upgrading of light industry in an all-round way, and jointly meet the intelligent future of light industry development.
More reading: onavo: the most popular apps used by IOS users recently are: vine chrome and Yahoo hot cloud data: special report on advertising behavior insight of double 11 e-commerce app in 2018 canalys: Q2 "Chinese team" accounted for 20% of the global smartphone market in 2013 New York Times: Apple spent $3 billion on R & D in 2012, exceeding technology R & D expenditure new Mac OS X Mavericks release version 10.9: with three features A comparison of the revenue of apple, Microsoft and Google in Q2 of 2013? App store vs. Google play: 75% of Americans prefer paper books. Google official: 1.5 million Android devices are activated every day. Women's reversing time is 20 seconds longer than men's because of big breasts. Nikon: nikal lens production exceeds 80 million. Big data: the first part of the industry trend The sexiest career in the 21st century
If you want to get the full report, you can contact us by leaving us the comment. If you think the information here might be helpful to others, please actively share it. If you want others to see your attitude towards this report, please actively comment and discuss it. Please stay tuned to us, we will keep updating as much as possible to record future development trends.
RecordTrend.com is a website that focuses on future technologies, markets and user trends. We are responsible for collecting the latest research data, authority data, industry research and analysis reports. We are committed to becoming a data and report sharing platform for professionals and decision makers. We look forward to working with you to record the development trends of today's economy, technology, industrial chain and business model.Welcome to follow, comment and bookmark us, and hope to share the future with you, and look forward to your success with our help.