Industry information
Forecast of enterprise services in Asia Pacific region from 2020 to 2025 From Omdia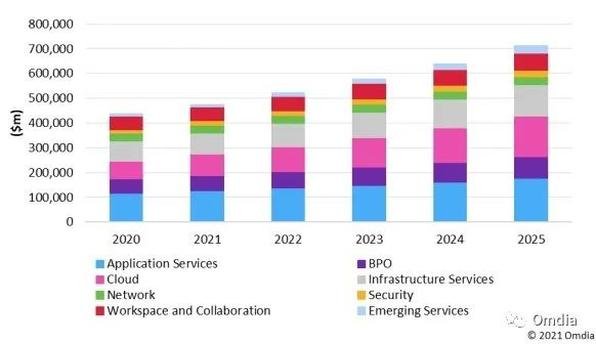 The following is the Forecast of enterprise services in Asia Pacific region from 2020 to 2025 From Omdia recommended by recordtrend.com. And this article belongs to the classification: Industry information.
The blockade measures under the epidemic situation, especially the blockade from April to June, have had a serious impact on the economic growth of the Asia Pacific region. However, most countries in the region have successfully controlled the spread of the epidemic and avoided a second blockade. China, South Korea, Thailand, Taiwan, New Zealand and Singapore have all lifted the blockade (though largely closed) and economic activity has accelerated significantly. China's GDP has returned to its pre epidemic level. However, with most of Europe entering the second blockade period in November, the global economy is still facing difficulties and some enterprises are still facing uncertainty. Nevertheless, the impact of COVID-19 and the relatively strong recovery in the Asia Pacific region will have far-reaching implications for the service needs of enterprises.
Omdia expects cloud migration to accelerate, especially as uncertainty further eases. Cloud services are expected to become one of the fastest growing services in the Asia Pacific region.
Security is still the top concern of enterprises, especially considering the increasing number of digital initiatives and the continued use of home office mode.
AI / ml, blockchain and other emerging technologies will be concerned; As companies seek to make better use of these technologies, this will promote professional services related to these technologies.
Overall, omdia expects the scale of infrastructure services to reach US $474 billion in 2021, with a growth rate of 8.9%, higher than the growth rate of 6.4% in 2020.
2021 is the year of digital acceleration and recovery
Omdia believes that the Asia Pacific region will take the lead in getting out of the shadow of COVID-19. People are likely to be widely vaccinated by the end of the first half of 2021, ensuring that 2021 will be the year of digital acceleration and recovery. It service providers should focus on the following areas in 2021:
In 2021, manufacturing will become a key vertical sector. Demand for 5g phones, electric cars and vaccines will pick up strongly, all of which will drive production across the ecology. The Asia Pacific region will become one of the manufacturing centers for these products. Manufacturers are expected to continue to increase it spending, focusing on streamlining production, improving supply chains and building smart factories. With the increase of overseas investment in China and South Korea, the supply chain will continue to diversify, and Vietnam will become the primary target of manufacturing investment.
Digital entities will become the fastest growing vertical areas, including peace, Alipay, Grab, SEA, Gojek, and other emerging entities in the region. Most of them are cloud native, using a lot of AI / ml and advanced data analysis. As these entities expand their digital services in the Asia Pacific region, they will also invest in security.
The performance of cloud services is better than the market average. After the epidemic is alleviated, public cloud and private cloud migration activities will continue, and enterprises will focus on building agile IT infrastructure to prevent future economic crisis. Omdia predicts that for new production applications, more and more enterprises will adopt cloud priority strategy.
Customer interaction is also concerned and regarded as a differentiation factor to highlight competitiveness. Omdia expects the call center to be the center of transformation. Companies will invest heavily in mobile applications, virtual assistants, chat robots and other AI / ml driven technologies, and need professional services around these technologies. Due to the impact of digital natives, B2C industry (such as retailers, insurance companies, retail banks, public utility companies and telecom companies) will lead the transformation in this area.
Figure 1: Asia Pacific Enterprise Services Forecast, 2020–25
Source: Omdia
Asia Pacific enterprises driven by intelligence
In 2021, data analysis and AI / ml are the most relevant technologies for enterprises (see Figure 2). Omdia expects enterprises to further utilize these technologies, integrate them into business processes, and use analysis to gain better insight. Service opportunities include:
In 2021, data modernization will become more prominent. Enterprises will modernize old databases on a large scale to ensure agility in a cloud centric world. This enables decision makers to execute business plans in real time. Isolated data will be integrated into a central information architecture, so that enterprises can be ready for business and maintain agility.
Use data to achieve company goals. This means better customer service and better production results for manufacturers. Companies will work with external service providers to take a prescriptive approach to collecting, organizing and analyzing data. Around data analysis and AI / ml, the demand of enterprises for related consulting services will grow strongly.
AI / ml will be integrated into various business processes. This includes areas such as human resources, plant operations, and healthcare. More and more enterprises realize that AI / ml can improve the work efficiency of employees. Service providers need to have a good understanding of various employee roles (including their respective job functions and workflow) and how integrating AI / ml can improve productivity.
Figure 2: Top six most relevant digital technologies
Advice to it service providers
With the economic recovery in the Asia Pacific region, the pace of digitization will accelerate. The IT budget of enterprises will flow from supporting business continuity and telecommuting to the core digital agenda that may be shelved. In 2021, the growth rate of enterprise services is expected to be close to 9%. However, not all areas will grow. It service providers need to master new skills and invest resources in high growth areas, so as to seize the opportunity of accelerating digital activities.
Professional services and managed cloud services are high growth areas. Cloud migration is usually dominated by consulting services, which include identifying the workload and applications to be clouded, building the appropriate cloud framework, and governance to achieve better cost return and faster innovation. Security is also a key element. This is an area where it service providers should invest more consulting resources, as it usually brings management services business. Omdia expects the growth rate of cloud professional services and management services to be close to 15%.
Differentiated customer online experience will promote various needs. Omdia predicts that as enterprises focus on highlighting their differentiation advantages through mobile applications, mobile application development will become a key growth area. The developer community should also be a key investment area for it service providers. In addition, we need to focus on creating a real Omni channel system by modernizing the call center and intelligentizing all the contact points. In addition, we need to further integrate all touchpoints to present a 360 degree customer view.
Manufacturers in the Asia Pacific region will become early adopters of 5g IOT enterprise services. Early adopters of 5g enterprise services show very high satisfaction and indicate that they will reserve a large and increasing budget for 5g enterprise solutions and services. Under the guidance of the smart factory plan, manufacturers will become the core force to adopt 5g enterprise services. Enterprises are expected to use more edge services, UAVs and autopilot cars, augmented reality, AL/ML and data analysis services. As manufacturers want to understand how best to use 5g, there will be plenty of opportunities in areas such as integration, implementation and consulting services.
Read more: omdia: AMOLED accounts for 29% of the total smartphone display shipment in 2020 omdia: Apple's iPhone panel shipment is expected to reach 207 million pieces in 2020, up 11% year on year omdia: Apple's iPhone panel shipment is expected to reach 207 million pieces in 2020, up 11% year on year omdia: the impact of device level virtual assistant and voice artificial intelligence on silicon omdia: CPI and UTG as foldable devices Comparison of cover plate materials omdia: network traffic forecast from 2019 to 2024 omdia: 28nm will become a long node process for semiconductor applications in the next five years Reduce 2% omdia: OLED capacity will lead new investment in flat panel display field omdia: smartphone display shipment will reach 422 million in the third quarter of 2020 omdia: Global iPhone 11 shipment will reach 64.8 million in 2020 omdia: iPhone 11 shipment will reach 64.8 million in 2020
If you want to get the full report, you can contact us by leaving us the comment. If you think the information here might be helpful to others, please actively share it. If you want others to see your attitude towards this report, please actively comment and discuss it. Please stay tuned to us, we will keep updating as much as possible to record future development trends.
RecordTrend.com is a website that focuses on future technologies, markets and user trends. We are responsible for collecting the latest research data, authority data, industry research and analysis reports. We are committed to becoming a data and report sharing platform for professionals and decision makers. We look forward to working with you to record the development trends of today's economy, technology, industrial chain and business model.Welcome to follow, comment and bookmark us, and hope to share the future with you, and look forward to your success with our help.