Industry information
How to reconstruct the growth pattern of catering industry in private sector? From Tencent smart retail Hedi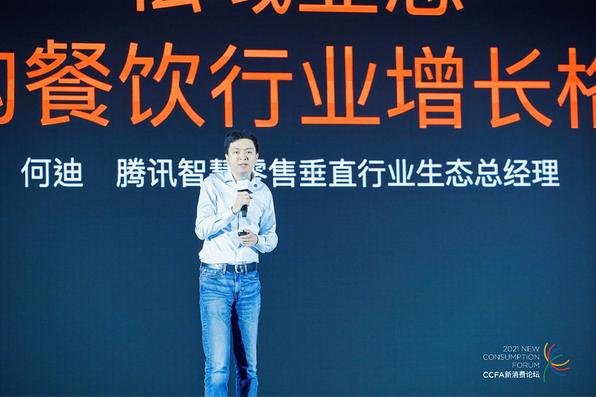 The following is the How to reconstruct the growth pattern of catering industry in private sector? From Tencent smart retail Hedi recommended by recordtrend.com. And this article belongs to the classification: Industry information.
With the popularity of digital membership construction in China's catering industry, the construction of "effective private domain" has become a key factor in the future pattern change of catering industry.
On May 12, he di, general manager of Tencent smart retail vertical industry ecology, shared the topic of how to reconstruct the growth pattern of the catering industry in the construction of private sector formats at the 2021 China chain catering summit held by China Chain Management Association in Changsha.
The following is a transcript of his speech:
Hello, everyone. I'm very glad to see so many colleagues in the catering industry here. Today I'm sharing a topic that everyone is familiar with – private domain.
Some time ago, I went to Sanya to attend a meeting and eat in a local restaurant. Scan the code to order. During the waiting period, I studied the wechat app of this store and found several interesting points. The style of this little app is very retro, which makes me feel the feeling of e-commerce official website ten years ago. And the small program is completely self-developed, did not join any third-party services.
Such an observation shows me a great opportunity for the catering industry. Even if it is such a small restaurant, its self research power is not very strong, and its "decoration" concept of online shopping mall still stays ten years ago, but it also realizes that it needs to use wechat apps to do private domain.
At present, it seems that the whole catering industry is embracing the private domain. Why do you want to do it in wechat apps? We can see that the number of wechat apps is growing every year. Now the daily life of wechat apps exceeds 400 million, which is a very large volume.
This is why the concept of private domain should be put forward at this time. We believe that the biggest difference between private domain and public domain is that businesses should have their own user assets, which are reusable and accessible for free under certain circumstances. Therefore, Tencent smart retail's definition of private domain is to let brands have repeatable, low-cost and even free access to users, which is an effective private domain.
In addition to the Hainan restaurant I mentioned just now, many restaurants have developed along this road for a long time. McDonald's, KFC, Xicha and Starbucks all added wechat apps last year, and there have been many good cases in the market.
In this trend, review the development of the catering industry. Around 2010, catering began to do online business on the platform, expanding the scope of transactions and serving consumers. However, there is a problem. Offline business and online business are often separated. The brand effect may have some Omni channel spillover. At the same time, it is unable to own its own digital assets of members and consumers.
So what do we think of the next private domain model? First, offline ordering is the same as the original business. Second, based on the offline ordering scene, the wechat app is used to establish a membership system to attract consumers to consume online through the takeout app. This part of the crowd will interact with offline ordering and entering the store with integration and brand potential. Third, the original local living platform can be a supplement to expand the catering brand potential and the crowd. In this way, the online and offline Omni channel business model will become more integrated.
Based on this concept, we started to explore how to do this with some catering enterprises in the second half of last year. Changsha is the first step for us to start this business, and our first partner in-depth cooperation is here.
We think that in the growth of the whole catering private sector, there are several things that may be done in the future: the source of new customers; Continuous operation and access of private domain; Build private re purchase scenarios; Based on the user digital assets generated by the private domain operation scenario, the user is operated delicately. Every step is to explore an effective way by combining the experience of Tencent smart retail.
For example, by scanning the code and ordering meals, or paying as a member, customers who consume in the store can be transferred to the private domain. We have partners to digitize offline passenger flow from 0% to 70% in about one month. On this basis, there will be Tencent's traffic support, including our various free professional traffic and Tencent's commercial advertising traffic. At the same time, we can also use the third-party take out platform to drain the private domain.
After introducing consumers to the private domain, operation is very important. The private contacts in Tencent ecosystem are very diverse, including enterprise wechat community, video number and so on. They do life cycle maintenance, access and service through member operation. Part of the consumption of these consumers will be completed in the brand app, or through the online reminder of offline activities, let them go to the store for consumption. The whole system takes place in the private domain, so our ultimate goal is to help the catering industry drive the growth of overall performance. I hope to create a private domain blueprint with the majority of catering enterprises and partners in the future. With wechat app as the core, I can help you establish a private domain flow pool and do a good job in Omni channel business.
During this period, what capabilities will Tencent smart retail provide to you and how will it do this with you? Specifically, we will strengthen our ability and support in the following aspects.
First, more efficient methodology model "four forces", including product force, commodity force, operation force and organization force. Product power is to make small programs have a better experience, commodity power depends on food and dishes to attract your users, and operation power is to make users have continuous good operation after entering the private domain. Organization is also very important. Private domain construction requires a lot of investment. To do this, almost all need an independent team. We have observed that in many industries, the partners who invested in this business two years ago had very big returns during the epidemic last year. When offline retail encountered bottlenecks, the private sector could make up for some of them.
Second, gradually build a centralized flow. For example, wechat search and Tencent smart retail provide centralized traffic and IP. Although it is a private domain, it still has centralized traffic feedback and related product capabilities as far as possible. Third, we will invite more service providers to build a private domain for the catering industry. Fourth, we will provide online and offline courses.
Finally, we believe that 2021 is a critical year for private infrastructure, and we hope to see an explosion of growth in 2022. In March of this year, Chen Fei, vice president of Tencent smart retail, also mentioned our goal. We are confident that we will work together with brands and service providers to build a 100 million level club in the private domain in the next few years, realizing 10 10 billion level, 50 billion level and 20 100 million level brands.
We invite you to join us in the construction of private domain. We believe that more sparks will be generated in the future, and the private domain format will be better built in the catering industry. Read more: Tencent smart retail appears in 2020 China International Retail Innovation Conference. Tencent smart retail and Bain jointly released the "white paper 2021 on smart retail private domain", creating a "private domain growth" fashion e-commerce platform. Fafaqi flash exhibition was held in Chengdu. Tencent smart retail helped tide people break through the circle. Tencent smart retail "Penguin box" came again, "Combination of public domain and private domain" helps new Tencent smart retail to launch jingtengyuncang with Jingdong Logistics in spring and summer, Build a new platform for retail ecological upgrading Tencent smart retail & CDC: 2019 white paper on high-end beauty consumption (with download) Win Mobile Social Networking: interactive mode of Chinese consumers in a new era (with download) CCFA: Top 100 supermarkets in China in 2019 demand Gen: manufacturers expand digital conversion to sales and marketing reports Lepu medical new coronavirus antibody colloidal gold test kit Infrared thermometer and other products have been supplied to dozens of countries, this Friday in Shanghai is very hot! It turns out that more than 30000 viewers will gather at the AI visual feast "waie 2019" for three days. Wechat security center reminds us that there is a risk in swiping orders and online earning needs to be cautious. 2020 international science and Technology Innovation Festival and global digital conference closes. Looking forward to the future of digital intelligence, brilliant city releases digital twin new products, enabling the industry to build a smart city. Multinational companies in the Chinese market should pay attention to these six taboos
If you want to get the full report, you can contact us by leaving us the comment. If you think the information here might be helpful to others, please actively share it. If you want others to see your attitude towards this report, please actively comment and discuss it. Please stay tuned to us, we will keep updating as much as possible to record future development trends.
RecordTrend.com is a website that focuses on future technologies, markets and user trends. We are responsible for collecting the latest research data, authority data, industry research and analysis reports. We are committed to becoming a data and report sharing platform for professionals and decision makers. We look forward to working with you to record the development trends of today's economy, technology, industrial chain and business model.Welcome to follow, comment and bookmark us, and hope to share the future with you, and look forward to your success with our help.