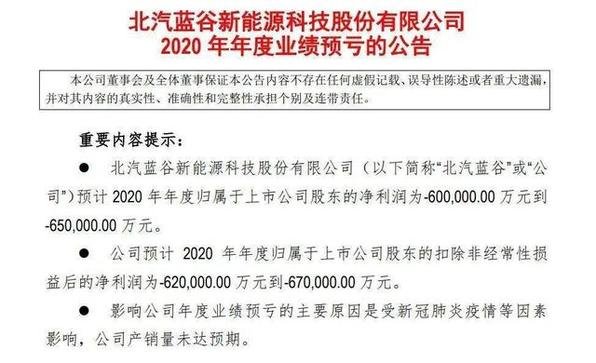 RecordTrend.com is a website that focuses on future technologies, markets and user trends. We are responsible for collecting the latest research data, authority data, industry research and analysis reports. We are committed to becoming a data and report sharing platform for professionals and decision makers. We look forward to working with you to record the development trends of today's economy, technology, industrial chain and business model.Welcome to follow, comment and bookmark us, and hope to share the future with you, and look forward to your success with our help.
The following is the How to work after the transformation of BAIC new energy recommended by recordtrend.com. And this article belongs to the classification: Industry information.
Source: e chehui
BAIC new energy, which has won the champion of pure electric vehicle sales for seven consecutive years, is experiencing the most intense pain in history.
At the same time, BAIC new energy also began the "pay reduction" and "layoff" plan. Although BAIC new energy said: the company has no plan or plan for layoffs. However, according to the information "e-chehui" learned from the insiders of BAIC new energy, the layoff plan is not 20% of the widely spread, but 30% – 35%.
And the "downsizing" of BAIC group is also in progress. "In addition to Beixian beiben, only 12000 people are left in the independent sector, including production and sales," the person said.
Intense transformation pains
According to novel coronavirus pneumonia, the company's sales volume is not up to expectations, especially for the public sales, which is seriously affected by the epidemic.
By novel coronavirus pneumonia in 2020 and increasing competition in the whole industry, production and sales in the first half of the year were almost stranded, which also led to the failure to achieve the overall sales volume and the gross revenue and gross profit of Beiqi new energy company. The impact on the company's performance was about 3 billion yuan.
In addition, with the new energy subsidies beginning to decline substantially in July 2019, the sales volume of BAIC new energy has reached an inflection point. Official data show that in the first six months of 2019, the sales volume of BAIC new energy once increased as high as 21%, but the annual sales volume in 2019 decreased by 4% year on year. The negative impact of new energy subsidies is obvious.
According to statistics, the government subsidy received by BAIC new energy in 2020 is about 900 million yuan lower than that in 2019, which also aggravates the loss of BAIC new energy.
In addition, it can be said that the failure of BAIC new energy has an inevitable relationship with its own positioning. BAIC new energy has been betting on the b-end market. Due to the epidemic situation, the travel market has been affected to a certain extent, resulting in a sharp decline in its demand at the b-end, resulting in a sharp drop in its sales. In 2020, the total sales volume of BAIC new energy will be 25000 units, a year-on-year decrease of 82.79%,
For many years, BAIC new energy has been relying on the rapid expansion of low-end models to seize the market. At present, BAIC new energy mainly has EC, EU, ES, EV, ex, eh and other product series. Among them, low-end products still have high sales volume, and ignoring the development of medium and high-end models has become a "short board" restricting BAIC new energy to shape its brand image.
However, BAIC new energy has tried to change after finding relevant problems. At a time of crisis, BAIC new energy has put arcfox brand, which has been dormant for four years, on the stage.
All round bet on polar fox and power exchange
Xu Heyi, a former BAIC helmsman, said on many occasions: "BAIC has been established for more than 60 years. We hope to activate our organization through the establishment of arcfox business unit, carry forward this business unit and become a milestone of reform on the development road of BAIC."
Obviously, BAIC new energy and even the whole BAIC group have high hopes for arcfox brand.
For Jihu brand, BAIC new energy has deeply bound magna, SK, Huawei, Haman, Ningde times and other top suppliers with it. Together with Magna to build a smart factory, the first commercial platform with 5g technology, IMC intelligent module standard architecture, etc., will become its hard core strength. Arcfox α s, which appeared at this year's 100 people's meeting of electric vehicles, is also equipped with the industry's first HBT equipped with lidar jointly built by Huawei.
And in terms of channels, this year, Jihu brand will build a sales network of 1 (space store) + 1 (Center store) in 18 cities across the country, striving to cover more than 70% of the target market. It is understood that arcfox has set up 60 stores nationwide in 2021 and will reach the target level of 150 stores in 2022.
In addition, the CSRC has approved the 5.5 billion yuan private placement plan of BAIC new energy, and the financing of the plan will also be fully invested in the brand construction of arcfox.
On the other hand, blue valley smart energy, a subsidiary of BAIC Blue Valley, announced the completion of round a + financing, with a total financing amount of more than 300 million yuan, which was jointly invested by four enterprises: BAIC new energy, SK new energy (skfs), Ningde times and Langfang Anpeng fund.
Sifang will help bluevalley smart energy continue to develop power exchange, R & D and innovation, and build an energy service circle from the aspects of technology, supply chain and capital.
In other words, the bet for power mode is another direction of BAIC new energy.
After Jiang Deyi resigned as chairman and director of the board of directors of BAIC Blue Valley and chairman and member of the strategy committee of the board of directors, Liu Yu, who has just been in office for more than half a year, is on the verge of reviving BAIC new energy.
According to the information learned by "e-chehui", Liu Yu will not only take over the new chairman of BAIC Blue Valley, but also lead the whole independent board of BAIC. The overall effect of BAIC group will soon appear.
What determines the future of an enterprise is not how high the sales volume in the past, but whether there is stronger resilience when it falls into a trough. BAIC new energy is experiencing the most intense pain in history. At the time of the alternation of new and old leaders of BAIC group, how to win the hard battle of turning loss into profit and complete the breakthrough? Liu Yu, the new "top leader", still has a lot to do. Read more: demand Gen Manufacturers expand digital conversion to sales and marketing report CCFA: Top 100 Lepu medical new coronavirus antibody colloidal gold detection kit, infrared thermometer and other products have been supplied to dozens of countries in 2019? Guangdong Provincial Consumer Council: the survey shows that the market scale of mobile phone pre installed software exceeds 3 billion yuan. Zhuhai Baijiao sea bass has become an online blockbuster, with daily sales of 300000 pieces. Guangdong Trade Union unites wechat payment to create a new online mode of "sending cool" 30 jokes about data. LETV announces that it has entered the era of cp2c 3.0. Traditional mobile phone manufacturers enter the cold winter ahead of time. Shence data announces US $44 million round C financing Huaping investment leads the AB round of investment, and all investors follow Interbrand: Tencent ranks first in China's brand value ranking in 2014, and China Mobile ranks first. Will traditional radio and television disappear? Data interpretation: Secrets of Disney and Pixar
If you want to get the full report, you can contact us by leaving us the comment. If you think the information here might be helpful to others, please actively share it. If you want others to see your attitude towards this report, please actively comment and discuss it. Please stay tuned to us, we will keep updating as much as possible to record future development trends.