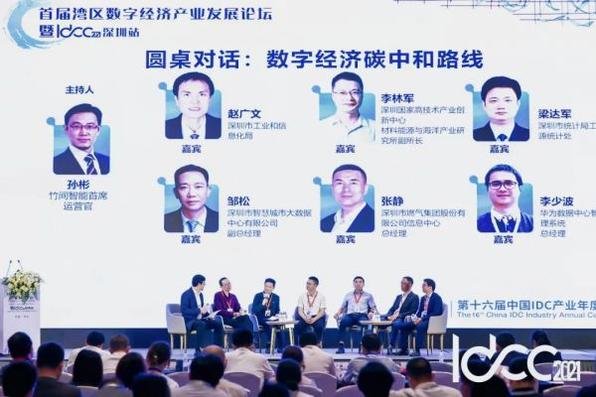 The following is the IDC 2021 Shenzhen station opens ceremoniously recommended by recordtrend.com. And this article belongs to the classification: Industry information.
On April 29, the first bay area digital economy industry development forum and the 16th China IDC industry annual ceremony (Shenzhen station) of "technology defined digital infrastructure" was solemnly held in Shenzhen. Under the guidance of Shenzhen Bureau of industry and information technology, the conference was co sponsored by data center committee of China Communications Industry Association, Guangdong data center industry alliance and Shenzhen Digital Economy Industry Promotion Association, and organized by China IDC industry annual ceremony organizing committee and China IDC circle. People from all walks of life from the government, industry, University and Research Institute gathered together to discuss how to make the best use of the situation, innovate and develop, and realize the rapid development of digital economy in the Bay Area in the first year of the fourteenth five year plan.
Government: unlimited opportunities for digital industrialization
Green energy saving is a major trend of developing low-carbon economy and integrating economic and social development. At the conference, representatives from Shenzhen government departments, combined with the topic of "digital economy carbon neutral route", gave expectations and suggestions on the development of green energy, artificial intelligence, data center, smart city and other industries.
Li Linjun, deputy director of the Institute of materials, energy and marine industry of Shenzhen national high tech industry innovation center, said: Shenzhen recently proposed to vigorously promote digital industrialization, through the industrial Internet strategy, and further promote the in-depth application of 5g + thousand lines and hundred industries, so as to promote the development of digital economy. Shenzhen's goal is to have a digital economy accounting for more than 30% of GDP by 2025. In 2021, Shenzhen's planned GDP target is to reach 4 trillion, which means that the added value of the core industries of the digital economy will reach 1.2 trillion. Such a huge scale breeds huge development opportunities.
Zhao Guangwen of Shenzhen Municipal Bureau of industry and information technology disclosed: Shenzhen will build a comprehensive monitoring platform for carbon emissions in the next step, including data of construction, transportation, residents' life, industrial enterprises, etc., so as to achieve real-time data upload and dynamic monitoring. For the data center industry, Shenzhen has formulated a special plan, focusing on the inventory assets of the existing data center, increasing the land supply of the data center, and relying on the communication room system to build the data room.
Li Linjun proposed: to achieve the goal of carbon peak and carbon neutral, we should make efforts from both sides of energy supply side and energy consumption side to seek the transformation and upgrading of energy structure. There will be four changes in the future: first, AI technology and 5g technology will promote the transformation from technical energy saving to management energy saving; Second, the new generation of information technology will promote the transformation from extensive management to refined management; Third, the optimization of single link should be changed to the optimization of system integration; The fourth is the transformation from focusing on construction and neglecting operation to the mode of integrated energy provider.
Industry: industry digitization and digital industrialization drive the digital transformation of traditional industries
As the world's largest hydropower development and operation enterprise and China's largest clean energy group, the Three Gorges group has made a lot of achievements in the exploration of digital transformation in recent years. At the conference, Jin Heping, chief information Engineer of China Three Gorges group, shared the Three Gorges group's ideas on digital transformation.
Jin Heping pointed out: the digital transformation of the Three Gorges group is mainly driven by two aspects: one is industrial digitization. The digitization of traditional industries is not only a simple empowerment, but also to build a new ecology for the development of its main energy industry. Industry digitization is "supporting watt with bit". Massive data will be generated in the process of digital construction and intelligent operation and maintenance. The processing, calculation and processing of these data put forward higher requirements for digital infrastructure.
On the other hand, digital industrialization is "using watts to support bits", which is a transformation from providing powerful clean energy to providing digital services. At present, the Three Gorges group has planned 26 major digital projects, mainly including the use of its own energy and resource advantages, providing IDC services to the community, providing both big data resource services and digital solution output.
At the meeting, Wang Qi, senior vice president of Wanguo data, brought the sharing of "data center helps the bay area build a global digital economic development highland". He pointed out: data center is the support carrier of digital industrial economy. It combines data, computing power, network and various application scenarios. It is a very important link in the new infrastructure. Wang Qi thinks: the data center ecology of Dawan district should not only provide data center, but also pay attention to the whole network of Dawan district. In the evolution of digital economy, data are concentrated from scattered office buildings to commercial data centers. Cloud data center puts forward the demand for Internet access capability. Wanguo data has the resources of three major operators, which can provide various BGP services and third-line anti supply services. Although the throughput level of the data center is calculated by T, the data center of Wanguo data has the ability of cloud network ecology, which can connect quickly and interact with a large amount of data.
Wang Qi revealed: Wanguo data wants to build a strong ecosystem of IT infrastructure in Dawan District, which integrates key customers of various industries, top service providers of IT industry and five operators. Wanguo data financial data center, including high-performance, high-density data center, online hosting data center into the cloud, and large customized data center, will gather to provide customers with one-stop delivery.
In addition, you Shixue, chairman of Beijing Zhongke Huilian Co., Ltd., Liao Bo, deputy general manager of Hengyang Ruida power supply Co., Ltd., Zhou Ligong, technical director of business format of Legrand data center, and other representatives of the upstream and downstream enterprises in the digital industry, combined with their own specific business, discussed AI enabled digital government, the application of high-power battery in data center under the "carbon neutral" environment, and the application of high-power battery in data center "New infrastructure", "carbon neutral" promoting the evolution of smart distribution in data center "and other topics were shared.
S: digital technology should serve traditional industries with more timely help and less icing on the cake
Digital economy should develop rapidly, but also seek green development. At the meeting, Liu Ke, a foreign academician of Australian National Academy of engineering and Dean of Clean Energy Research Institute of Southern University of science and technology, delivered a keynote speech on "exploring the road of green development of digital economy".
Liu Ke pointed out: digitization will transform all industries, but now when people talk about digital economy, they will only think of 5g, big data, artificial intelligence, cloud computing and other directions, but ignore that these technologies will eventually be applied to various traditional industries. In the future, digital technology will redefine manufacturing, retail, technology and means of production. It will even change all production relations in the whole society and give birth to a new business form.
Liu Ke believes that there are many opportunities in the process of digital transformation of traditional industries. The future globalization is the globalization driven by digitalization. The competitiveness of enterprises mainly comes from cost performance and innovation, and the first importance of innovation is to cultivate scientists with entrepreneurial spirit and entrepreneurs with scientific literacy. The upstream and downstream enterprises in the digital industry should not blindly pursue the trend in innovation, but provide more timely help and less icing on the cake.
Research: cloud computing will become the main driving force to promote the development of data center industry in Guangdong, Hong Kong and Macao
At the meeting, Kezhi consulting, an authoritative data center research institution, officially released the white paper on new infrastructure development of Guangdong, Hong Kong and Macao data centers. The white paper is completed by Guangdong data center industry alliance, Guangdong Software Industry Association and data center committee of China Communications Industry Association in cooperation with China IDC circle, and with the assistance of many participating units. It comprehensively shows the research results of the new infrastructure development status and development trend of Guangdong, Hong Kong and Macao Dawan District data center. Zhang Fulin, director of Kezhi consulting and research, interpreted the white paper on the spot.
Zhang Fulin pointed out: the integration of Guangdong, Hong Kong and Macao provides a good development background for the development of regional data center industry. In 2016, Guangdong, Hong Kong and Macao Dawan district was written into the 13th five year development plan for the first time, and officially became a national strategy. The integrated development of Guangdong, Hong Kong and Macao provides a good opportunity for the collaborative development of Guangdong, Hong Kong and Macao data center industry.
In 2020, driven by the new infrastructure policy, the supply of data center will increase rapidly, and the data center will need a certain digestion cycle in the future. From the perspective of the development process of data center, it can be divided into three stages, namely the past, the present and the future. In the past, the consumer Internet generated a large number of data processing needs, which led to the development of data center industry in the past few years. In the past, supply and demand were basically in a balanced state. Now, driven by innovative Internet applications such as cloud computing and video, demand continues to rise, but its rising speed is still a little behind supply. In the future, with the development of industrial Internet and the drive of digital economy, the demand for data will increase significantly.
The data center industry in Guangdong, Hong Kong and Macao has a broad development prospect, which is mainly reflected in the following aspects. The first is the strong driving force of cloud computing. Cloud computing is an important driving force to promote the development of data center industry, and it will become the most important driving force to promote the development of data center industry in the next three to five years. The data shows that the development speed of China's public cloud will reach about 70% in 2020, and the growth rate will be relatively fast in the future. The second is that digitization leads the demand. Digital transformation brings new demand for data center, which puts forward new requirements for data center form, construction mode, performance and other aspects. The third is the rapid increase of supply, and the new infrastructure policy stimulates the wave of data center construction. Fourth, the layout presents new features, and the industrial layout of data center is shifting from central city to non central city. Fifth, the development of technology provides new impetus for the development of data center, including some building technology and energy-saving technology, which inject new impetus into the healthy development of data center.
In addition to the wonderful discussions brought by people from all walks of life, the conference also held the unveiling ceremony of Shenzhen Digital Economy Industry Promotion Association and the awarding ceremony of strategic academic institutions of China new infrastructure REITs forum. Among them, China new infrastructure REITs forum is jointly initiated by data center committee of China Communications Industry Association, cloud computing and big data Research Institute of China Academy of information and communications, China IDC circle and e-fonda Asset Management Co., Ltd. the forum will uphold the purpose of exchange, consensus, cooperation, development, integration and education, and build a platform for exchange and cooperation involving all parties, Jointly promote the healthy development of China's REITs market.
At the same time, the global digital infrastructure buyer platform was also released. For the first time, the industry heavyweight awards were awarded, such as "leader award of digital infrastructure technology in the bay area", "leader award of data center construction in the bay area", "cornerstone award of digital transformation in the Bay area" and "excellent service provider award of data center in the bay area". Industry experts from China Unicom, Huawei, Wanguo data, Ping'an bank, Pacific Insurance, alicloud, dataport, Tencent, Youzu network, aofei international, youkede and other enterprises also organized several rounds of round table forums to discuss and share topics such as the present and future of low carbon data center, technology defined data center, global data center layout, etc. Read more: countdown to one day! Idcc2021 Shenzhen station Conference Guide release (with complete agenda) demand Gen: manufacturers expand digital conversion to sales and marketing report Infrared thermometers and other products have been introduced to dozens of countries | the agenda of China's IDC industry annual ceremony in 2020 is continuously updated | the experience of market stabilization in 2020 shopping center from preparation period to operation period – ppt version of white paper on new measurement of automobile digital marketing – finding certainty in marketing loss in the post data Era Midea Group… A large number of famous enterprises will gather at the 10th robot industry conference, from top-level planning to operation of smart city, Five new products of cloud expansion technology lead industry innovation questm obile:2020 The digital insight report on the rise of new domestic products boosts the rise of "new domestic products". How to play with the flow closed-loop micro signal and add friends who can't transfer money? The rumor is a bit off the mark
If you want to get the full report, you can contact us by leaving us the comment. If you think the information here might be helpful to others, please actively share it. If you want others to see your attitude towards this report, please actively comment and discuss it. Please stay tuned to us, we will keep updating as much as possible to record future development trends.
RecordTrend.com is a website that focuses on future technologies, markets and user trends. We are responsible for collecting the latest research data, authority data, industry research and analysis reports. We are committed to becoming a data and report sharing platform for professionals and decision makers. We look forward to working with you to record the development trends of today's economy, technology, industrial chain and business model.Welcome to follow, comment and bookmark us, and hope to share the future with you, and look forward to your success with our help.