Industry information
In 2021, Q1 revenue exceeded 13.5 billion US dollars, with a year-on-year growth of 32% From Amazon cloud technology financial report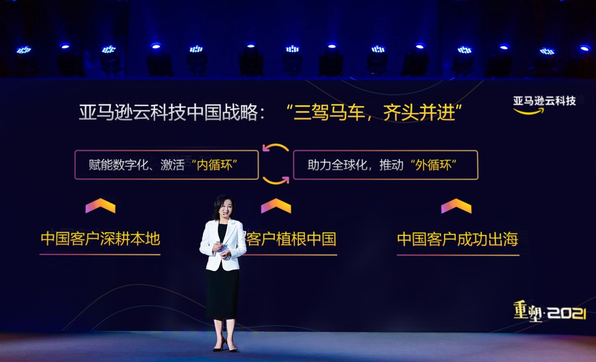 The following is the In 2021, Q1 revenue exceeded 13.5 billion US dollars, with a year-on-year growth of 32% From Amazon cloud technology financial report recommended by recordtrend.com. And this article belongs to the classification: Industry information.
On April 30, 2021, Amazon announced its financial results for the first quarter ending March 31, 2021. In the first quarter of 2021, Amazon's net sales reached $108.5 billion, up 44% from $75.5 billion in the same period last year. Among them, Amazon's net sales of cloud technology reached $13.503 billion, up 32% from $10.219 billion in the same period last year; In the first quarter of 2021, the operating revenue was US $4.163 billion, up 35% from US $3.075 billion in the same period last year.
"This year, one of our two children is 10 years old and the other is 15 years old," said Jeff Bezos, founder and CEO of Amazon. After years of cultivation, they have grown rapidly and become independent. Amazon Prime video has entered its tenth year. In the past year, more than 175 million prime members watched programs and movies online through prime video, and the streaming media playing time increased by more than 70% year on year. Amazon Studios has won unprecedented 12 Academy Awards nominations and two awards. There are more original dramas coming out, including Tom Clancy's without remorse, the Tomorrow War, the underground railway and so on. In just 15 years, Amazon cloud technology has grown into an annual sales volume of 54 billion US dollars, which can rank among the largest technology companies in the world. Amazon cloud technology's business growth is still accelerating year by year, with a year-on-year growth of 32%. From airbnb aibiying to McDonald's to Volkswagen, these companies choose Amazon cloud technology not only because we provide a wider range of tools and services, but also because we uphold the concept of customer first, and continue to innovate for them. We love prime video and Amazon cloud technology and are very proud to have them. "
In 2021, Amazon ranked first in the list of the best employers in the United States. The list selects the most popular employers according to the company's ability to attract and retain talents. The selection dimensions include promotion system, opportunities for employees to learn new skills, employment of employees with different backgrounds and education levels, and gender diversity. In addition, Amazon ranks second on fortune's list of the world's most respected companies and third on BCG's list of the most innovative companies.
Amazon is making steady progress on the road of sustainable development. Its goal is to achieve 100% use of renewable energy in global infrastructure by 2025, five years ahead of the original 2030 target. Amazon has 206 renewable energy projects around the world, including 71 utility scale wind and solar projects and 135 solar roofs for facilities and stores. Amazon is the largest buyer of renewable energy enterprises in the world and Europe. In Europe, we have invested more than 2.5 gigawatts of renewable energy capacity, enough to power more than 2 million European households every year.
In the first quarter of 2021, Amazon cloud technology announced that many customers from all walks of life moved to the cloud, including:
In the telecommunications industry, dish network company is building a 5g open wireless access network (o-ran) based on the advanced, reliable and secure infrastructure of Amazon cloud technology to provide consistent and cost-effective performance from the core to the edge.
The media and entertainment industry continues to move rapidly to Amazon cloud technology. Among them, Walt Disney company cooperated with Amazon cloud technology to expand Disney + to more than 100 million subscribers worldwide.
Some world-famous sports leagues also choose Amazon cloud technology as a technology provider to provide fans with a transformative experience. For example, the National Hockey League (NHL) uses artificial intelligence, machine learning and other Amazon cloud technologies to create a new viewing experience and conduct in-depth data statistics and analysis. PGA Tour uses Amazon cloud technology and machine learning technology to change the way of golf game content creation, dissemination and experience. German Football League A launched three new "Bundesliga game situation" analysis data supported by Amazon cloud technology to let fans have a deeper understanding of the game situation. Fi (Formula One racing) will launch six new F1 insights (statistical data analysis) supported by Amazon cloud technology in the 2021 season, which will use a series of Amazon cloud technology including machine learning to help racing fans better understand their favorite racing strategies.
Auto companies are also continuing to choose Amazon cloud technology to support the development of next generation vehicles. Continental, one of the world's largest auto parts manufacturers, announced that it will work with Amazon cloud technology to develop the CAEdge platform for automakers to develop, deploy and manage code to run networked cars and self driving cars. Amazon cloud technology and torc robotics of Daimler are cooperating to expand the development platform of self driving trucks in the cloud, helping torc robotics accelerate the test and commercial implementation of self driving technology. ABB group of Switzerland announced to cooperate with Amazon cloud technology to develop a cloud based electric vehicle fleet management system to help the company maintain business continuity and accelerate the electrification of the fleet.
Amazon cloud technology announced the official launch of the second zone in Osaka, Japan, which is composed of three zones. Previously, Amazon cloud technology had 25 zones in eight regions in the Asia Pacific region, including Beijing, Hong Kong, Mumbai, Ningxia, Seoul, Singapore, Sydney and Tokyo. Globally, Amazon cloud technology has 80 zones in 25 geographic regions, and plans to launch 5 zones and 15 zones in Australia, India, Indonesia, Spain and Switzerland.
Amazon cloud technology and red hat announced the full availability of red hat openshift service (Rosa) based on Amazon cloud technology. This is a new hosting service that makes it easier for red hat openshift customers to build, extend and manage containerized applications on Amazon cloud technology. With Rosa, customers can enjoy more simplified kubernetes cluster creation without manually expanding and managing the underlying infrastructure. Rosa simplifies the process of transferring local red hat openshift workload to Amazon cloud technology, and can integrate more closely with other Amazon cloud technology services.
Amazon cloud technology announced the full availability of aqua for Amazon redshift. As an innovative distributed hardware cache, aqua can make Amazon redshift query run up to 10 times faster than any other cloud data warehouse. Aqua introduces computing into the storage layer, eliminates unnecessary data movement between different storage locations and computing clusters, and helps customers avoid network bandwidth limitation. Aqua allows customers to have a more real-time display dashboard, saves development time, and makes the system easier to maintain.
Amazon cloud technology announced that the new generation of memory optimization instance Amazon Elastic Compute Cloud (Amazon EC2) x2gd has been fully available, which is supported by the graviton2 processor developed by Amazon cloud technology and based on ARM architecture. Compared with the current X1 instance based on X86, the new x2gd instance can improve the cost performance by up to 55%; Compared with other instances based on graviton2, the memory capacity of each vcpu is larger. X2gd instance has higher performance and larger memory, enabling customers to run memory intensive workload more efficiently, such as in memory database, relational database, EDA workload, real-time analysis and real-time cache server, etc.
Amazon cloud technology launched Amazon lookout for equipment, a new service that uses the machine learning model developed by Amazon cloud technology to help customers carry out predictive maintenance on the devices in their facilities. Amazon lookout for equipment obtains sensor data (such as pressure, flow, speed, temperature and power) from customers' industrial equipment, trains a proprietary machine learning model, and then accurately predicts early warning signals of machine failure or poor performance based on the real-time data flow of customers' equipment. With Amazon lookout for equipment, customers can quickly and accurately detect equipment abnormalities, quickly diagnose problems, reduce false alarms, and take action before machine failure to avoid expensive downtime losses.
Amazon cloud technology announced the official availability of Amazon lookout for vision, which uses computer vision and advanced machine learning capabilities to analyze images to find defects and anomalies in products or processes in the manufacturing process. By using advanced machine learning technology, Amazon lookout for vision can use as few as 30 benchmark images as customer training models. By using Amazon lookout for vision, customers can quickly start to detect manufacturing and production defects of products (such as cracks, dents, incorrect colors, irregular shapes, etc.), and prevent these costly defects from entering the operation or even reaching customers.
Amazon cloud technology announced the availability of Amazon lookout for metrics. This is a new fully hosted service that uses machine learning to detect anomalies in metrics to help businesses diagnose problems and determine root causes. Amazon lookout for metrics helps customers monitor important business indicators with faster speed and higher accuracy, such as revenue, page views, active users, transaction volume and mobile application installation. Without machine learning experience, customers can more easily diagnose the root causes of abnormal phenomena through the service, such as unexpected drop in revenue, high abandonment rate of shopping cart, peak of payment transaction failure, increase of new user registration, etc.
Amazon cloud technology announced the launch of Amazon elastic file system (Amazon EFS) single zone storage class. Compared with the existing Amazon EFS, the storage cost is reduced by 47% while providing the same features and advantages. Amazon EFS single zone storage class stores data redundantly in a single zone, especially for customers who want to choose cost optimized file storage for workload and application (such as content management, developer applications, etc.), they do not need the availability and persistence of multi zone level Amazon EFS, that is, they do not need to store data in multiple zones. Read more: Amazon and red hat announced the launch of red hat openshift container platform hosting service based on Amazon cloud technology. AWS released Apple MacOS instance for Amazon EC2. Amazon cloud service (AWS) cloud native self-developed processor was first launched in China. Nearly 400 server models of Amazon cloud service (AWS) with self-developed processor Amazon graviton2 were launched in China Amazon cloud technology in the zone is rich in ecological diversity. Amazon cloud technology helps Dagao technology reduce operating costs by 20% and improve operational efficiency by 40%. Tomcat game family, which lives 40 million a day, creates "senseless" user experience with AWS cloud services. AWS China releases financial management services to enable customers to use cloud services more economically and efficiently. Amazon EC2 x2g equipped with Amazon graviton2, a self-developed processor Amazon cloud service (AWS) expands the circle of machine learning to touch every AI worker. Amazon cloud technology launches predictive maintenance service for industrial equipment based on machine learning. Amazon cloud technology announces that Amazon lookout for vision is officially available in Amazon cloud service (AWS) China Domain officially launched two new file storage services
If you want to get the full report, you can contact us by leaving us the comment. If you think the information here might be helpful to others, please actively share it. If you want others to see your attitude towards this report, please actively comment and discuss it. Please stay tuned to us, we will keep updating as much as possible to record future development trends.
RecordTrend.com is a website that focuses on future technologies, markets and user trends. We are responsible for collecting the latest research data, authority data, industry research and analysis reports. We are committed to becoming a data and report sharing platform for professionals and decision makers. We look forward to working with you to record the development trends of today's economy, technology, industrial chain and business model.Welcome to follow, comment and bookmark us, and hope to share the future with you, and look forward to your success with our help.