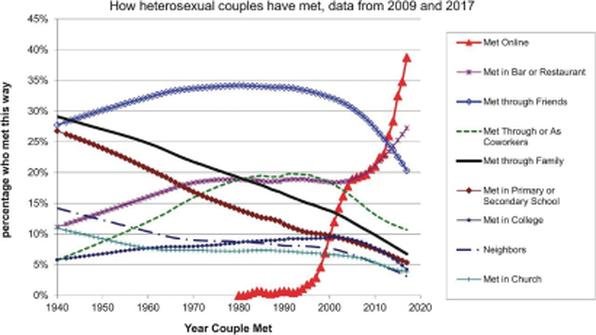 RecordTrend.com is a website that focuses on future technologies, markets and user trends. We are responsible for collecting the latest research data, authority data, industry research and analysis reports. We are committed to becoming a data and report sharing platform for professionals and decision makers. We look forward to working with you to record the development trends of today's economy, technology, industrial chain and business model.Welcome to follow, comment and bookmark us, and hope to share the future with you, and look forward to your success with our help.
The following is the Is it worth investing in this stranger's social network recommended by recordtrend.com. And this article belongs to the classification: social networks, Making friends on the Internet, Industry information.
Many people have heard of tinder and Tan Tan, but they may not have heard of bumble. Bumble is also an American company that makes friends with strangers. Its well-known product is bumble app, commonly known as female Scout (or female tinder). In addition, the company has another product with a large number of users, Badoo. This product can be regarded as a combination of people near Momo and exploration, advocating "sincere dating".
So what are the key investment points of bumble? Let me sort them out for your reference
Huge single population and online dating penetration promotion
It is not necessary to say that the single population is empty and lonely. It can be expected that with the popularity of the concept of late marriage and late childbearing, more and more single people will grow. This huge market will certainly continue to grow, sweeping the United States, Europe, China and other regions.
Secondly, the penetration rate of the Internet as a dating channel has increased year by year. In the United States, the Internet has become the first channel to know your partner.
The & kde; Help Center
Third, single people are often rich and willing to pay for finding true love. Such products have mature and stable user payment habits.
The company has two competitive products Badoo + Bumble, which are well-known as two wheel drive
In September 2020, sensor tower data showed that Badoo had 28.4 million monthly active users, plus bumble's more than 10 million users, the company had a total of 42 million users. Compared with the company with only a single social product, the company has a double fist product, which is undoubtedly more popular in the capital market. After all, companies that can operate two products well have the opportunity to find or operate the third competitive product, which helps to enhance the imagination of the capital market for the company.
Bumble stands out from the rest of the world through the differentiated brand positioning of women's leading clubs
In the field of making friends with strangers, as far as a single product is concerned, tinder is the big brother. It is impossible for bumble to compete with the big brother. Therefore, bumble has differentiated its products and brands, emphasizing women's dominance and protection. The company's brand slogan is "make the first move". After the users slide each other to see the face matching, only women initiate a chat to open the conversation.
Because it's hard to make friends and find true love, a tinder product can't meet the needs of single people, so there is a bumble opportunity. In addition, on these dating sites, women are the primary productivity, and if you get female users, you will get the world. Bumble's female friendly brand will also help it gain the popularity of female users and attract male users.
Bumble's strategy of giving priority to women is undoubtedly successful. The data show that each male using bumble can reach 30% more women than other products. Bumble's monthly life in September 2020 also reached 12.3 million, though not as good as tinder's 60 million.
Payment scale and per capita payment amount that can still be improved
As of September 2020, bumble's monthly average paying users are 2.44 million, and its monthly paying ARPU is 18.48 US dollars. Compared with the tens of millions of paying users of match, bumble undoubtedly has room for growth with relatively higher ARPU.
According to appannie's data, tinder's monthly activity is 60 million, which is about twice that of bumble's two products. In this simple comparison, the payment penetration rate is almost the same as that of industry-leading products, but there should still be room for growth, including user size, payment penetration rate and payment amount.
Good growth and paid ROI model
Only 22% of the company's users come from paid purchases, that is, 78% of the users are water users. The average payback cycle is less than three months, which can be said to be excellent. After all, it's not three months to find true love.
How reasonable is the valuation?
Match is the leading company in the field of observing strangers, making friends / marriage, with a market value of US $38.8 billion, then Momo group, a listed company of Momo + probe, with a market value of US $3.2 billion, and meet, a small company with a market value of US $460 million. After bumble's listing, there is no doubt that another listed company will be added to this camp. From the product point of view, the most comparable company is match.
Simply compare the user, revenue, profit, market value and other indicators of match and bumble. If match is not overestimated, simply by user valuation and PS valuation, bumble's market value should be between $10 billion and $16 billion.
Note: the data is from app Annie, the active users of the two companies' head apps in December. Read more: match: how is the world's largest dating platform with 7 million members refined? Match: in the second quarter, the number of paid members of American detective tinder soared by 500000, and the number of paid users who acquired Muslim marriage apppatch: in the fourth quarter, due to the impact of IOS upgrade, the number of paid users increased Match: Facebook dating service has no impact on the growth of paid members of match: during the epidemic period, users' demand for home dating has increased However, it is absent from tinder's third-largest revenue market match: single dating report in the United States in 2017 data review and strategic outlook of four major social listed companies in the United States The company's revenue reached 444 million US dollars. Why is it difficult for social algorithms to help you find your true love: 2q19's revenue was 4.15 billion yuan, net profit was 1.24 billion yuan, and monthly active users were 110 million
If you want to get the full report, you can contact us by leaving us the comment. If you think the information here might be helpful to others, please actively share it. If you want others to see your attitude towards this report, please actively comment and discuss it. Please stay tuned to us, we will keep updating as much as possible to record future development trends.