Industry information
Siemens joins hands with Swire Coca Cola to achieve digital strategic cooperation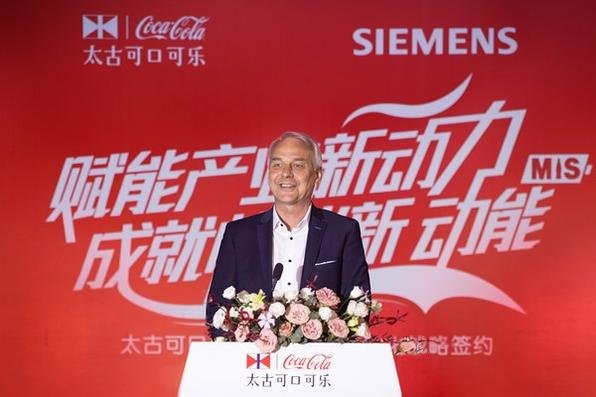 The following is the Siemens joins hands with Swire Coca Cola to achieve digital strategic cooperation recommended by recordtrend.com. And this article belongs to the classification: Industry information.
Siemens and Swire Coca Cola have reached digital strategic cooperation, and will jointly build 18 digital chemical plants in the future
Siemens has successfully launched its manufacturing information system (MIS) for Swire Coca Cola, which will be extended to nearly 100 production lines in the next two years
With software and hardware products and solutions including big data analysis, AI and mindsphere, Taikoo Coca Cola can build a group level data collection, analysis and presentation platform
MIS system will become the benchmark of Coca Cola global system manufacturing information system
Siemens and Swire Coca Cola (China) Co., Ltd. have reached a digital strategic cooperation. The two sides will carry out in-depth cooperation in the fields of digital chemical plant construction, intelligent supply chain management and digital talent training, jointly build a digital benchmark factory in the beverage industry, and jointly promote the digital transformation process of Swire Coca Cola in China and even the world. In addition, the manufacturing information system (MIS) tailored by Siemens for Swire Coca Cola has been successfully implemented in Swire Coca Cola's digital production line in Hangzhou. In the next two years, the system will be extended to 18 factories and nearly 100 production lines of Swire Coca Cola in mainland China. After the implementation of the project, the result of cost reduction and efficiency increase is equivalent to an annual increase of about 550 million cans of Coca Cola products.
Lothar Herrmann, President and CEO of Siemens Greater China, said that with the gradual implementation of cooperation with Siemens, Swire Coca Cola will become a new digital benchmark in the global beverage industry in the future
"The cooperation between Siemens and Swire Coca Cola marks a further step in the long-term friendship between the two sides. With the gradual implementation of the cooperation, I believe Swire Coca Cola will make a leap in productivity, quality and sustainable development, and become a new digital benchmark in the global beverage industry. " Lothar Herrmann, President and chief executive officer of Siemens Greater China, said, "we look forward to practical and fruitful cooperation between the two sides, which is not only about production lines or factories, but also about injecting new momentum into the development of manufacturing industry, and more importantly, about innovation and bringing benefits to the people."
Siemens announces digital strategic cooperation with Swire Coca Cola
Su Wei, President of Swire Coca Cola Co., Ltd., said: "at present, Swire Coca Cola's application of digital tools has penetrated into every link of the market, sales and supply chain. All business personnel are equipped with mobile terminals, which can check inventory, place orders, check execution level and take photos in the store in time, so as to realize the comprehensive closed-loop management of front-line business, execution tracking and production logistics. In this regard, we can be proud to say that in the so-called traditional beverage industry, we are at the forefront of digital transformation. "
The MIS system created by Siemens and Swire Coca Cola will be extended to 18 factories and nearly 100 production lines of Swire Coca Cola in mainland China
The successful launch of the manufacturing information system (MIS) is based on advanced software and hardware products including mindsphere and automation, digital technology and solutions, developed jointly by Siemens and Swire Coca Cola. As another important practice of global cooperation between Siemens and Coca Cola, the system will become the benchmark and benchmark of manufacturing information system in Coca Cola global system in the future.
MIS system can realize the data collection, processing, storage, utilization and management in all aspects of the production process, improve the information monitoring and analysis of the production process, quality control, equipment management and maintenance, abnormal warning and detection, production performance evaluation and decision-making judgment and other functions, and realize the intelligent management, scientific decision-making and standardized process of the factory. Due to the transparent and visual control of the production process, the MIS system changes the statistical efficiency from "after the event" statistics to "process" statistics, which greatly shortens the fault diagnosis time, and accumulates a lot of real data for the further application of artificial intelligence technology in the aspects of production line efficiency improvement, predictive maintenance, energy saving and efficiency enhancement, which will greatly improve the digital level of the factory.
"Driven by personalized consumption demand, beverage enterprises are also moving towards a new stage of data-driven development in the manufacturing end." Wang Haibin, executive vice president of Siemens (China) Co., Ltd. and general manager of Siemens Greater China digital industry group, said, "the successful launch of the MIS system is an important milestone for both sides to jointly explore the digital transformation and large-scale development of the beverage industry. We hope to take this opportunity to help Swire Coca Cola further tap the unlimited potential of advanced technologies such as artificial intelligence, big data analysis and mindsphere in improving the supply chain and manufacturing flexibility of the beverage industry, strengthen the digital leadership of the industry, realize innovation and sustainable development, and further enhance its brand value. "
In the future, Siemens will further expand the functions of the MIS system, including acquiring real-time production data anytime and anywhere in the country through the app of Siemens mindsphere, and analyzing all data in terms of efficiency, energy consumption, safety, quality, prediction and other dimensions, so as to help Swire Coca Cola achieve group quality management and further improve its digital competitiveness of the whole supply chain And intelligent management level. At the same time, the linkage of MIS system and other systems in the production line can save about 10 million kilowatt hours of electricity in all plants of Swire Coca Cola, which is equivalent to saving 3200 tons of standard coal and reducing 7500 tons of carbon dioxide emissions [1], which is of great benefit to Swire Coca Cola in fulfilling its commitment of energy conservation and emission reduction. More reading: Siemens (China) uses Amazon cloud service (AWS) to build a new smart home system Siemens, Roche, Danaher, Abbott Q1 financial report in 2020 CTR media intelligence news: in the first half of 2018, China's advertising market as a whole grew by 9.3% year on year, Internet advertising growth slowed down Siemens: clear path to promote enterprise digital transformation (with download) siemens financial report: 2013 In the third quarter of the fiscal year, Siemens made a net profit of US $1.46 billion Apple surpasses Coca Cola to become the most valuable brand Coca Cola: Seven Rules of playing social media micro scene insight drives Coca Cola's growth in China? Millward Brown: 2012 "brandz top 100 global brands" Interbrand: 2011 top 100 global brands anyclip: Coca Cola's film history 2018q1-2020q2 Coca Cola's revenue scale and growth rate (attached with the original data sheet)
If you want to get the full report, you can contact us by leaving us the comment. If you think the information here might be helpful to others, please actively share it. If you want others to see your attitude towards this report, please actively comment and discuss it. Please stay tuned to us, we will keep updating as much as possible to record future development trends.
RecordTrend.com is a website that focuses on future technologies, markets and user trends. We are responsible for collecting the latest research data, authority data, industry research and analysis reports. We are committed to becoming a data and report sharing platform for professionals and decision makers. We look forward to working with you to record the development trends of today's economy, technology, industrial chain and business model.Welcome to follow, comment and bookmark us, and hope to share the future with you, and look forward to your success with our help.