Industry information
State chip data and Tencent create a new benchmark of smart retail in the field of smart commerce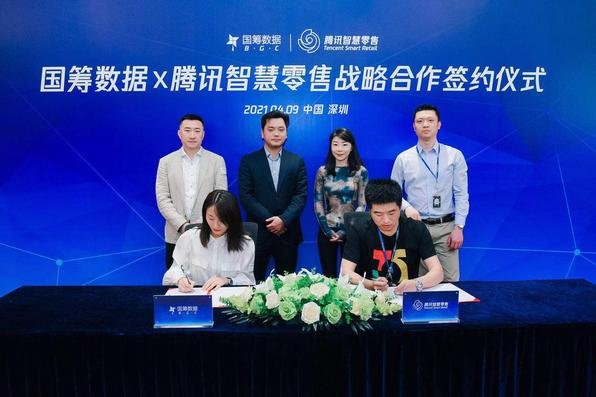 The following is the State chip data and Tencent create a new benchmark of smart retail in the field of smart commerce recommended by recordtrend.com. And this article belongs to the classification: Industry information.
Recently, guochip (Beijing) data Technology Co., Ltd. and Tencent cloud computing (Beijing) Co., Ltd. signed a strategic cooperation agreement in Shenzhen. The two sides plan to carry out in-depth cooperation in the fields of brand promotion and marketing, such as small program, cloud computing, digital AI, Youping, data cube, etc.
Tencent will make use of its own platform advantages, advanced promotion concepts and rich creative techniques to help national fund data build a high-quality brand, promote community marketing innovation, and help it build an industry competitive ecosystem on the urban smart community track, so as to enrich business forms, increase market space and realize rapid development, so as to provide more detailed and accurate services for the people's livelihood of the city Services.
For example, Tencent will help guochip data's "haoxiansheng" intelligent vending machine to optimize the location, put the terminal in the place with the most target customers, and efficiently drain the haoxiansheng vending machine through lbs advertising and other location capabilities; Tencent Youping will help haoxiansheng terminal screen upgrade into a more attractive transformation field by combining small games and precision marketing; the underlying technology involved is Tencent cloud Provide support to ensure the safe and efficient operation of business.
At the strategy meeting, Ms. fan Yijin, vice president of Tencent smart retail commerce, said: "at present, the requirements of the whole market for supply chain, commodity storage and mode performance have changed a lot. Tencent smart retail can help partners optimize the whole chain from the aspects of performance, customer service, front-end customer acquisition, re purchase and loyalty. "
Bu Junpeng, chairman of guopian Data Technology Co., Ltd., introduced: "from good fresh food, good wine cabinet to good breakfast, guopian data focuses on making good commercial shelves of different formats and putting commercial shelves in the most appropriate place. I believe that in the future, there will be a number of excellent companies in the fields of basic livelihood engineering, such as milk, wine and breakfast, which are closely related to urban life. "
Founded in May 2016, state chip data is one of the leading intelligent business developers and operators in China. Based on the Internet, Internet of things and big data, an advanced digital city intelligent business network is constructed through intelligent fresh machines, intelligent wine cabinets and other devices distributed in the city. The "haoxiansheng" intelligent fresh food vending machine of national fund data has 100000 outlets nationwide, covering different scenes of more than 200 cities across the country.
Tencent provides diversified service solutions for various brands and retailers in the field of smart retail with the help of digital capabilities such as integrated cloud services, Tencent data security services, marketing risk control services, Tencent lbs location services and big data services.
Nowadays, with the accelerated integration of Internet and brand marketing, the continuous deepening of cloud computing and big data services, and the continuous innovation and vigorous development of smart retail, the strategic cooperation and strong cooperation between guochip data and Tencent, as the dominant enterprises in their respective fields, means that the industry competitiveness and development of both sides will reach a new height, and the enterprises in traditional industries will undergo digital transformation It will also usher in a new benchmark of smart retail. Read more: CCFA: in 2019, the colloidal gold test kit and infrared thermometer for antibody against new coronavirus of top 100 Lepu medical products in China supermarket have been supplied to demand Gen in dozens of countries People's Bank of China: questionnaire survey report on urban depositors in the first quarter of 2019 Tencent smart retail Chen Fei: 2021 will become the key infrastructure for building an effective private domain for brands. In 2021, 100 Wanda squares will be fully launched with "pay as points" and "smart business circle" will lead the change of new business form. Aiya's whole house customization will deduce a new brand Potential energy leads entrepreneurs to reap hundreds of billions of dividends silently in the market. Yilu app opens door-to-door appointment channel for nucleic acid detection team. The first phase covers 10 cities across the country. The 2021 wechat open class Pro comes, and the official announcement game goes online. The white paper on the value of massive engine short video advertising: help the brand to grow long-term from a new source. Animation and interaction make English Enlightenment live How does Netease Youdao's post-95 team win the Speech Recognition Award? Huawei financial report: in q1-q3 of 2020, Huawei's revenue will reach 671.3 billion yuan, up 9.9% year on year. Zhuhai Baijiao sea bass has become an online blockbuster, with daily sales of 300000 pieces of smart travel. Wechat payment will go online hand in hand, and Qingyuan citizens can experience the convenience of swiping the code
If you want to get the full report, you can contact us by leaving us the comment. If you think the information here might be helpful to others, please actively share it. If you want others to see your attitude towards this report, please actively comment and discuss it. Please stay tuned to us, we will keep updating as much as possible to record future development trends.
RecordTrend.com is a website that focuses on future technologies, markets and user trends. We are responsible for collecting the latest research data, authority data, industry research and analysis reports. We are committed to becoming a data and report sharing platform for professionals and decision makers. We look forward to working with you to record the development trends of today's economy, technology, industrial chain and business model.Welcome to follow, comment and bookmark us, and hope to share the future with you, and look forward to your success with our help.