Industry information
Swipe single has risk, net earns to need to be careful From Wechat security center reminder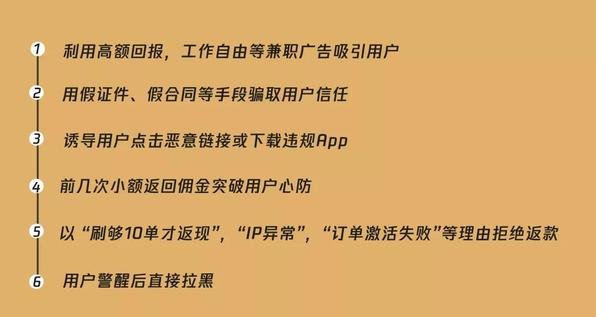 The following is the Swipe single has risk, net earns to need to be careful From Wechat security center reminder recommended by recordtrend.com. And this article belongs to the classification: Industry information.
"Move your fingers, more than ten thousand a month"?
"Stay at home, day in and day out"?
"A little mouse, easy to make money"?
See this kind of "brush single part-time" slogan on the Internet, you can't help but be eager to have a try? However, don't be deceived by this kind of inflammatory words and step into the trap of swindlers.
Swipe single has risk, net earns to need to be careful
Recently, CCTV has exposed a swindle: fraudsters use "free eggs" as a gimmick to attract middle-aged and elderly customers into wechat group, and sell high price fake goods. They also attract more victims by giving free gifts, cash back, preferential treatment, and letting victims earn commission.
In real life, similar to this under the guise of "brush single part-time" fraud means emerge in endlessly, once users fall into the trap, the amount of loss is as low as hundreds of thousands, as high as hundreds of thousands. Meanwhile, the fraudsters also use the users' psychology of "earning extra money" to cheat at different levels
Using high return, work freedom and other advertising to attract users;
Using false company license, ID card, work card and other documents to cheat users' trust;
In the past few times, the small return commission broke through the user's guard;
To "circumvent the platform to crack down on swiping orders", "task requirements to swipe enough 10 orders", "IP exception", "order activation failure" and other reasons to conduct a series of routines;
After the user wakes up, he pulls the black directly.
Therefore, in the face of brushing part-time users need to be vigilant at any time, any part-time and brushing that require advance payment are fraud! Low threshold, free time and high commission are often gimmicks. Don't look down on such part-time advertisements as "getting something for nothing". Don't have the mentality of "making a lot of money easily". Don't click on strange links easily, and don't pay or transfer money at will.
In addition, there are also some businesses who will personally issue "part-time swipe orders" for the sake of store sales. For this kind of "part-time job", ordinary users must not participate, because it is illegal to participate in this kind of "part-time swipe orders".
According to the law on the protection of consumers' rights and interests, the anti unfair competition law, the advertising law and other laws and regulations, swiping a single line violates consumers' right to know and fair trade, which is an illegal act. According to Article 8 of the law of the people's Republic of China on anti unfair competition, business operators shall not make false or misleading commercial propaganda on the performance, function, quality, sales status, user evaluation, and honors of their commodities, so as to deceive or mislead consumers. Business operators shall not help other business operators to carry out false or misleading commercial propaganda by organizing false transactions.
Therefore, users must be careful not to be deceived by inflammatory slogans, fall into the "trap" carefully prepared by fraudsters, and suffer property losses in vain.
Severely crack down on "swindle" and never tolerate it once found
WeChat Security Center said: in 2020, WeChat platform maintained a high pressure attack against fraud, net profit scrub official account and so on, and continuously improved the ability of active discovery and handling of complaints. It accumulated 2571 small programs, 43252 official account numbers, 265 small net scrub scrolls, and 20199 public numbers. According to the severity of the violation, 27747 personal accounts were cracked down and 14685 wechat fraud groups were shut down / warned.
Wechat has always maintained the attitude of cracking down on suspected violations of laws and regulations and never tolerating them.
According to the evidence submitted by users' complaints, in accordance with the relevant national laws and regulations, Tencent wechat software license and service agreement, and wechat personal account usage specification, wechat team cracked down on the false swiping behavior and punished all the verified accounts.
For fraud in the name of swiping bills, we will continue to carry out a special clean-up; for organizers and participants of illegal swiping bills, we will also deal with the relevant accounts in accordance with the provisions. I also hope that when you see such illegal part-time ads on wechat, you can take the initiative to complain on the client, and work with us to maintain a safe and green wechat ecological environment.
Finally, the wechat security center also summarizes some characteristics for the fraud of "swiping orders and taking part-time jobs". It is hoped that the majority of users who encounter similar situations in the process of taking part-time jobs can be screened in time to avoid falling into the trap
Any part-time job or bill swipe that requires advance payment is fraud: don't have the mentality of "easily making a lot of money" and don't easily click on strange links.
Part time should find a formal platform: don't trust the "easy and high paid" part-time job on the Internet.
Illegal online shopping: don't go on the road of crime because of small profits, stay away from online shopping, and create a fair, just and healthy online shopping environment.
Take the initiative to complain about illegal behaviors: if similar illegal behaviors are found on wechat, you can submit relevant evidence information to complain through wechat client and small program Tencent 110. Read more: wechat security center: Top 10 rumors in 2016 circle of friends CCFA: Top 100 supermarkets in China in 2019 demand Gen : Manufacturer expands digital conversion to sales and marketing report: Lepu medical new coronavirus antibody colloidal gold detection kit, infrared thermometer and other products have been supplied to dozens of countries for big data monitoring staff General Administration of Customs: in August 2013, China's exports increased by 7.2% year on year Import growth of 7% on a year-on-year basis three ways to measure the effect of online marketing University of San Diego: listening to people's phone chat makes people more upset responsive design: making the right choice data information diagram China Federation of logistics and purchasing: China's express business volume in 2013 was 9.2 billion pieces, up 61.6% on a year-on-year basis In 2013, Q2 "China team" accounted for 20% of the global smartphone market, with 10 classic hardware designs lasting for a long time
If you want to get the full report, you can contact us by leaving us the comment. If you think the information here might be helpful to others, please actively share it. If you want others to see your attitude towards this report, please actively comment and discuss it. Please stay tuned to us, we will keep updating as much as possible to record future development trends.
RecordTrend.com is a website that focuses on future technologies, markets and user trends. We are responsible for collecting the latest research data, authority data, industry research and analysis reports. We are committed to becoming a data and report sharing platform for professionals and decision makers. We look forward to working with you to record the development trends of today's economy, technology, industrial chain and business model.Welcome to follow, comment and bookmark us, and hope to share the future with you, and look forward to your success with our help.