Industry information
Tencent smart retail and Bain jointly released "white paper 2021 on smart retail private domain" to jointly create "private domain growth"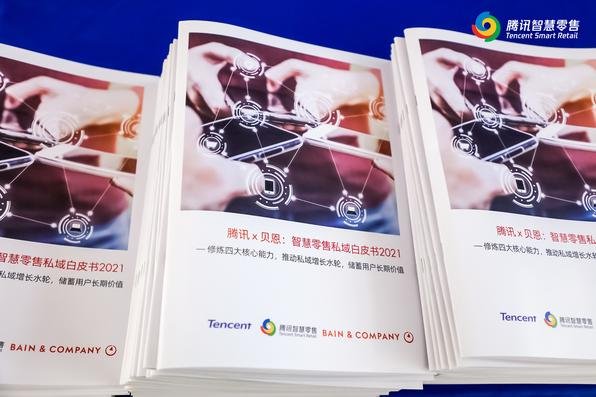 The following is the Tencent smart retail and Bain jointly released "white paper 2021 on smart retail private domain" to jointly create "private domain growth" recommended by recordtrend.com. And this article belongs to the classification: Industry information.
On March 25, Tencent smart retail and Bain jointly released the white paper 2021 on smart retail private domain. Based on the new trend of consumer change, the two sides launched the "private sector growth" model and the "four forces" methodology to help enterprises plan, build and maintain private sector formats and save long-term value for users.
According to the white paper, since the second half of 2020, consumer behavior has shown four new trends under the new normal of the epidemic situation, namely: obvious polarization of consumption, significant segmentation of consumer circles, normal Omni channel, and sustainable prosperity of private sector ecology. With the significant promotion of private domain construction in brand Omni channel strategy, in the survey, many enterprises raised questions about whether there are rules to follow in building a clear blueprint of private domain system, how to strengthen private domain operation ability from within the enterprise, and expressed their desire to create a new way of private domain E-commerce and establish a practical operation mode.
The "private growth" model and the "four forces" methodology help enterprises to find their own private operation direction from the perspective of external consumer interaction experience and internal enterprise capability respectively. Through top-down private domain operation solutions, it helps enterprises plan, build and maintain private domain formats.
From the perspective of consumer interaction, the "private domain growth model" analyzes five important links of interaction with consumers in the construction of private domain operation system: multiple channel drainage, moving to create favor, stimulating social fission, interacting to promote purchase and deepening customer loyalty. By creating a closed loop of cause and effect return, we can gradually activate the lifelong value of users with strong re purchase and fission ability, and realize the core of private operation, namely "energy storage precipitation of user value".
The "four forces" methodology starts from the internal perspective of the enterprise, and helps the enterprise to comprehensively improve the private operation ability from the four abilities of "organization force", "commodity force", "operation force" and "product technology force", so as to continuously transport nutrients for the continuous operation of water turbines.
The relationship between the two is like the trunk and root of a big tree. Only by carefully watering and strengthening the root, can it flourish.
Chen Fei, vice president of Tencent smart retail, pointed out: "the special year 2020 has brought impact to the retail industry. However, we are pleased to see that leading enterprises in footwear, cosmetics and supermarkets have achieved growth against the trend through the layout of private domain. The integration of online and offline private business has become an indispensable part of retail enterprises. Smart retail is a CEO project and a long-term "growth campaign". Tencent smart retail will focus on helping enterprises to formulate appropriate private domain strategies through the "four forces" methodology. In the "private sector growth" model, it will provide support from the aspects of organizational transformation, product technology, flow operation and service ecology, and look forward to innovative growth with retail enterprises at a new starting point of private sector format. "
Cai Qing, global partner of Bain, said, "with the decrease of dividends in the Internet era, the development model that used to be based solely on traffic and platform has gradually lost its market. Enterprises need to change their thinking from "flow" to "volume" and think about how to operate in private domain from a higher level. Bain and Tencent smart retail jointly create the "private domain growth" model, hoping to help enterprises understand the positioning and objectives of "private domain operation" in the overall business from the strategic level, formulate strategies and tactics according to the characteristics of the enterprise, deploy action plans for the next few years, and continuously correct errors in the process of implementation, so as to improve the private domain operation and create a comprehensive all-round business environment Channel operation system. "
Over the past three years since its establishment, Tencent smart retail has been going deep into the deep water area of the industry. Together with brand retail partners and third-party service providers, it has been exploring and practicing in the Tencent ecosystem dominated by wechat. It has explored and put forward three types of business formats, namely "official small program mall", "official shopping guide" and "super community", with replicable, large-scale and sustainable private emerging business formats. After the test of the epidemic situation, many businesses add private sector formats to improve efficiency and anti risk ability. Under this background, Tencent smart retail has also set the goal of promoting the scale development of private sector formats and reconstructing the new growth pattern of retail enterprises.
This cooperation with Bain is a new attempt of Tencent smart retail. With the help of their respective advantages and expertise, both sides will provide professional solutions and support in the whole journey of building a private domain system for enterprises, and help enterprises lead the new private domain track. More reading: Fashion e-commerce platform fafaqi flash show landed in Chengdu, Tencent smart retail helps Chaozhou people break the circle, Tencent smart retail appears in 2020 China International Retail Innovation Conference "2015 Chinese shoppers report" wins Chinese shoppers under the "new normal" (28 pages full text) Tencent smart retail & CDC: 2019 white paper on high end beauty consumption (with download) Kantar: 2018 China Digital enterprise report: from test to transformation Bain: it is estimated that electric vehicles will account for more than 50% of global new car sales in 2040. Lepu medical new coronavirus antibody colloidal gold detection kit, infrared thermometer and other products have been supplied to demand Gen in dozens of countries CCFA: Top 100 supermarkets in China in 2019 people's Bank of China: questionnaire survey report of urban depositors in the first quarter of 2019 2021 wechat open class Pro is coming, guanxuan small game online, massive engine and GroupM release festival marketing report: new decade, new festival and new future White paper on the value of massive engine short video advertising
If you want to get the full report, you can contact us by leaving us the comment. If you think the information here might be helpful to others, please actively share it. If you want others to see your attitude towards this report, please actively comment and discuss it. Please stay tuned to us, we will keep updating as much as possible to record future development trends.
RecordTrend.com is a website that focuses on future technologies, markets and user trends. We are responsible for collecting the latest research data, authority data, industry research and analysis reports. We are committed to becoming a data and report sharing platform for professionals and decision makers. We look forward to working with you to record the development trends of today's economy, technology, industrial chain and business model.Welcome to follow, comment and bookmark us, and hope to share the future with you, and look forward to your success with our help.