Industry information
Tencent's smart retail "Penguin auspicious box" attacks again, and "public domain + private domain combination boxing" helps spring and summer refresh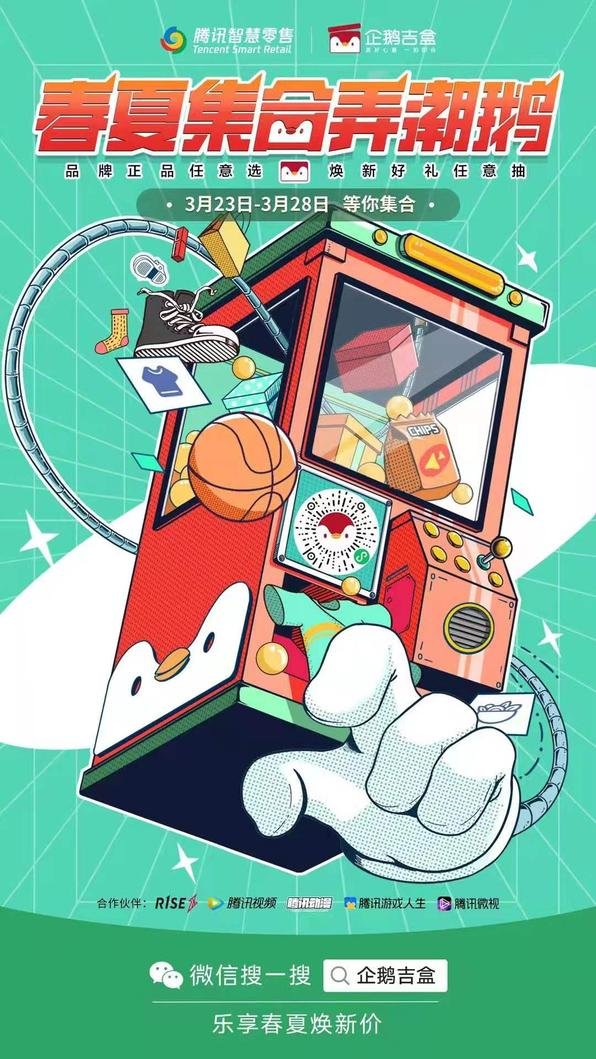 The following is the Tencent's smart retail "Penguin auspicious box" attacks again, and "public domain + private domain combination boxing" helps spring and summer refresh recommended by recordtrend.com. And this article belongs to the classification: Industry information.
In spring and summer, Tencent smart retail launched the new theme activity of the festival marketing activity IP – wechat app "Penguin lucky box". During the period from March 23 to March 28, it cooperated with 12 famous brands in beauty, sports shoes, clothing, food and other fields, such as Armani, YSL, Decathlon, Aimu, Bensheng, etc., to provide consumers with hot POP products and aidoufu in a variety of online interactive ways Li, limited red envelope cover, cash red envelope and other good gifts.
This is the second phase of penguin lucky box. It not only comprehensively upgrades the online playing methods in the form of doll machine, but also invites Zhai Xiaowen, Liu Ye, Zhao Lei and other members of r1se of the popular men's League to be the chief recommendation ambassadors of Chaowu, so as to further arouse people's enthusiasm for lucky box, expand the interactive boundary, attract more circle consumers, and provide official support for many brands engaged in private business How to play.
Nearly one million visits were received on the first day of the activity. During the activity period, nearly 100000 Limited red envelope covers were issued, and a total of 450000 people broke the red envelope in cash. After the activity, the enthusiasm of users remained unchanged, with an average of more than 70000 people breaking the red envelope every day. In the end, nearly 200000 people participated in the "unpacking" of penguin Jihe.
Big brands of good gifts and love bean welfare gather to ignite the carnival of "catching dolls"
In this event, Armani, YSL, MAC, Winona, Olay, original life, adoption of a cow, October paddy field, Decathlon, Aimu, eland, GXG and other big brands organized groups to distribute welfare to consumers, and made every effort to boost the new Carnival in spring and summer.
Users can search "Penguin auspicious box" in wechat search to enter the main venue of the small program. The big brand genuine products and popular products jointly present four special areas, which are essential for Chaozhou geese, Chaozhou geese changing clothes, radiant beauty artifact, and light food. They have more sincere full reduction coupons / free coupons to create a carnival season for Chaozhou people to hoard goods and chop hands, and meet users' demands for affordable and high-quality goods.
This issue of penguin auspicious box also skillfully combines the blind box elements loved by young people today. In the main venue of small program activities, complete daily login, sharing activities, browsing the brand small program mall and other tasks, and then draw random rewards and Penguin doll cards through the "lucky doll machine". The awards include Armani foundation, YSL foundation, MAC bullet head and so on, as well as coupons / gift coupons, petty cash red packets, WeChat red envelopes and so on.
The big brand commodity coupons in the lucky box can be directly consumed in the big brand small program mall after users get them. Wechat friends can also give and ask for penguin dolls cards. By helping each other and collecting five Penguin dolls cards, such as Chihuo goose, trendy goose and beauty goose, they can participate in the grand prize extraction, and have the opportunity to win the koi grand prize and the thousand yuan beauty, skin care, food and other gift packages. Including elliptical machine GXGxBE@BRICK Joint building blocks, silk dress, Armani blue air cushion, YSL foundation and so on.
Ambassador R1SE Zhai Xiao Wen, Liu Ye and Zhao Lei will give the fans the exclusive signature of the signature photo and so on. The former rocket young girl 101 member Wu Xuanyi will also serve as the spokesman of the Winona emulsion face cream.
The government set up a platform to provide a model for playing "public domain + private domain"
Convenient access channels and interesting interactive play are important factors for penguin lucky box to be deeply loved. What's more, under the platform of Tencent smart retail, big brands have entered the game one after another to add weight and group to give benefits, so that consumers have a more "informative" shopping experience. The popular men's group r1se and Wu Xuanyi joined together with fans' welfare, which broke through the audience circle for penguin lucky box again, let more young people enhance their cognition of penguin lucky box, and have more emotional connection with the brands that sent welfare together in the lucky box.
While bringing big brand discounts to the majority of users, Penguin jibox is also the official demonstration of Tencent smart retail for its brand to play the "public domain + private domain" traffic combination boxing in wechat ecology.
In addition to the small program, the penguin Ji box also opened the official WeChat official account and video number. It can not only serve as the official account, but also create the more chance of drainage by UGC content and KOL promotion.
Wechat souyisou unifies these more complete services and contents, and unlocks the new play of "Star Zone direct jump app". On the day of the launch of the event, the "official announcement" of penguin Jihe and r1se caused the "r1se" wechat index to soar by more than 1100%, reaching the peak within 90 days.
With the launch of more activities in the future, Penguin lucky box can not only cultivate users' mind of wechat search, but also repeatedly deepen their impression of penguin lucky box. These are the ways that Penguin jibox activates the "public domain" traffic through the rich contacts in wechat ecology.
In addition, with the help of social fission play methods such as friend exchange, card cashing, daily small program login and check-in, as well as participating in the synchronous promotion of the brand's small program mall, this activity also continuously collects "private domain" traffic to help the brand achieve the effect of anti re reaching users and promoting re purchase.
Explore various ways to play and boost brand growth
At the beginning of this year, when the penguin box made its debut during the lunar new year, it received wide attention. In the first phase of the activity, Penguin jibox, together with 16 major brands in the fields of beauty jewelry, 3C household appliances, clothing and daily chemicals, such as L'Oreal, Lenovo and three squirrels, provided benefits to users who purchased new year's products. This was also the first time Tencent smart retail held a spring festival marketing activity.
On the first day of the event, the number of visitors reached one million, and ten thousand limited red envelope covers were snapped up within half an hour. Finally, during the activity period, more than 100000 people searched "Penguin lucky box" through wechat search, accumulating millions of times of "box dismantling".
"Penguin lucky box" is a new attempt of Tencent smart retail to guide small app businesses and help businesses leverage more incremental space. It is reported that the second phase of the event successfully brought more than one million Gmv to a beauty brand app.
With the online and offline integration and independent operation of the private sector business has become an indispensable question for retail enterprises, wechat app has become the main position for the layout of private sector business. According to Tencent's recent 2020 financial report, the daily life of small programs has exceeded 400 million, and the annual transaction volume generated by small programs has more than doubled year on year.
It is believed that with the flow of small programs, Penguin jibox will create more opportunities for brand businesses, while Tencent smart retail will continue to play the role of digital assistant and business growth partner of retail enterprises through a variety of ways. Read more: Fashion e-commerce platform fafaqi flash show landed in Chengdu, Tencent smart retail helps Chaozhou people break the circle, Tencent smart retail and Bain jointly released the "white paper on private domain of smart retail 2021", creating a "water wheel of private domain growth" together, Tencent smart retail appeared in 2020 China international retail Innovation Conference, Tencent smart retail & CDC: 2019 white paper on high end beauty consumption (with download) People's Bank of China: questionnaire survey report of urban depositors in the first quarter of 2019 CCFA: the colloidal gold test kit and infrared thermometer of new coronavirus antibody of top 100 Lepu medical products in China supermarket in 2019 have been supplied to demand Gen in dozens of countries The 10th Annual Conference of digital retail and e-commerce logistics entrepreneurs will be held soon! PC version of cyberpunk 2077 has been unlocked, and the peak number of online users has exceeded 700000. Niuyun has won the title of "China's leading video cloud enterprise of the year 2020". Ruian office: goodbye! What is the ideal work space for youth? Iprdaily: Top 100 invention patents of Chinese enterprises in 2020. Government wechat helps build "Guangdong Zhengyi" officially online, creating a mobile office platform for public officials in Guangdong Province
If you want to get the full report, you can contact us by leaving us the comment. If you think the information here might be helpful to others, please actively share it. If you want others to see your attitude towards this report, please actively comment and discuss it. Please stay tuned to us, we will keep updating as much as possible to record future development trends.
RecordTrend.com is a website that focuses on future technologies, markets and user trends. We are responsible for collecting the latest research data, authority data, industry research and analysis reports. We are committed to becoming a data and report sharing platform for professionals and decision makers. We look forward to working with you to record the development trends of today's economy, technology, industrial chain and business model.Welcome to follow, comment and bookmark us, and hope to share the future with you, and look forward to your success with our help.