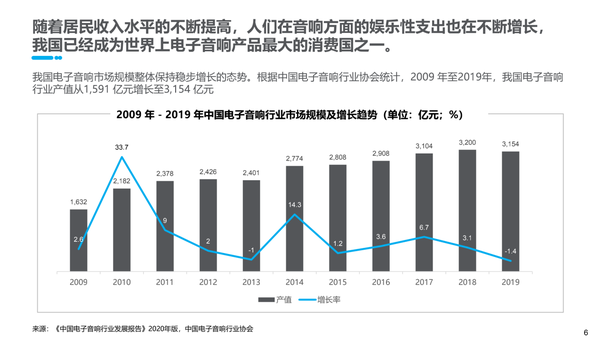 RecordTrend.com is a website that focuses on future technologies, markets and user trends. We are responsible for collecting the latest research data, authority data, industry research and analysis reports. We are committed to becoming a data and report sharing platform for professionals and decision makers. We look forward to working with you to record the development trends of today's economy, technology, industrial chain and business model.Welcome to follow, comment and bookmark us, and hope to share the future with you, and look forward to your success with our help.
The following is the The development of sound effect brand is just at the right time, Viper sound effect layout is fast From White paper on sound industry recommended by recordtrend.com. And this article belongs to the classification: Online music, Wireless music, Network entertainment, Industry information.
Short video, live broadcast and other "visual economy" are still flying on the tuyere, while the popularity of long audio market, such as podcasting, audio listening and other consumption, makes "ear economy" also usher in its own tuyere. In the era of faster and faster pace of life and daily fragmentation, audio, which occupies less attention and traffic consumption, is more and more favored by people, and its economic value is becoming more and more prominent.
The rise of "ear economy" includes three key elements. On the content level, the increasingly fragmented and scenario based Internet content ecology and younger users make the previously niche audio industry a new popular trend; on the hardware level, smart home, smart speaker and smart wear are making audio penetrate into all scenes of life; on the audio technology level, users put forward higher requirements for sound quality and sound effect. But at present, the construction of content ecology and the innovation of hardware products are still the core and focus of the development of "ear economy", and the attention paid to the key dimension of sound effect technology is still absent. It is a fact that users' willingness to pay for sound effects can not be ignored.
Recently, cool dog music released the white paper on sound effects industry, which was commissioned by Nielsen, a famous market research company, to publicize the current situation and future trend of sound effects industry for the first time. The white paper interprets the market value of sound effect, the status quo of domestic sound effect brands, development prospects, sound effect brand reputation, sound effect business model and industry chain, and draws many core conclusions.
Sound effects from young groups to the public, the future market value is huge
With the continuous improvement of China's residents' consumption level, the great richness of material releases the demand for entertainment. With the rapid growth of consumption of electronic audio products, China has become one of the largest electronic audio consumers in the world. The development of electronic audio has laid a broad and solid foundation for the sound effect market. Listening to music has become an important part of the life of C-end consumers. Not only has the average market of listening to music exceeded 2.6 hours per day, but the pursuit of high sound quality has enabled them to enhance their listening experience with various sound effects. According to the report, 89% of users will use sound effects when listening to music to expand the interest of music consumption scenes. At present, the domestic sound market is still dominated by young people, showing the characteristics of entertainment and strong sense of participation. With the continuous entry of technology and capital, audio products have become a hot field, and the sound effect market will gradually move towards the public. Users will expand their pursuit of sound effect to audio devices and more scenes, such as earphones, audio-visual devices, cars, intelligent appliances, etc., and make the application scene more three-dimensional.
Domestic sound effects are in the ascendant, and new brands are emerging
The white paper points out that due to the late start of the domestic sound effect market, the early sound effect market was mainly based on the business model of to B, and consumers' awareness of sound effect brands was not strong. The white paper also investigates the recognition of different sound brands in consumers' minds. Although foreign sound brands are high-end and professional, users' perception of mobile scene applications is not strong. In recent years, with the development of mobile Internet and smart phones, Internet thinking has been introduced into the sound effect market. More users participate in it and pay more attention to the sound modification in the later stage, showing the characteristics of high participation, strong playability and diversified scenes. As a result, a number of domestic sound effect brands with mobile terminal and scene advantages have risen strongly. Viper sound effect has become one of the brands with differentiation advantages and brand recognition. In the hearts of consumers, Viper sound effect brands have many choices, improved listening sense, constantly updated, open platform, convenient use and good fun.
Multiple sound application scenarios, Viper sound ushers in "golden age"
In the process of domestic sound effect development, there are more application scenarios, diversified carriers, diversified sound effect modes and other characteristics. Due to the differences in music aesthetic preferences of users, and under the background of the increasing variety of songs, consumers prefer to have richer special effects to meet different sound effect preferences in different scenes. Relying on kugou's technical blessing and user data analysis brought by 400 million user base, Viper sound has a higher understanding of user needs in sound effect design. From the perspective of consumers' big data and behavior habits, Viper sound has formed a huge UGC sound effect ecology in China. There are more than 1500 active tuners and more than 3000 UGC sound effects professionally debugged for audiences to choose from. By providing them with more abundant high-quality sound effects and music experience, a complete closed loop is formed. Since 2018, Viper sound has opened its own technology platform and tuner certification, and held the "golden Viper annual tuner competition" for three consecutive years. From December 31, 2020 to January 18, 2021, the 2020 golden Viper mixer competition is in full swing. Tens of millions of users have voted out "true millions of tuners" and an award ceremony will be held on January 29. After seven years of technology, ecology, user accumulation and five upgrading iterations, whether in Zhihu, Weibo and other social platforms, when people talk about sound effects, Viper sound effect is the most mentioned brand (the mention rate of the first brand is 16%), which also becomes cool dog because it has another major feature besides "Godot".
Viper sound has become the choice of more and more C-end consumers and b-end manufacturers
Through a lot of research feedback, Viper sound has a good reputation in the C-end market. In terms of brand experience, Viper sound effect is a mobile terminal sound effect brand with more experience; it is also a brand that consumers like and recommend. Consumers think Viper sound effect has many outstanding advantages, such as more scenes, more sound effects, more fun ways to play, meeting individual needs and better adapting to domestic music.
Driven by the C-terminal, Viper sound is becoming the choice of more and more b-terminal manufacturers. Cool dog Viper sound with a wealth of sound options and the trend of UI visual optimization to break out, won the favor of users. Viper can meet their needs of youth, diversification and mobility. B-end manufacturers also hope to attract more young customers through in-depth cooperation with viper.
Grasp 5g tuyere, Viper sound break circle, become the light of domestic products
It can be seen from the white paper that consumers hope Viper sound can further broaden the application scenarios, cooperate deeply with equipment manufacturers and music apps to launch customized equipment, and further broaden the cooperation platform to promote all-round audio related cooperation. In response to the strong demand of consumers, Viper has cooperated with 1More and other earphone manufacturers to launch as many as 60000 earphone sound effects by means of technology authorization, brand certification and customized services. It has adapted 142 automobile brands such as BYD, and has also cooperated deeply with Hisense, Changhong and other household appliance brands. It is also cooperating with home audio and video brands such as dangbei to go out of mobile phones and go deeper into more fields In the user's living room and car.
"White paper of sound effect industry" clearly shows the huge imagination and market potential behind "ear economy". A group of domestic sound effect brands represented by Viper sound effect are walking on the fast lane of development, becoming the pioneers of C-end and b-end.
The future of the music industry: selling audiences to advertisers Nielsen Soundscan: 2014 Q1 US music industry data analysis Weforum: real music revenue drops by 1 / 3 due to epidemic situation RIAA: streaming music revenue increases by nearly 20% in 2019 Communication University of China: founder of China digital music market development report 2017 Yang Baocheng: short video should be rooted in the industrial chain Music short video is suitable for content fission, active "ear economy" in the dark night: 200 million people spend 10.9 billion hours a year listening to books emarketer: 70 million American users listen to music on their mobile phones music promotion association: 2017 China music industry development report Tencent Music Group: 4q19 revenue increased by 35% year on year to 7.3 billion yuan Tencent Music: pay wall drives 1q20 music paying user growth Tencent Music: 1q20 financial report bright online music subscription revenue increased by 70% year on year
If you want to get the full report, you can contact us by leaving us the comment. If you think the information here might be helpful to others, please actively share it. If you want others to see your attitude towards this report, please actively comment and discuss it. Please stay tuned to us, we will keep updating as much as possible to record future development trends.