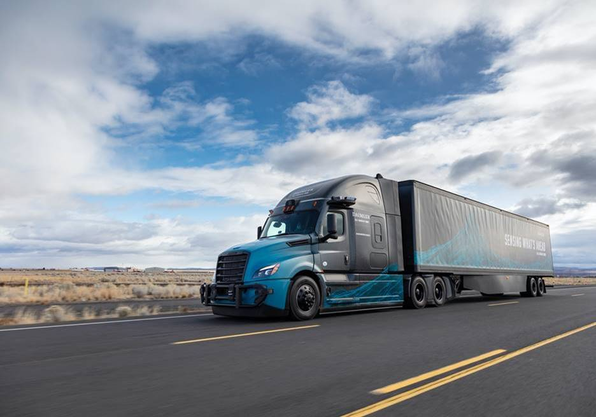 The following is the Torc robotics of Daimler chooses Amazon cloud service to develop self driving truck recommended by recordtrend.com. And this article belongs to the classification: Smart car, Industry information.
Accelerate the test and development of Daimler truck SAE L4 automatic driving truck technology with cloud data solution
Torc will deploy its next-generation test fleet of autonomous trucks in New Mexico and Virginia.
Recently, torc robotics has chosen Amazon cloud service (AWS) as its preferred cloud service provider to meet its speed requirements for large-scale data transmission, storage and computing, so as to deploy its next generation of autonomous truck test fleet in New Mexico and Virginia. With the growth of the company's test fleet size, number of routes and sensor capabilities, its engineering teams in the United States and Germany have an increasing demand for data ingestion and analysis.
Torc is an independent subsidiary of Daimler truck, which is responsible for commercializing L4 class automatic driving system and providing it to truck customers. According to the definition of SAE, vehicles can perform all driving functions under specific operating conditions under the L4 automatic driving system.
Amazon cloud service has a wide range of capabilities. It aims to provide fast and secure data transmission, intelligent hierarchical storage, hosted choreography and analysis tools, as well as high-performance multi-core CPU and GPU computing. It can help torc quickly expand its agile and low-cost development platform, and accelerate the testing and commercial application of its technology.
Torc's test fleet in New Mexico has produced Pb level data in public road tests (1PB equals 1 million GB). Torc has an end-to-end software stack that collects and processes raw data from many sensors such as lidar, radar and camera. Not only the scale of test routes and fleets is constantly expanding, the new generation of test trucks also integrate more high-resolution sensors, which can enhance the object detection over a longer distance, which further increases the data level for analysis, simulation and machine learning.
Michael Fleming, chief executive of torc, said, "our next-generation truck test fleet will help us quickly improve our self driving capability and accelerate the commercialization of L4 class self driving trucks. We must be able to keep up with the ability to process data, whether it is the ability to transmit, store or expand simulation. With AWS, we have a reliable solution that can provide computing scale, transmission speed and security when we need it. "
Wendy Bauer, sales director of AWS automotive industry, said that in the race to develop autopilot cars, huge amounts of data will be generated from various types of sensors. With the help of AWS, torc engineers have the speed, flexibility and insight to carry out design testing, large-scale operation simulation, and use a wide range of highly specialized computing examples to improve their experiments. Torc's industry leading technology, combined with AWS's reliability, safety and deep expertise in the development of self driving cars, will keep Torc in a leading position and bring the benefits of self driving trucks to the community.
Dr. Peter Vaughan Schmidt, head of Daimler's truck autonomous technology group (torc is the next part), said, "we believe that this relationship between torc and AWS brings two very strong teams together and is another milestone on our road to L4 Class Autonomous trucks. Daimler truck's goal is to achieve the safe delivery of self driving trucks and shape the future of the entire truck transportation and logistics industry. "
AWS is a powerful cloud solution
AWS has always been a cloud platform with rich services and wide applications in the world. AWS's service portfolio continues to expand to support almost any workload on the cloud. At present, it provides more than 200 full-featured services, including computing, storage, database, networking, analysis, robotics, machine learning and artificial intelligence, Internet of things, mobile, security, hybrid cloud, virtual reality and augmented reality, media, application development, deployment and management, etc It has announced plans to build 6 AWS regions and 18 AZ regions in Australia, India, Indonesia, Japan, Spain and Switzerland. Millions of customers around the world, including fast-growing start-ups, large enterprises and leading government agencies, rely on AWS to strengthen their infrastructure, improve agility and reduce costs through its services.
Torc's L4 class autopilot system uses on-board computers to process sensor data in real time, and uses on-board software to process dynamic driving tasks during automatic operation. Torc will use AWS to improve the data transmission efficiency of its route survey, so that its team will continuously enhance the automatic driving system. Ben Hastings, chief technology officer of torc, explained, "AWS is an ideal platform for ingesting, storing and post-processing the massive data collected by our road test fleet."
Torc's development team will make full use of AWS to complete low and high requirements tasks, as well as data sharing between remote teams. Torc will use a number of AWS hosting services, such as Amazon elastic kubernetes service (Amazon eks) to run simulation software on a large scale, Amazon managed streaming for Apache Kafka (Amazon MSK), Amazon managed workflow for Apache airflow (mwaa) and Amazon Simple Storage Service (Amazon MSK) S3) intelligent stratification, efficient management of test data, and provide compliance support. These services integration of AWS will enable torc to transfer massive data, not only for the log analysis of actual test, but also for simulation and deep learning.
"Our software uses a combination of synthetic scenarios and sensor data replay for simulation testing," Hastings said. These tests are often carried out in a centralized way, resulting in a significant peak demand for computing resources. With AWS, we have a solution that can scale dynamically to meet the needs of engineering and virtual test teams without having to purchase and maintain our own data center. " Read more: Amazon cloud service (AWS) and formula 1 jointly announced six new racing performance statistics in 2020 season, deeply ploughing vertical industry, AWS China market ushers in rapid development evercore partners: Amazon's online service is estimated to be worth $50 billion in 2015, Tom Cat Game family with a daily life of 40 million Build "senseless" user experience with AWS cloud service Amazon cloud service (AWS) helps Toyota Internet China's Internet of vehicles service to be fully implemented BMW group joins hands with AWS to drive automobile industry innovation with data Amazon Athena officially launched in AWS China (Ningxia) region It is estimated that there will be more than 50 technical forums and more than 6000 professionals participating in the conference, which will create the biggest AWS technology summit in China. Amazon sagemaker, the Amazon cloud service (AWS) machine learning service, will launch financial management services in China's AWS region, allowing customers to use cloud services more economically and efficiently. Star Alliance, the world's largest aviation alliance, will make full use of AWS Move all data, platforms and key business applications to AWS Amazon cloud services (AWS) China officially launched two new file storage services Amazon Q4 financial report in 2020: annual revenue of Amazon cloud services (AWS) reached 45.4 billion US dollars, AWS released Amazon Devops Guru Amazon cloud service (AWS), a new operation service driven by machine learning, fully supports the intelligent operation of more than 50 schools of world foreign education group
If you want to get the full report, you can contact us by leaving us the comment. If you think the information here might be helpful to others, please actively share it. If you want others to see your attitude towards this report, please actively comment and discuss it. Please stay tuned to us, we will keep updating as much as possible to record future development trends.
RecordTrend.com is a website that focuses on future technologies, markets and user trends. We are responsible for collecting the latest research data, authority data, industry research and analysis reports. We are committed to becoming a data and report sharing platform for professionals and decision makers. We look forward to working with you to record the development trends of today's economy, technology, industrial chain and business model.Welcome to follow, comment and bookmark us, and hope to share the future with you, and look forward to your success with our help.