Industry information
Medical health
Upgrade and create "electronic ID card" for clinical new drug research and development From Alibaba health "rest assured on the code" platform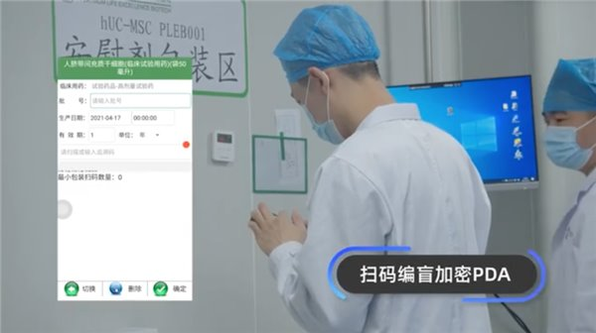 The following is the Upgrade and create "electronic ID card" for clinical new drug research and development From Alibaba health "rest assured on the code" platform recommended by recordtrend.com. And this article belongs to the classification: Medical health, Industry information.
Based on the pilot work during the epidemic last year and the continuous iteration and improvement for about a year, recently, at the 2021 4th China IRT Forum jointly held by Ali health and Shanhu health, Ali health "code on trust" platform officially launched the clinical trial drug blinding and digital management products for new drug research and development.
Before the launch of a new drug, the safety, reliability and real-time monitoring of randomized double-blind clinical trials are particularly important for the accuracy of the follow-up development and application of new drugs. However, at present, the clinical trial medication in China is mainly managed by manual recording, which leads to the separation of the preparation, grouping, medication, recovery, destruction and other process information of clinical trial medication, It is difficult to realize systematic management, real-time monitoring and whole process traceability. In addition, the traditional manual blinding method often leads to problems such as blind bottom leaking in advance, leading to experimental failure and so on.
As a matter of fact, Alibaba health has entered the field of clinical trials of new drug research and development last year. This year, it has developed more mature and efficient products according to the demand, which has effectively alleviated the above problems. Specifically, in clinical trial drug use, the "code on trust" platform gives each box of clinical trial drug a unique 20 digit traceability code, which is equivalent to a special "electronic ID card". The traceability code labels are pasted on the test drug and the control drug respectively, and the blind bottom is generated after the code scanning and blind encryption equipment is used to scan the code, and then the block chain is used to store the certificate, And upload the temperature data of the cold chain storage and transportation equipment associated with it to the "code on trust" platform, so as to realize the whole process of one drug, one code, the source can be checked, the destination can be traced, and the temperature can be controlled.
It is worth noting that the product uses traceability code technology to make code scanning, encryption and blind coding, blockchain certificate storage, blind management, remote management, clinical follow-up and other processes run through in one code, which is more convenient and safe. At the same time, through cooperation with rookie international, the product can trace the flow direction, temperature and location of drugs at home and abroad, Press the digital accelerator button for overseas clinical trials of pharmaceutical enterprises.
"Through the traceability code, the whole flow direction and temperature traceability of clinical trial drugs can be realized, which is more flexible and fully in line with the requirements of the latest version of GCP for the management of clinical trial drugs." Professor Yao Chen, director of the Medical Statistics Department of the first hospital of Peking University and deputy director of the Institute of clinical research of Peking University, said that in the process of traditional clinical trials, manual blinding requires more manpower and material resources, and takes a long time. Now, the use of traceability code for blinding (or numbering) of drugs used in clinical trials can not only achieve the whole process of drug traceability and process supervision, It can also improve the efficiency and quality of clinical trials.
Hong Yajuan, general manager of Alibaba health retroactive code, said that the retroactive ability and technology of the "rest assured on the code" platform will be used in the drug management of clinical trials. Science and technology will make the future, and innovation will create intelligence. It is hoped that the retroactive code technology can really help the clinical trials industry solve the problem of drug management in the process of new drug R & D.
It is reported that Alibaba health "code assured" platform is an important service system of Alibaba health digital infrastructure, and has become the largest third-party traceability platform in China. At present, more than 98% of pharmaceutical manufacturers in China have settled in Alibaba health's "code on trust" platform, and the service of the platform has also been extended to fresh food traceability, cross-border pharmaceutical e-commerce and other fields in addition to clinical trials of new drugs, laying a solid foundation for Alibaba health to be a good "expert in taking care of your and your family's health". Read more: Ali health upgrades "rare disease center" to find medicine for 20 million patients with rare diseases. The app opens the door-to-door appointment channel for nucleic acid testing team. The first phase covers 10 cities nationwide. In July 2017, Estonian e-citizen registration rate catches up with birth rate. Ali Health releases the latest "female sexual health consumption report": women buy nearly 80% contraceptives, quarks join hands with medical deer to upgrade medical search "Content + service" goes deep into the industrial ecology, the giant figure in the big health industry: the pattern has been set, but business innovation has just begun. Ali health released the "sleepless report": 30% of insomnia people or false insomnia, up 286.48%! What is Ali's confidence in turning losses into profits? Ali health: 2019 white paper on eating habits and oral health Social and Governance Report (download attached) Ali health: 2017 annual health consumption report post-90s become the main group of health consumption Ali health: 2015 China sex consumption report Ali health: 2015 China sex consumption report Ali health: 2016 China Health New Year map Ali health: during the air red warning period, the daily average sales volume of masks is 9.3 times of normal
If you want to get the full report, you can contact us by leaving us the comment. If you think the information here might be helpful to others, please actively share it. If you want others to see your attitude towards this report, please actively comment and discuss it. Please stay tuned to us, we will keep updating as much as possible to record future development trends.
RecordTrend.com is a website that focuses on future technologies, markets and user trends. We are responsible for collecting the latest research data, authority data, industry research and analysis reports. We are committed to becoming a data and report sharing platform for professionals and decision makers. We look forward to working with you to record the development trends of today's economy, technology, industrial chain and business model.Welcome to follow, comment and bookmark us, and hope to share the future with you, and look forward to your success with our help.