Industry information
Women buy nearly 80% contraceptives From Ali health released the latest report on women's health consumption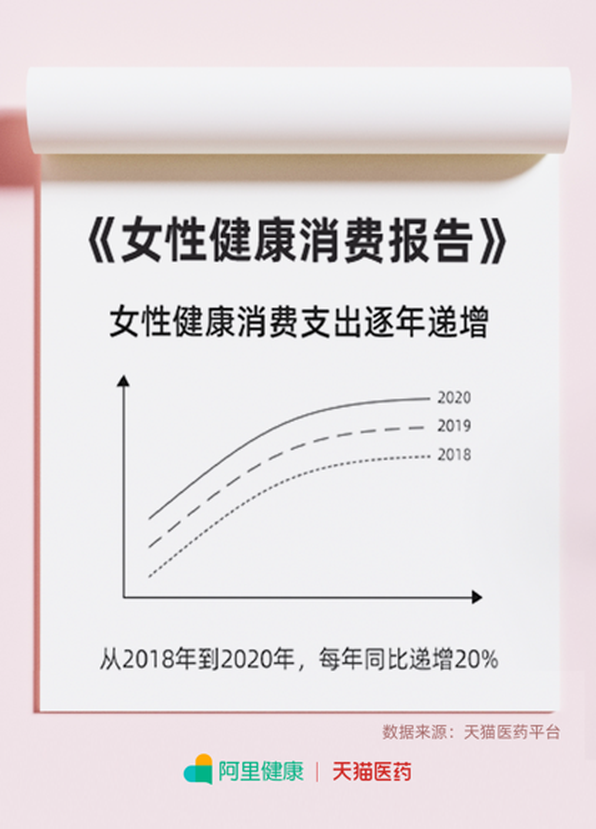 The following is the Women buy nearly 80% contraceptives From Ali health released the latest report on women's health consumption recommended by recordtrend.com. And this article belongs to the classification: Industry information.
Are women more willing to spend money on health? 80% of the contraceptives are actually bought by women? What do girls in North and south prefer to buy? On the occasion of the March 8 goddess festival in 2021, Ali health released the "report on women's health consumption data" (hereinafter referred to as the "report") according to the data of tmall medical platform, interpreting the new trend of contemporary women's health consumption.
The data shows that in recent years, the expenditure on women's health consumption has increased year by year, with an average annual increase of 20%. In 2019, the overall expenditure on women's health is 38% higher than that of men. In 2020, the gap between the two sides will further widen to 63%. It can be seen that women have become the absolute main force of health consumption.
Physiological cost: nearly 80% of contraceptives for women
There is a way to relieve pain scientifically. Menstruation must be stable. Ali health's "report" shows that in the period of women's great aunt, Nuangong tie and ibuprofen painkillers have become women's little helpers. In 2020, the number of buyers of Nuangong tie will increase by 77% compared with that in 2019. In addition, 70% of the consumers of ibuprofen painkillers are women.
Another interesting finding is that women are becoming more and more scientific in choosing contraceptives and know how to care for themselves. According to the data of tmall medical platform, more women choose less harmful short acting contraceptives, and the sales volume in 2020 is 1.5 times that of emergency contraceptives, while nearly 80% of all contraceptives are purchased by women.
In addition, women's menopausal health management has gradually been paid attention to, especially the menopausal drug sales and the number of people doubled in 2020 compared with the previous year.
Birth cost: growth rate of pregnant women slows down, Baoma pays attention to post pregnancy repair
Recently, members of the National Committee of the Chinese people's Political Consultative Conference (CPPCC) in the two sessions "proposed that the cost of childbearing should be fully included in the social security" has aroused concern. It can be seen that the cost of female childbearing has gradually been concerned by the society.
From the perspective of female fertility consumption expenditure of tmall medical platform, the polarization is still relatively obvious. The first is the pregnant women group. With the increase of work and life pressure of contemporary women and the increase of unmarried single people, the growth rate of pregnant women group is also slowing down. Ali health "report" shows that the number of buyers of folic acid and ovulation test paper has not increased significantly in the past two years, with the growth rate of less than 3% in 2019 and 2020.
In contrast, the market of pregnant mothers has changed a lot. Baoma began to pay attention to postpartum repair under the upgraded health concept, and she did not forget her beautiful appearance even if she had a baby. Taking the maternity rehabilitation instrument as an example, its annual sales in 2020 increased by 350% compared with that in 2019, and the number of buyers also increased by 460% over the same period.
Daily health care costs: fun supplies, small spring, oral beauty into just need
With the change of the public concept, women's health consumption has derived more daily health care expenditure, and they understand life and taste.
According to the data of tmall medical platform, in terms of private health management, the annual sales volume of female private care products in 2020 is 43% higher than that in 2019. In addition, it is worth noting that in recent years, the market of erotic products has ushered in a small spring. The annual sales volume in 2020 has increased by 7% compared with that in 2019, and its sales volume is four times that of erotic underwear, which is most popular among post-2000 women. Meanwhile, the oral beauty market driven by "beauty economy" has attracted the attention of female consumers, showing great development potential. According to the report, the annual sales volume of oral beauty products will increase by 100% year on year in 2020.
Tian Nan Di Bei Qi Fa Li: post-90s and southern girls favor HPV vaccine appointment
Women of different ages and regions also have different preferences for health products.
Ali health report showed that after 00, they were more concerned about beauty, the most beautiful pupil, meal substitute products and enzymes; but after 90, "people went to middle age insulation cups, and cosmetic contact lenses were hard to stop." the idea of health management began to awaken. They preferred HPV vaccine appointment, medical mask and female probiotics. After 80, they were concerned about how to become beautiful and anti-aging.
At the same time, women in different regions also have different concerns. Women in the north prefer beauty management and prefer to buy bird's nest, enzymes and fat reducing drugs. In contrast, women in the South pay more attention to health management. Physical examination packages, HPV vaccine appointments and post sun skin repair stickers are frequent customers in their shopping carts.
On the whole, with the rise of "her power" and "her economy", women's groups have become the main force of health consumption in all fields of society, and they pay more attention to their own body. From the basic physiological expenditure, childbearing expenditure, to daily health care expenditure, women continue to explore new ways of health, and become more and more healthy on the road to beauty.
Note: the data in this data report comes from tmall medical platform. More reading: Jingdong Data Research Institute: 2018 female health consumption report (download attached) Ali health upgraded "rare disease center" to find medicine for 20 million patients with rare diseases. InfoLink: tmall medical's top 20 soared 286.48% in the first half of 2015! What is Ali's confidence in turning losses into profits? Quark join hands with medical deer to upgrade medical search "content + service" go deep into industrial ecological medical deer app, open door-to-door nucleic acid detection team appointment channel The first phase covers 10 cities in China. Giant figures in the big health industry: the pattern has been set, but business innovation has just begun. Ali health: white paper on eating habits and oral health in 2019 (download attached) Ali health: report on environment, society and governance in 2018 (download attached) Ali health: report on health consumption in 2017 Post 90s become the main consumer of health Ali health: 2016 China Health New Year map Ali health: during the air red warning period, the average daily sales volume of masks is 9.3 times as much as usual Ali health: 2015 China sex consumption report Ali health: 2015 China sex consumption report Ali health: 2014 Beijing people bought the most masks
If you want to get the full report, you can contact us by leaving us the comment. If you think the information here might be helpful to others, please actively share it. If you want others to see your attitude towards this report, please actively comment and discuss it. Please stay tuned to us, we will keep updating as much as possible to record future development trends.
RecordTrend.com is a website that focuses on future technologies, markets and user trends. We are responsible for collecting the latest research data, authority data, industry research and analysis reports. We are committed to becoming a data and report sharing platform for professionals and decision makers. We look forward to working with you to record the development trends of today's economy, technology, industrial chain and business model.Welcome to follow, comment and bookmark us, and hope to share the future with you, and look forward to your success with our help.