Industry information
Xinsong, Topstar, EFT, Midea Group A large number of famous enterprises will gather at the 10th robot industry conference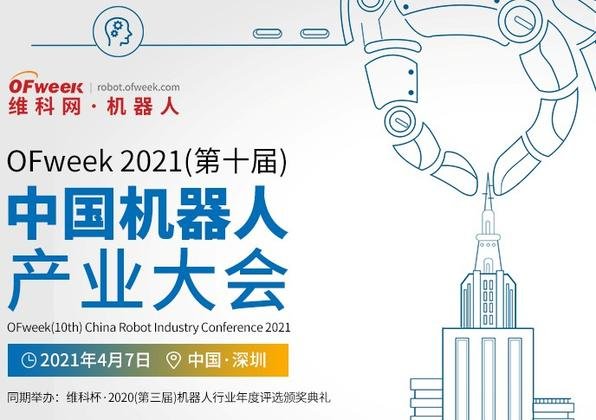 The following is the Xinsong, Topstar, EFT, Midea Group A large number of famous enterprises will gather at the 10th robot industry conference recommended by recordtrend.com. And this article belongs to the classification: Industry information.
The "OFweek 2021 (the 10th) China robot conference" (hereinafter referred to as: OFweek robot conference 2021) will be held in Shenzhen on April 7.
This conference is based on "innovation empowerment" Under the theme of "intelligent future", academicians at home and abroad, high-level government officials, scientific research experts, industry leaders and other elites in the robot industry will be gathered to discuss the global cutting-edge hot topics, core technologies, application and business model innovation, as well as national and social hot topics, share the development experience of the robot industry, feel the development trend of the industry, and make suggestions on robot production To build a platform for the interaction and exchange of government, industry, University and research, and to create a feast for the cooperation and exchange of the whole robot industry.
Gathering elites and focusing on cutting edge trends
Under the careful preparation of the organizer, the general managers, chief experts, COO and other senior executives of famous enterprises in the robot industry, such as EFT, Xinsong robot, Han's robot, alite, Midea Group, Hagong intelligent, tostar, Mingao Mir, Delu power, pitian robot, kecong, Muyi robot, will come to the scene and deliver keynote speeches. The enterprise representatives mainly focus on the industrial development Opportunities and challenges, multi perception intelligent technology, enabling intelligent manufacturing, AI + robot integration, logistics automation deployment and other dimensions will bring the audience the most cutting-edge market information, technology trends, industry solutions and other dry goods sharing of the robot industry in 2021.
Hard city will also discuss collaborative manufacturing on the spot from the perspective of flexible supply chain and flexible production of electronic industry.
In particular, Tan Jianrong, academician / mechanical engineering expert of Chinese Academy of engineering, Cao Qixin, Director / Professor of Institute of biomedical manufacturing and quality of life engineering of Shanghai Jiaotong University, Shi Daming, Professor / doctoral supervisor of Shenzhen University, Zhang Wenqiang, doctoral supervisor / Vice President of Intelligent Robot Research Institute of Fudan University, and Zhang Wenqiang, doctoral supervisor of Software School of South China University of technology were invited to the conference Min Huaqing, tutor of Shisheng / Director of intelligent software and robotics research office, and other five industry experts will share their research achievements on the spot and conduct in-depth discussion on hot topics concerned by the industry.
Famous enterprises gather to discuss industrial development
In addition to the above enterprise representatives and speakers, this conference will also bring together all the well-known enterprises in the industry, such as Huichuan technology, fastwark intelligence, EFT, corworth, youbicheng, burkent, zhongweixing, karnop, aijiwei, Harbin Institute of technology, Yuejiang technology, Lingdong technology, Gu hi tech, Kawasaki robot, youao robot, Guochen robot, Huashu robot Hairou innovation, minimally invasive medical robot, etc.
Abb, fanako, KUKA, Yaskawa electric and other "four families" will also send representatives to attend.
On the three core devices, intelligent algorithms, high-precision sensors and other supporting industrial chain issues concerned by the industry, representatives from green harmonic, lice technology, play intelligence, Tencent, Huawei, zhongdalide, nabotsk, Alibaba Damo Institute and other industrial chains will attend the meeting to share and exchange.
In addition, user units such as Beijing automobile factory, CRRC group, China Southern Power Grid, China Ordnance Group, Haier, Midea, Shunfeng, etc. will also come to the scene to have in-depth exchanges with robot industry chain enterprises on enabling intelligent manufacturing and talk about application experience.
For more enterprises and topics, please continue to pay attention to OFweek robot network.
Eight awards, encourage to create brilliance again
At the same time, the conference also set up robot innovation technology application exhibition area, robot industry annual evaluation and award ceremony activities to comprehensively display the latest scientific research achievements and technology application solutions in the field of robot; industry influence brand enterprise award, excellent technology innovation enterprise award, excellent investment value enterprise award, excellent supplier award, excellent application case award and excellent products The winners of the eight awards will be announced on the same day.
The organizer, by way of appraising the outstanding enterprises, products and individuals who have made outstanding contributions to the industry in 2020, encourages the industry to continue to innovate and develop, improves the performance and quality of products, promotes the healthy development of the whole industry chain, and better empowers thousands of industries.
Dry goods constantly, wonderful endless
On the occasion of this industry event, let's join hands in Shenzhen! Waiting for you!
Sign up for the meeting
Please contact us through the following ways:
You can also scan the QR code below for quick registration:
Or open the following link to enter the registration channel directly:
https:/www.ofweek.com/seminar 2021/robot/formbox.html ? tgfrom=520
About OFweek China robot industry development conference
"OFweek robot conference" is an authoritative, professional and representative annual conference of China's robot industry sponsored by OFweek. Since 2015, it has successfully held nine sessions of China robot industry summit forum in Shenzhen, Shanghai, Wuhan, Tianjin and other cities. It has become an annual event and an important platform for industry insiders to understand the development trend and direction of China's robot industry, sort out the phased development achievements of China's robot industry, discuss industrial development events, promote the development of China's robot industry, and promote communication and exchange.
Focusing on the major issues faced by the industry development every year, the conference invited international authoritative experts, leaders of relevant government departments, enterprise leaders and industry researchers to attend, deeply interpreted the national industrial development policy, and jointly focused on the new progress of multi disciplines related to robots, as well as the new technologies and new application scenarios arising from the continuous integration of human intelligence and other technologies with the robot industry. And through the analysis of international and domestic technology and industrial development trends, analysis of the annual development hot issues, build industry exchange platform, promote industry cooperation, build China's robot industry ecosystem.
On OFweek
Noweek, a high-tech industry portal, now has more than 10 million members. Noweek's industry websites timely report industry trends and major events, deeply follow industry hotspots, provide comprehensive information, technology and management resources for industry members, hold various offline and online industry activities, and provide content, brand promotion, conference and exhibition, and industry research services for high-tech industry enterprises Research, industry and city services, government and enterprise services, industrial funds, scientific and technological achievements trading, training, talent headhunting, e-commerce and other overall and professional services. Read more: talk about the new future of AI, waie 2020 world artificial intelligence online conference and Exhibition countdown begins! Stray earth moss defection: will AI in the future really "defecte"? Must see: the "Ai + smart city" forum with the most dry goods in the second half of the year is coming! Interview with Dr. aopeng Tian Xiaopeng: with AI data service, enabling the commercialization process of AI in various industries, thousands of people gather to talk about AI, waie takes you to see AI in the next five years! The second China artificial intelligence industry conference of OFweek will meet you in the golden autumn. We will meet again next year – the third China high tech Industry Conference of OFweek 2018 will be closed perfectly! OFweek 2018 China Internet of things Conference & exhibition successfully held! OFweek 2018 (the third session) China artificial intelligence industry conference is more than brilliant, and the feast will continue tomorrow! On August 30, major events will break out in the AI field. Outsiders should never come to Shanghai. Tan Jianrong, academician of the Chinese Academy of engineering, confirmed to attend the "OFweek 2019 (4th) China artificial intelligence industry conference" and foresee the future! Smart car Summit Forum six highlights to see first! 2018 China (Shanghai) International artificial intelligence exhibition opens as scheduled! UAV | in 2015, the financing of the industry increased more than 3 times, and the logistics transportation is not mature yet
If you want to get the full report, you can contact us by leaving us the comment. If you think the information here might be helpful to others, please actively share it. If you want others to see your attitude towards this report, please actively comment and discuss it. Please stay tuned to us, we will keep updating as much as possible to record future development trends.
RecordTrend.com is a website that focuses on future technologies, markets and user trends. We are responsible for collecting the latest research data, authority data, industry research and analysis reports. We are committed to becoming a data and report sharing platform for professionals and decision makers. We look forward to working with you to record the development trends of today's economy, technology, industrial chain and business model.Welcome to follow, comment and bookmark us, and hope to share the future with you, and look forward to your success with our help.