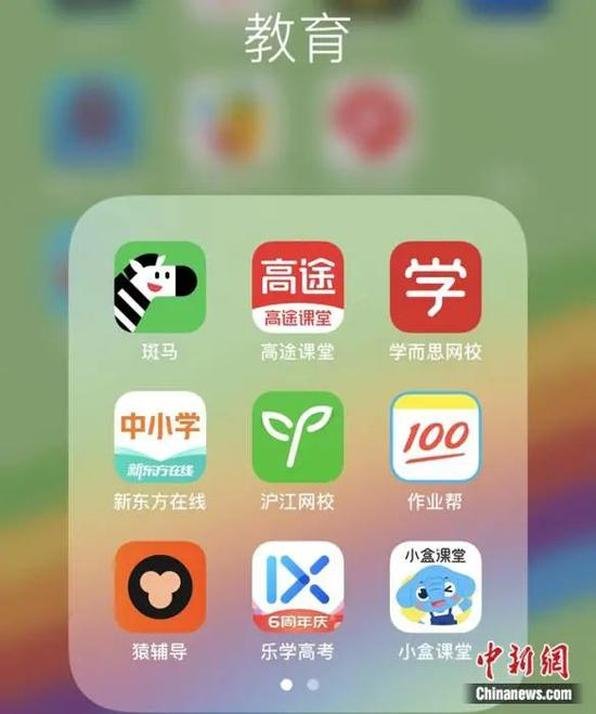 The following is the You can't teach. Harass the first From Some tutorial classes recommended by recordtrend.com. And this article belongs to the classification: Industry information.
Source: China News
Chaos in online education
Reporter: Wu Tao
According to the State Administration of market supervision on the 10th, the market supervision department imposed a top fine of 2.5 million yuan on the "operation Gang" and "ape guidance" respectively. Before that, four off campus education and training institutions, namely, who to learn from (gaotu group), XRS, New Oriental online and Gaosi, have been fined.
What happened to these famous online education platforms?
Data map.
According to the investigation of China news network, the current online education chaos is frequent, and some so-called "famous teachers" can not verify the authenticity at all. There are also some online courses with hundreds of class hours. Is it really necessary? The quality of teaching is also uneven. Is it really appropriate for primary school composition to start with "two instruments and four images"?
If the class hours exceed the standard, one year's fee will be charged in advance in some cases
The reporter found in gaotu classroom app that a special training camp for teenagers' learning ability in gaotu classroom lasted for 100 classes and charged 3880 yuan. Its online customer service said to zhongxin.com that the course is suitable for the primary stage.
There are 191 courses in gaotu class, charging 3980 yuan. The page shows that the course is a "synchronous system course" for grade two. The above course fees are all paid in one lump sum.
However, in July 2019, the Ministry of education and other six departments issued the "opinions on the implementation of standardizing off campus online training" (hereinafter referred to as the "opinions"), which stipulates that if online training for primary and secondary school students is charged according to class hours, each subject shall not charge more than 60 class hours at one time; If the fee is charged according to the training cycle, the fee with a time span of more than 3 months shall not be charged at one time.
Photo source: screenshot of the official website of the Ministry of Education
In reality, in addition to the cases mentioned above, there are many online education platform charges suspected of violations. On April 23, XRS online school, gaotu classroom, Netease Youdao excellent course, ape guidance illegal early enrollment fees were announced by Beijing Municipal Education Commission.
For pre-school education, although there are no clear regulations on class hours and pre charges, the reporter observed that the fees are generally collected in advance for one year, and the class hours have become longer. Take a zebra English class of ape counseling as an example, 2800 yuan per year, 240 class hours, prepaid, paid in a lump sum.
After the "opinions" were issued, the person in charge of the Department of basic education of the Ministry of education once said when answering the reporter's questions that for the pre-sale expenses, the standard contract should be provided, the third-party account supervision mechanism should be encouraged, the consumption risk of the masses should be reduced, and the interests of the masses should be protected. But at present, few online education platforms adopt the third-party account supervision mechanism.
At the same time, online education "easy to pay, difficult to refund" events frequently appear in the newspapers. The reporter searched "online education" on black cat complaints, and there were more than 3000 complaints, almost all of which were difficult to refund fees.
Teachers' qualification is "vague", and it is difficult for consumers to verify
The charge is timely. How about the quality of teaching? According to the survey by zhongxin.com, many online education platforms are vague about teachers' qualifications, and it is almost difficult for consumers to distinguish the true from the false.
On several online education apps such as XRS online school app, the reporter noticed that many famous teachers only display the teacher qualification number, others only display "passed the teacher qualification certificate examination", and even some teachers did not show whether they obtained the teacher qualification in their introduction.
In terms of teacher qualification, the information is not transparent, so it is difficult for consumers to distinguish the authenticity. Screenshot of an online education app.
It is understood that how to query the authenticity of teachers' qualifications can be found on the China Teachers' qualification website, which is constructed, managed and maintained by the Ministry of education teachers' qualification recognition guidance center, in which teachers' personal identity information is required.
But almost all online education platforms do not publish the information. In other words, even if the online education platform publishes the teacher qualification number, it is difficult for consumers to judge whether the qualification is true or false, because there is no way to verify it.
The reporter contacted the online customer service of XRS online school app and asked how to verify the authenticity of teachers' qualifications. The customer service said to give feedback. After a while, the customer service, who claimed to be XRS, called back, "because the inquiry needs to input some personal privacy information of teachers, it will not be released."
The "opinions" clearly stipulates that the personnel engaged in the training of Chinese, mathematics, English, ideological and political, history, geography, physics, chemistry, biology and other disciplines should have the corresponding teacher qualification stipulated by the state.
In fact, it is not uncommon for teachers to mix their eyes. On May 6, Chongqing Municipal Education Commission announced that the Beibei campus of Chongqing New Oriental training school did not publicize the subject record information, did not publicize the class board as required, and the information of training teachers on the bulletin board was inconsistent with the teacher roster.
Suspected of false publicity, harassing users
In terms of publicity, many online education platforms are also suspected of false publicity. For example, in January 2021, homework help, ape counseling, gaotu classroom and Qingbei online school were exposed to use the same actor to play a famous teacher in their respective advertisements. One of the "famous teachers" was "teaching mathematics all his life" and the other was "working as an English teacher for 40 years".
Zebra English class is called "1-to-1 full course professional guidance", and one year's fee is charged at a time. screenshot
In the interview, the reporter learned that many online education courses showed "1-to-1", but parents of children who reported to the class told CNKI, "one teacher to one group, that is, one class. In the software, the teacher will receive the students' homework, and she will encourage or correct it. It's like a teacher changing homework for a child. It's a one-to-one class, but it's also a one-to-one class. "
There are also online education platforms that like to label teachers and attract parents. According to the reporter's observation, in gaotu classroom app, a primary school Chinese teacher's introduction was "Guo Degang" in the Chinese field. ". In his composition syllabus, one of the sections is shown as "detailed and slightly appropriate, two instruments and four images". Primary school composition also need to learn "two instruments and four images"?
"Guo Degang" training primary school composition involves "two instruments and four images". Gaotu classroom screenshot.
If you feel that the course is unreliable, you can choose not to report, but after registering or listening to the course, there is often endless harassment waiting for you. Many netizens Tucao make complaints about the 2 year call. Early Japanese just registered their software and called me for three years. "" In the New Oriental app customer service asked a question, began to call every day bombing
The reporter tried to register the small box classroom, and soon received a marketing message, saying that "the teacher arranged an exercise.".
A child's parents told CNKI that "when I applied for Zebra's audition class, I didn't think it was appropriate, so I didn't renew it. In the future, zebra contacted me seven or eight times, two times by phone, five or six times by wechat. In fact, when I contacted me for the first time, I made it clear that "the course is not suitable and I don't plan to renew it", but it still doesn't affect the harassment of me later. "
Online education platform is annoying. Have you met it?
Editor: Gao Meng
Editor in chief: Wang Shanshan
Extended reading:
The market supervision department imposed a fine of 2.5 million yuan on the "operation Gang" and "ape guidance" respectively
In response to the chaos of out of school education and training institutions strongly reflected by the masses, the Bureau of price supervision and competition of the General Administration of market supervision and the Beijing Municipal Bureau of market supervision launched a joint action to inspect the relevant behaviors of two out of school education and training institutions, namely, Xiaozhou Education and Technology (Beijing) Co., Ltd. (work Gang) and Beijing ape education and Technology Co., Ltd. (APE guidance).
After investigation, the homework help falsely claimed "cooperation with the United Nations" on its official website, fabricated teachers' teaching experience and quoted untrue user comments. Ape tutor lied on its website that "the head teacher's 1-to-1 synchronous tutoring", "wechat 1-to-1 tutoring", "your four friends have successfully snapped up… Click me to grab the newspaper", made up the teacher's teaching experience and other untrue content. The above-mentioned behavior is a false or misleading commercial propaganda behavior, which is in violation of the first paragraph of Article 8 of the Anti Unfair Competition Law of the people's Republic of China.
Homework help is marked separately when selling courses in its app, tmall homework help live course flagship store and Jingdong homework help live course flagship store" ¥ one thousand eight hundred and ninety-nine   ¥ two thousand three hundred and ninety-nine   Time limited discount "," price 3280 yuan, refer to 2580 yuan "and so on. Ape coaching is shown on its official website and tmall flagship store sales course respectively" ¥ three hundred and ninety-nine  ¥ 9 "price ¥ four thousand   Parent child festival price ¥ 2099.00 "and so on. After verification, none of the relevant courses has ever traded at the marked marked marked price, which constitutes the behavior of using false or misleading price means to lure consumers into trading, in violation of Article 14 (4) of the price law of the people's Republic of China.
On May 10, 2021, the Beijing Municipal Bureau of market supervision imposed a warning and a fine of 2.5 million yuan on the two off campus education and training institutions, namely, the work gang and ape guidance.
In the next step, the State Administration of market supervision will continue to focus on cases in the field of people's livelihood, strengthen the law enforcement of off campus education and training institutions, crack down on all kinds of illegal activities, standardize the market operation order, and safeguard the legitimate rights and interests of the people.
Good future: 4q20 financial report teleconference record: due to the special reasons of the epidemic situation, the performance growth of online schools has accelerated. Good future: 2q20 revenue of 1.1 billion US dollars, a year-on-year increase of 20.8%. Good future: 4q18 revenue, a year-on-year increase of 59.4%, XRS financial report: the net profit of Q3 XRS in fiscal year 2012 was US $1.4 million, a year-on-year decline of 38.6%. Tiantuo Consulting: analysis of China's online education profit model in 2013 distribution map of China's online education industry China Education Online: study abroad trend report in 2013 Tencent: how traditional education and training institutions layout online education? Codecademy: the number of independent users has exceeded 24 million in 2013. How far is the future( 3) Where is China's online education going? Online education: three intrinsic motivations of "learning": Four "traps" of online education
If you want to get the full report, you can contact us by leaving us the comment. If you think the information here might be helpful to others, please actively share it. If you want others to see your attitude towards this report, please actively comment and discuss it. Please stay tuned to us, we will keep updating as much as possible to record future development trends.
RecordTrend.com is a website that focuses on future technologies, markets and user trends. We are responsible for collecting the latest research data, authority data, industry research and analysis reports. We are committed to becoming a data and report sharing platform for professionals and decision makers. We look forward to working with you to record the development trends of today's economy, technology, industrial chain and business model.Welcome to follow, comment and bookmark us, and hope to share the future with you, and look forward to your success with our help.